Cocotec
New identity generates new opportunities
New identity for start-up software verification specialist, Cocotec, captures founders' personalities, creates immediate cut-through, and gets tongues wagging for all the right reasons.
The challenge
In many industries, from high-tech manufacturing to aerospace and automotive, the need for rapid and error-free software development is a growing challenge – one that for many can have serious implications for overall business growth, if left unaddressed. With a passion for technology and an obsession with quality, Cocotec help transform businesses with tools that improve software, reduce cost, and enable innovation.
As a recent entrant to the specialist but growing area of formal software verification, Cocotec recognised the need for a credible, compelling, and authentic proposition. Bringing that proposition to life through an engaging identity would be critical to building awareness and creating business opportunities. This challenge, as a start-up operation, would be compounded by a naturally tight budget.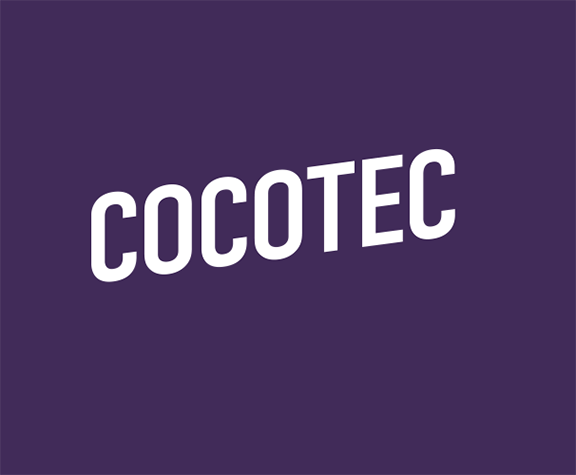 The solution
The solution lay in Philippa and Tom as individuals. Acknowledging their expertise, experience and professionalism, it was in their unique personalities – open, dynamic, passionate, down-to-earth – that we saw the greatest potential for real brand differentiation. Our creative strategy focused on bringing those very human qualities to the Cocotec brand and identity: immediately setting the business apart in a B2B tech space better known for its more 'corporate' identities.
The strapline 'All systems go' aptly articulates Cocotec's proposition as an enabler in the face of barriers, evoking a sense of progression and innovation in a refreshingly light-hearted manner, reflective of the brand's personality. The strapline and logotype together, positioned at an upward angle, form the marque, further emphasising the dynamic nature of the business and the individuals behind it.
The bold use of colour and distinctive imagery complete the new design language, delivering an identity entirely appropriate to the Cocotec brand: one that conveys rarely elevated human qualities, without compromising professionalism or credibility, to leave a lasting impression.
The results
In addition to universally positive feedback, early signs of the effectiveness of the work following the recent launch of the Cocotec website have been extremely encouraging. The new website has had an immediate positive impact on the business, generating exciting new leads, as well as providing a much better user experience for existing customers.
We are really proud of our brand. We've had overwhelmingly positive responses particularly when it comes to the bold use of colours, and everyone loves our "All systems go" strap line which we think captures Cocotec perfectly! Further, those who know us well thought our brand reflects our personalities brilliantly. Working with mark-making has been a great experience, and we're delighted with our new brand and website. Thank you very much to everyone in the fantastic mark-making team!

Philippa Hopcroft CEO, Cocotec