Pepper Money
Altogether Better
An internal communications campaign driving colleague engagement across three key workstreams in 2021: Better together, Better represented, Better ways of working.
The challenge
With the integration of Pepper Money and Optimum Credit came big changes. Changes that for many colleagues would mean an impact on their day-to-day working lives and roles within the business. We needed these changes to be seen as a positive step forward. These changes would need to be activated across different channels to communicate internal workstreams and key messages, in a creative and engaging way across the year.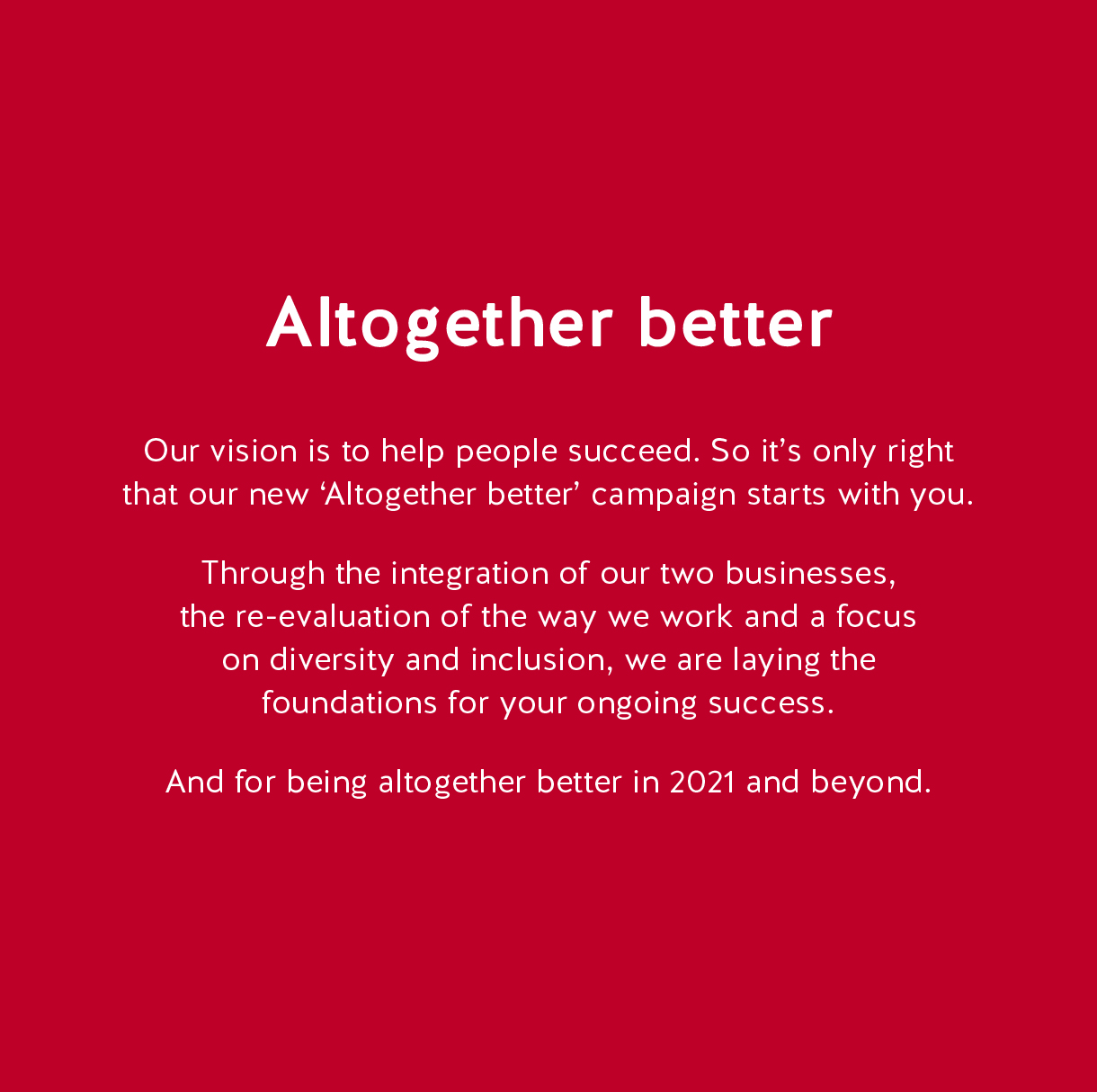 The solution
Building on the broker-facing campaign, 'Better with Pepper', we created an internal-facing campaign called, 'Altogether Better'. Communicating all the positives of the merger, and the support it would deliver to help the team be the best they can be, this message would run across three key workstreams that would ensure a smooth merger of the two businesses.
Better together
In the year ahead, we'll be bringing our two market-leading organisations together under one brand. It's a big, bold step and an amazing opportunity for all of us. We'll align our combined skills, our systems and technology, to become better and more efficient at what we do. We'll make sure you have everything you need to do your job brilliantly and offer the best possible experience to our customers.
Better ways of working
We're committed to finding the best way forward, so we can build a business that we're all proud to work for. We'll be listening to what you need to be successful and investing in platforms that will help us collaborate more closely and communicate more effectively. We'll create an environment in which it's easy to feel positive and productive, and where your wellbeing and work/life balance are always respected and protected.
Better represented
Ensuring that D&I is at the heart of what we do, taking it seriously, ensuring that senior colleagues understand its importance and champion across the business to develop an organisation that treats its colleagues and customers without judgement or bias.
We also created a microsite on the platform Foleon (as a temporary solution while the business was establishing its own intranet) which colleagues could visit and engage with throughout the year. The site would become the central hub for everything we have planned for 2021. All communications, including regular email updates could lead the team to this central resource. The versatility of using a web platform meant we could allow various teams to be responsible for adding new work stream updates along with news, events, etc.
The results
This campaign will continue through to 2022 delivering Internal Communications to the business, helping colleagues to understand the wider context of all the work happening in and around the merging of the two business. Under the 'Better represented' pillar, the Diversity & Inclusion event saw a great attendance rate and the Foleon site has been praised for its effective delivery of key information across the three streams.
This campaign successfully provided us with a clear communications framework, during a time of significant change and impact for our colleagues. Our intention was that everyone would feel valued and included and 'Altogether Better' delivers this in such a positive way.

Shiloh Robertson Pepper Money