Start Living Residential
Renting reimagined
Building an aspirational brand for a new professional landlord
The Challenge
After previous success in the Build to Rent sector, Gatehouse Bank had a desire to capitalise through the launch of a new professional landlord venture. And so, Start Living was born.
With a bold ultimate goal of improving the status of UK renting, Start Living is building and managing thousands of brand-new homes, all designed specifically for the rental market. In doing this, the aim is to create, and establish, a resident experience that's no less aspirational than its home-ownership equivalent.
The problem, however, is that renting is rarely perceived as a positive lifestyle choice. With poor quality accommodation and unpredictable private landlords all too common, tenants are often left feeling second class, underappreciated and disenfranchised.
mark-making*s task was to overcome this obstacle. And the approach we took was to develop a brand that could change mindsets on the broadest scale. Only by appealing to prospective residents, house-building partners and potential investors alike, would Start Living's ambitions become a reality.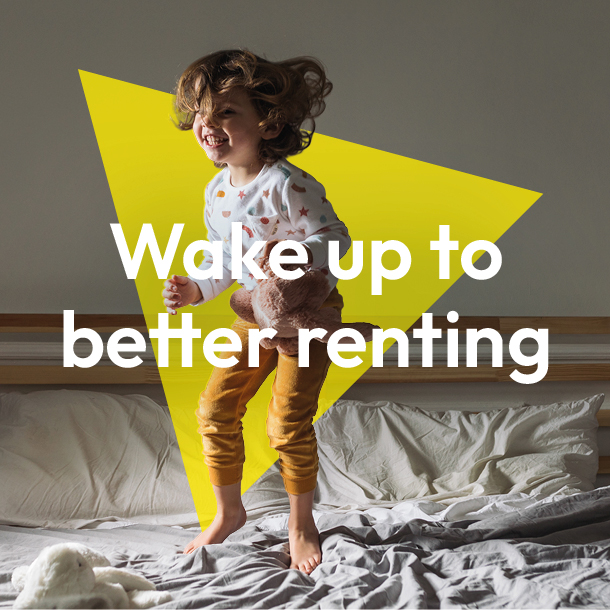 The Solution
Beginning with a consultative phase, we developed the foundations for the identity, including values, narratives and other verbal assets. At its core, we expressed the recognition that 'UK renters deserve better', and articulated a brand purpose 'to raise standards, challenge perceptions and reframe renting as truly aspirational.'
The intent, verbally and visually, was to draw out and elevate the benefits of choosing Start Living as a professional landlord, offering a low-stress, high-spec new build experience. Where residents could expect to live in neighbourhoods located and designed for the demands of modern life. With a dependable property management team on call, and flexible policies on decorating and pet-ownership – the difference between renting a house and truly feeling at home.
With a strapline that promises residents can 'Wake up to better renting', the tone was set for a positive and refreshing brand expression.
That sunny outlook is manifest in the look and feel, with a vibrant yellow at its core, supported by a secondary palette of blue and green.
The logo itself is bold, confident and has stand-out – bringing to life Start Living's pioneering proposition. The marque is distinguished by its striking triangle shape. Its unusual angle represents a rejection of the prevailing narrative that success in life is marked by a lateral path to home-ownership. Instead it celebrates that we are all different, and that no one single direction is the 'right way'.
Strong photography sits at the heart of the brand. As Start Living will be working alongside a variety of different housebuilders to develop their sites, we created detailed guidelines for creating a library of imagery that balances functional property photography with emotive lifestyle imagery which heroes the benefits of the resident experience with Start Living.
Combining the logo and photographic style with clean iconography, friendly typography and a warm, down-to-earth tone of voice, the brand identity is a strong reflection of Start Living's personality: pioneering, straightforward, dependable and vibrant.
With those foundational assets in place we went on to develop marketing collateral, including social media content, a housebuilder brochure, and a brand new website developed with our friends at Coopa. Whilst recognising that renters are likely to begin their property journey on Rightmove, the website needed to reassure, inform and inspire prospective residents looking for more information about the Start Living experience. In time, the site will also provide current tenants with their own Resident Portal, where they can access useful information and support from the property management team. And further to its B2C aims, the site also needs to give housebuilders and investors the confidence that Start Living will offer a sound partnership for their projects and portfolios.
With these considerations and UX principles in mind, we developed a bright, easily-navigable website, including property and brand-centric content. Interactive maps and property searches allow users to find neighbourhoods and homes near them, and the site structure has been future-proofed to allow for Start Living's expanding portfolio of sites.
The Results
Feedback from Start Living and their key investors has been hugely positive. While still in the early stages of building their portfolio, since launching they have been successfully developing new partnerships and are on track to build over 2,5000 new homes in neighbourhoods around the UK.