The evidence is in:
We're now B Corp certified
In November 2020, we started making our case for B Corp status – a goal which would see us recognised as a business that goes beyond profit and prioritises purpose. We aimed to reset the business, leveraging the 28-year mm* philosophy of leaving goodmarks*, and using the rigorous B Corp framework to push ourselves yet further.  

Fast forward 2 years 4 months, and we've done it.
No stone was left unturned as we collected evidence from across the business. And from weighing our waste to amending our Articles of Association, the journey has taken mm* to whole new heights.
How we scored against B Corp criteria
Being granted B Corp status was made even better when we received our Overall Impact Score of 121.3. This saw us exceed the B Corp benchmark by over 40 points, proving that we really do go the extra mile to ensure that we're using our business as a force for good.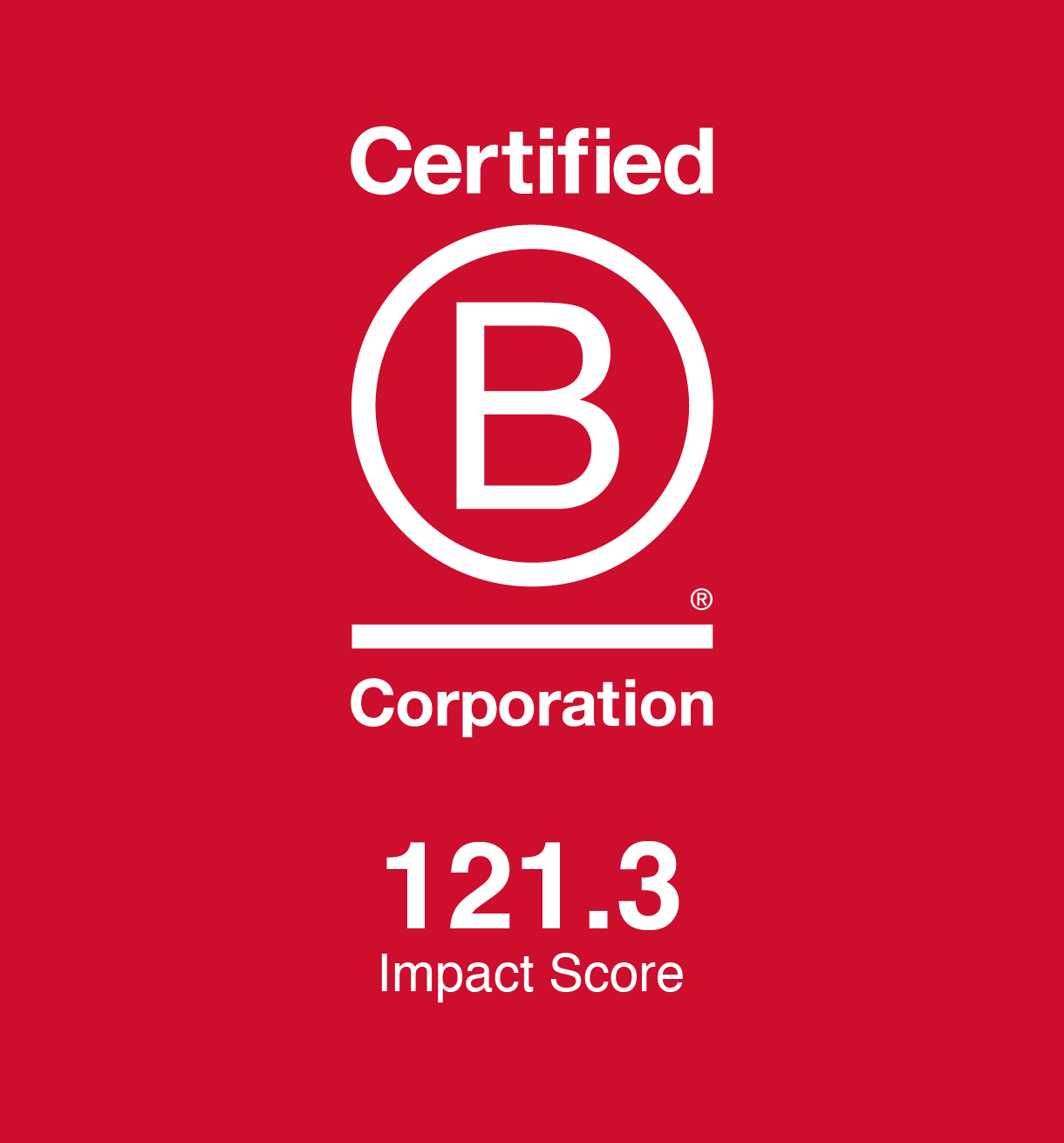 Examining the evidence
Here's a closer look at the ongoing initiatives that contributed to us achieving certification. Five distinct areas of our business were examined:
1. Governance
It's always been our philosophy to help others leave goodmarks*, and that's a large part of what drives us to do better. To protect this governing principle and assert our mission statement, we do a number of things, including regular risk assessments. All of these are guided by our Ethical Marketing Policy and other good governance principles, including the Advertising Standards Authority's (ASA) CAP.

2. Community
We have tangible targets when it comes to pro bono, volunteering and charitable work:
Pro bono projects – we'll donate over 1% of our capacity to support organisations without charging a fee. You can read about some of the amazing projects we've already been involved in here
Volunteering – every member of our team has the opportunity to take a day out of the office and use it to volunteer for a charitable cause of their choice. See where, when and how we've used our helping hands here
Charitable donations – we encourage all mark-makers to fundraise for charity and will match their efforts up to £50 per person.

3. Customers
We regularly involve all our key stakeholders in a review process to help us understand their environmental, social and corporate governance (ESG) priorities. It's consistent conversations that help us deliver what our clients, suppliers, contractors and community members need at all times.

4. Workers
Our Welldoing initiative started long before our B Corp application, and it's here to stay. Welldoing means we support every mark-maker as a whole person, not just an employee. All in the pursuit of a life well lived and a job well done. What's more, the work we do internally is benchmarked against industry standards, and we're always looking for ways to improve the experience of every mark-maker.
5. Environment
We've already completed a full carbon footprint of our operations and supply chain, and we're committed to being climate-change positive by offsetting 110% of our total carbon footprint through Gold Standard VER offsets. We'll also use these offsets for positive social impact.
Knowing that we've met and exceeded the exacting standards needed for certification is a source of great pride for each and every mark-maker. But we're not stopping there. Now, more than ever, we're considering the impact of every single decision we make – whether it concerns our team, our clients and their customers, our suppliers or the world around us.
In short, we're more focused than ever on being a force for good. And we'll make it our business to do just that.

Steve Co-Founder