The Prince's Trust: Red carpet treatment for extraordinary young people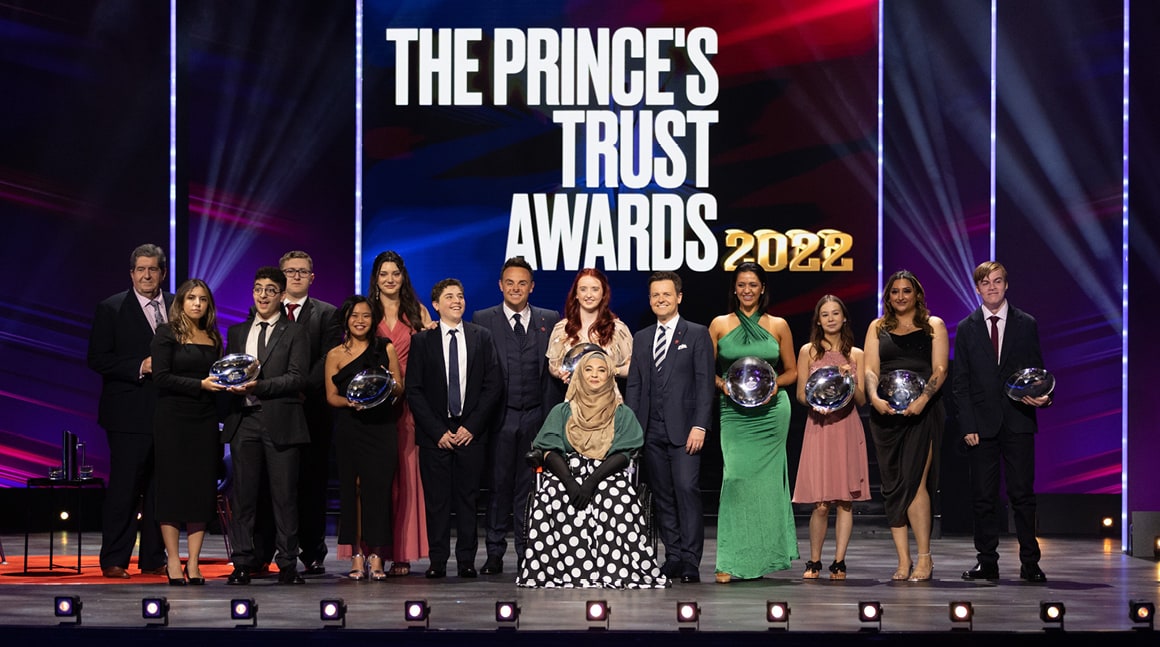 We started working with The Prince's Trust in earnest this year. It's been fascinating to get a better understanding of what they actually do – and the incredible difference they make to young people. But first, a quick history trip.
Almost 50 years ago, His Royal Highness The Prince of Wales used his Navy severance pay to fund a number of community initiatives aimed at improving the lives of disadvantaged young people in the UK. Since then, The Prince's Trust has gone on to support more than one million young people. Today, it has 14 UK centres, staffed by youth workers and volunteers, helping young people reach their potential and get into jobs, education and training.
And its reach now extends far beyond the UK too: through The Prince's Trust international, it's helping young people in Africa, the Caribbean, Europe, Malaysia, the Middle East, and further afield.
Recognising extraordinary young people
Every year, to recognise the extraordinary achievements of all the young people they help, The Prince's Trust runs a national awards ceremony. This year's was an important milestone: held at the Theatre Royal Drury Lane, it was being aired on national television for the first time ever. And guess who made the guest list? Thanks to our lovely client, Mike, our Creative Director, and I were off to walk the red carpet!
So, on a day that could best be described at best as "changeable", we slipped into something "Smart/Casual" (an impossible dress code at the best of times, let alone when the future King's attending) and headed into London town, dodging the downpours.
After a hurried bite to eat, we took our place in the queue. For the fashionistas amongst you, I can confirm that block colour suits are very much de rigeur. Tickets checked, we made our way onto the red carpet and into the theatre – with a swift bit of celeb spotting on route. (Hello, Anne-Marie, hey, Spice Girl Mel C, and swoon Viscount Bridgerton!).
A grand setting fit for our young people
One word: WOW.
The Theatre Royal Drury Lane is nothing short of spectacular. The architecture, the grandeur – it's really something and felt like the perfect setting for what was due to be an auspicious occasion.
We waltzed towards the Grand Circle and while Mike popped for some refreshments, I went to save us some seats. Cue an uncomfortable amount of time in a row all by myself, while people continued to populate the rows above and below. Hashtag awkward. But as the audience filled up, and Mike returned, the screen on stage displayed interviews with the host of stars outside – all of them ambassadors for The Prince's Trust. Then came the arrival of His Royal Highness The Prince of Wales.
All stars in our eyes
The incredible Ant and Dec hosted, in their typical cheeky style. And after so many years in the business, it's no surprise that they know what they're doing, but it was still impressive to see how they navigated the various technical hiccups or unexpected events with humour and ease. True professionals.
Each award was introduced by the various ambassadors, from Nicola Adams and Bear Grylls, to Amal Clooney, Emma Willis, Kate Garraway and many many more.
After a while, it became a bit of a running joke (well, between myself and Mike) as nearly every person who entered the stage would miss their mark. And, while the footage was running, a TV man with a clipboard and headset would rush out and reposition them where they were supposed to be. Come the end, we were physically holding up our hands, willing them not to cross the red line. But of course, the experts on hand meant that you'd never even notice as you watched from home. The magic of television, indeed.
They couldn't care more
Soon after the video footage of the first award was run, I realised the majority of the audience around us were employees and volunteers of The Prince's Trust. If you watch the awards on the ITV Hub (and please do!) what you might not hear – or really get the impact of – was the genuine care and feels that everyone around us had for each of the incredible individuals going up on stage to collect their award from His Royal Highness and speak to Ant and Dec about how far they had come. Their stories really hit you. Inspiring and, I have to admit, a little bit emotional – in a very good way.
Meet some of the award winners
Here's just some of the incredible stories we heard:
Charlotte
Charlotte had spent time in care, been homeless and battled a drug addiction. She wasn't proud of who she'd become and lost her confidence. She cut off contact with her family and friends. Recommended to her by her local job centre, the Explore programme helped her to come out of her shell, and supported her to get a dream job working with Dogs.
Of all the people supported by The Prince's Trust, 75% of them move into work, education or training.
Emma-May
There are 80,000 young carers in the UK. The Young Change Maker award celebrates a person who has turned their life around and then influenced others. Emma-May had been a full time carer since she was 11 years old. Because of this, she didn't get out of the house much or get to do the things that other young people of her age did.
Supported by Euan at The Prince's Trust, she built up her confidence and overcame her Social Anxiety Disorder. Emma-May is now studying law and, inspired by Amal Clooney, fights for Disability and Women's rights, championing the very people that she's seen first hand through caring for her parents.
Tanya
The Marvel Rising Star award is given to someone who's used their time to change their life and secure a full time job. Tanya, a survivor of domestic abuse, had hit rock bottom; her confidence was gone and she was depressed. She spotted an ad from The Prince's Trust helping to recruit people for London Ambulance service. She applied and was given the role of Assistant ambulance practitioner. Tanya was then able to make a difference not just to London, but also to herself and her two children.
Kayleigh
Kayleigh, a budding entrepreneur who went on to develop a successful business, was initially held back by her ADHD diagnosis. It affected her working life and she couldn't hold down a job. But The Prince's Trust helped her turn her passion for cooking into a career – with money management and financial advice as well as access to a grant that helped her buy an oven. Kayleigh was the Natwest Enterprise Award winner.
The Prince's Trust has helped over 90k young people get started in business.
Lyle
The awards didn't just celebrate people supported by The Prince's Trust. Lyle, a volunteer for over 20 years, was given the Volunteer of the Year award. When he was presented with the award he burst into tears. You could clearly see how much helping young people meant to him.
Ella
Ella had a 30% attendance at school. She'd cry each morning not wanting to go to school. The Prince's Trust Education programme helped her look at different aspects of learning and helped her to apply for college. Her attendance went up to 90% with their support and she was the winner of the Educational achiever award.
Letters to my 16 year of self
A team of young people known as the "Felixstowe team" suffered with anxiety, lack of confidence and a sense of not fitting in – all worsened by the pandemic. Together, they were given the Dell Community award for their "letters to my 16 year old self" initiative. They asked people in care homes to write to their younger selves. It helped them to reduce not only their loneliness, but that of the residents too.
Tanzila
Unable to use her legs, Tanzila used her hands instead and, by the age of 16, had published her first book. With the support of The Prince's Trust International, she has advocated for girls and disabled people who refuse to accept the status quo. Tanzila was given the Women's empowerment award, for individuals who make a long lasting difference to the people around them.
Invaluable insight, and an honour and a privilege
The whole event gave me a real insight into the vast and varied types of support The Prince's Trust offer. It was a privilege to attend. I thought it was going to be the glitz and glamour of the red carpet, complete with Royalty and celebrities, that would be the best part of the day. But, for me, it was all about the award-winners and The Prince's Trust employees. Quite right, they were the real stars of the show. The challenges they had faced and overcome were in equal measures humbling and inspiring. And hearing – and feeling – the pride and support from all the staff and volunteers was truly touching.
I'm even more excited to continue working with the team and play our very small part in bringing awareness to the incredible life changing work that they do.