B2B Brand Building: an interview with Jason Oakley, Recognise Bank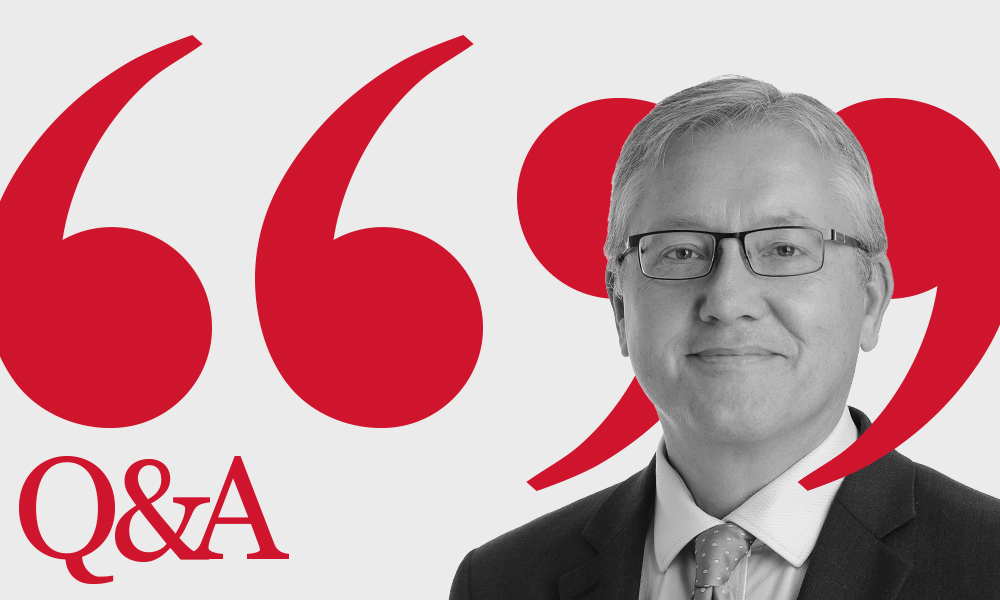 In the fifth in our series of interviews on brand building, Zoë speaks to Jason Oakley, CEO of new bank on the block, Recognise, about purpose, positive impact and elevating your brand to stand for something that outlives its incumbent leadership.
What does brand building mean to you?
For me, a brand is a living thing, and it's a way of life at Recognise.
Financial services branding starts with knowing who you are, what you're all about, and then communicating that to others. In simple terms, that can be how you look and sound – your logo, the colours and imagery that represent you, as well as how you talk – the personality that comes through in your brand voice.
But it doesn't stop there. It's a way of thinking and must permeate all levels and teams throughout the organisation. A brand needs to have a strong sense of purpose, of added value to the community and society as a whole. It's something to be known for, beyond your products and services. Efforts to build brands transcend time. Brands continue to be built and strengthened long after the first founders have gone.
How well do you think the concept of brand building is understood by B2B organisations?
We must talk a bit of history before I answer this. B2B organisations weren't really brands around 30 years ago, they were just names, logos, colours and signs. Business largely took place based on historical relationships, recommendations and sometimes it was a pure price play.
Then three things happened:
The digital revolution made information accessible. Differentiation and target outreach became a great opportunity.
We as consumers became more aware and conscious of what businesses were up to (the end consumer had more knowledge at their fingertips and became aware of what large firms were doing). This had capability to move the share price!
A number of B2B businesses were no longer playing in the pure B2B space – they started to enter the B2C world.
The three factors warranted a sophistication of marketing in the B2B world in order to expand into further sectors, reach more customers and create differentiation. Some of the weight was picked up by B2C divisions (e.g. Rolls Royce) but there were other pure B2B brands that needed to differentiate, and that warranted a different type of marketing; one that's based on real added value and purpose that is driven through rich content.
What advantages can brand building activity bring to B2B organisations?
Again, it comes down to every B2B brand needing to have a central purpose that is relevant to society. Take the example of Boeing. Their mission is 'To Connect, Protect, Explore and Inspire the World through Aerospace Innovation'. Their vision is 'To be the best in Aerospace andan Enduring Global Industrial Champion'. Both translate into the tagline: 'Creating Breakthroughs, Expanding Opportunities'.
Once you've established a relevant purpose or mission it opens-up a myriad of opportunities, from creating financial value in the company and expanding markets, to creating customer advocacy and loyalty. Don't forget though, having a purpose, and having it understood and embodied by teams and colleagues at all levels, are two different things. It's important to put on proper training and continuously bang the drum to ensure buy-in. Naturally this leads to greater employee loyalty, less attrition and stable teams, which results in customer service, loyalty and advocacy, so you also become an aspirational employer for the new generation. It's a win:win situation!
Do you think there is a place for purpose in B2B brand strategy?
Absolutely, I think it's really important for B2B firms today to have a central purpose within their brand strategy. At the end of the day, we are humans, whether acting as an end consumer or as a business. For us, brands matter when they have that emotional hook, that messaging that resonates with us deep down.
For this reason I particularly like the FedEx slogan: We live to deliver. It demonstrates a purpose and a promise that all levels of the organisation can get behind, forming the basis of its organisational culture as well as its relevance to business customers.
Do you think there is a place for emotion in B2B marketing?
We all know that a number of deep issues are coming to the forefront for businesses nowadays. These can stir up huge waves of emotions and can make or break brands. Issues such as climate change, diversity and inclusion, and flexible working, are just some of the ones of key concern.
Proof of action around these critical issues create sturdiness in the brand, building a sense of trust. On the flip side, however popular a brand is, if it's not found to be adhering to the right practices it may suffer great disrepute in a short space of time. For example, the recent news around Deliveroo; some leading investment managers will not be investing in Deliveroo after its IPO because of the way the company treats its delivery staff.
There is a human at the end of every transaction and interaction. To build a brand it is important to engage audiences on a human level, and that means an emotive one, living up to our purpose and delivering on our promises.
In B2B marketing, which do you think is more important, creativity or data?
I think it's a mixture of both. Creativity, in all its forms, is important to establish that human connection we've talked about. Messaging and design that grabs your audience's attention and gives them a reason to be interested, is a powerful part of great marketing and building a brand over time. Data can be used to refine, analyse and revisit creative to make it better.
The use of just data by itself is a whole different ball game. I know we are slightly cautious within financial services, but data is indeed the new oil. Data when used well, correctly and appropriately, creates a halo effect on customer advocacy resulting in strengthening of the brand. Today, data powered by technology can do wonderful things, it can help us understand clients better and offer them services for their tomorrow – something they could not have even imagined that they would need.
What is the best piece of advice you've been given, or have read, about building a successful brand?
I would leave you with this Forbes article that has 13 key strategies for building a successful brand. My favourite one is by Michael S. Seaver from Seaver Consulting, LLC, around focusing on generating value for others:
"People rarely remember what you said or did, but they remember how you made them feel. Trust is the most important currency in the 21st century, and the person you're serving must feel the genuineness of your character and experience your competence first-hand. Generate value for others three times before asking for anything in return. If your service is unique, your brand will be solidified."
Can you think of any B2B organisations that really excel at brand building?
One of the most admired B2B brands in my mind is GE.
Some time ago (2014), I saw a GE campaign that features its employees and focuses on the manufacturer's contribution to the UK through its aviation business. 'We are GE Aviation' tells the story behind GE and its work, the contribution of the business to society, the involvement of its employees, and showcases their pride, loyalty & longevity. It hits a real emotional chord with me.
A more recent GE film – Building A World That Works – communicates the brand's mission and how they rise to the challenge of helping the world go round. It feels relevant on an individual level, but also aspirational on a much grander scale. I particularly like how the story is told through the lens of normal, everyday life, avoiding jargon and speaking in a way that feels relatable but exciting at the same time. Immediately I know what GE stands for and why they're a brand I should care about.
---
About Jason
Jason is a Lombard MBA Banker and won the Centenary Prize for his postgraduate Financial Studies Diploma in 1991 from the Institute of Bankers. Jason has spent his entire 35-year career in banking and has considerable SME and commercial banking experience.
He was a member of ExCo at Metro Bank Plc as Managing Director of Commercial Banking and Mortgages. Prior to this he was Infrastructure Director for Close Premium Finance, responsible for IT, operations and credit control functions. Previously he was Head of SME Banking at RBS and NatWest, serving over 1 million customers and supporting over 3,500 relationship managers, and CEO of Hanco ATM Systems Ltd, the UK's largest independent ATM deployer, when it was a subsidiary of RBS Group.
Jason also founded Acorn to Oaks Financial Services Ltd, a 'whole of market' advisory business based in the West Midlands.