Aldermore
Creating cut-through and enabling growth
New proposition and evolved identity relaunches Aldermore Corporate Treasury with a competitive and creative edge in this undifferentiated market.
The challenge
Since its inception in 2015, Aldermore's Corporate Treasury business has been driven through the personal networks of key individuals. In order to develop new business from beyond this pool, Aldermore was keen to establish a more robust financial services brand and relaunch as "Aldermore Corporate Treasury and Specialist Intermediaries".
Our brief was to bring clarity to what Aldermore stands for in the corporate treasury and wealth management markets. To evolve the playful Aldermore visual identity to better reflect the expectations of a highly corporate and predominantly city-based audience, and capture their attention.
The ultimate aim was to facilitate the relationship-led business model with a compelling and differentiated proposition, and memorable communications tools.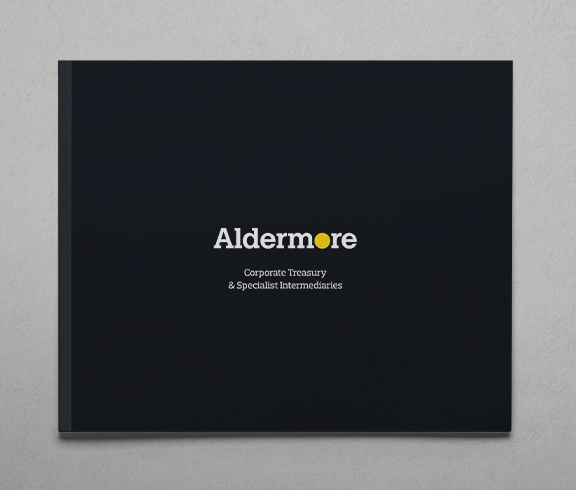 The solution
Insight showed us that within the corporate treasury market there is little to differentiate between products. In order to stand out, we would need to emphasise how Aldermore's proposition goes above and beyond the hygiene factors of competitive interest rates and tailored products.
This thought led us to develop a proposition with "Expect more" as the core sentiment. Adopting the concept of marginal gains – the idea that small incremental improvements add up to a significant benefit overall – "Expect more" allowed us to acknowledge the me-too features of the rest of the pack, and position Aldermore just beyond them. Balancing "Expect more" with a clear benefit-led "Expect less" helped to emphasise the message: for example, "Expect more piece of mind" with "Less to think about", and "Expect more expertise" with "Less guesswork".
Visually, we wanted to give the communications an elevated look to tie in with the prestige of the proposition. Using more of the black in the Aldermore colour palette, black and white lifestyle photography, and illustrations befitting the corporate context, we developed a clean aesthetic while still injecting some Aldermore personality. Little touches, like choosing a bespoke size for the brochure and letterpress printing the business cards, all added to the overall experience.
The results
The client was delighted with the 'Expect more' proposition, feeling it really hit the nail on the head: a simple message, but effective at communicating exactly what Aldermore Corporate Treasury and Specialist Intermediaries stands for.
The Aldermore brand identity came to life in a new way, appropriate for the target audience, enabling the team to move forward with their growth ambitions.
Brilliant result. A wonderful tone, it typifies how we see ourselves in Corporate Treasury. Head and shoulders above what we have seen so far in capturing who we are – bravo!

Ray Mariconda Corporate Treasury Manager, Aldermore