Making a scene with the Shakespeare Birthplace Trust
This summer, as part of a programme of regular cultural events, the Shakespeare Birthplace Trust arranged five productions of Shakespeare plays to take place over the August bank holiday weekend. These were shows with a difference.
They were performed outside, in the gardens of the Trust's five Shakespeare family homes. Artists were commissioned to design the sets, each one inspired by a different culture from around the world.
In the weeks of summer holidays leading up to the performances, the artists devised craft activities for visitors to join in with, the products of which would form part of the sets – there were pebbles to paint, masks to make, creatures to craft from clay, houses to paint, paper leaves to decorate and a sea of moustaches to doodle on.
The Shakespeare Birthplace Trust asked mark-making* to give this creative visitor engagement project a visual and verbal identity to help tell its story on site and on social media.
The verbal identity presented a unique challenge. We looked for words or phrases that would convey information about what these activities actually involved. We were also aiming for something that would invite and entice visitors to join in – or at least come and see what's going on and find out about the performances.
"Make a scene" checked all the boxes. An accurate description of the activities and their end results, and a sufficiently punchy imperative to draw visitors in to learn more. Plus a pleasing double meaning that gives the project edge and standout against the Trust's on-site interpretation. These were, after all, performances, sets and activities with a difference. With the name agreed, we worked with the events team to create copy that told the story consistently across the five different sites.
Inspired by the cultures the artists chose to influence their sets, we created a set of visuals that gave each play and the project as a whole a distinct identity. We developed patterns inspired by the different cultures, and created silhouette graphics of iconic scenes from those places. The silhouettes look like theatre backdrops themselves, and help to give visitors a taste of the culture they're about to step into.
The events and activities brought the Trust's five sites together in one campaign, and the coherent identity helped to give the initiative a unified face out in the world. And five badge designs – each available at one site only – encouraged visitors to make the most of their Shakespeare Birthplace Trust passes and try their hand at all five crafty activities.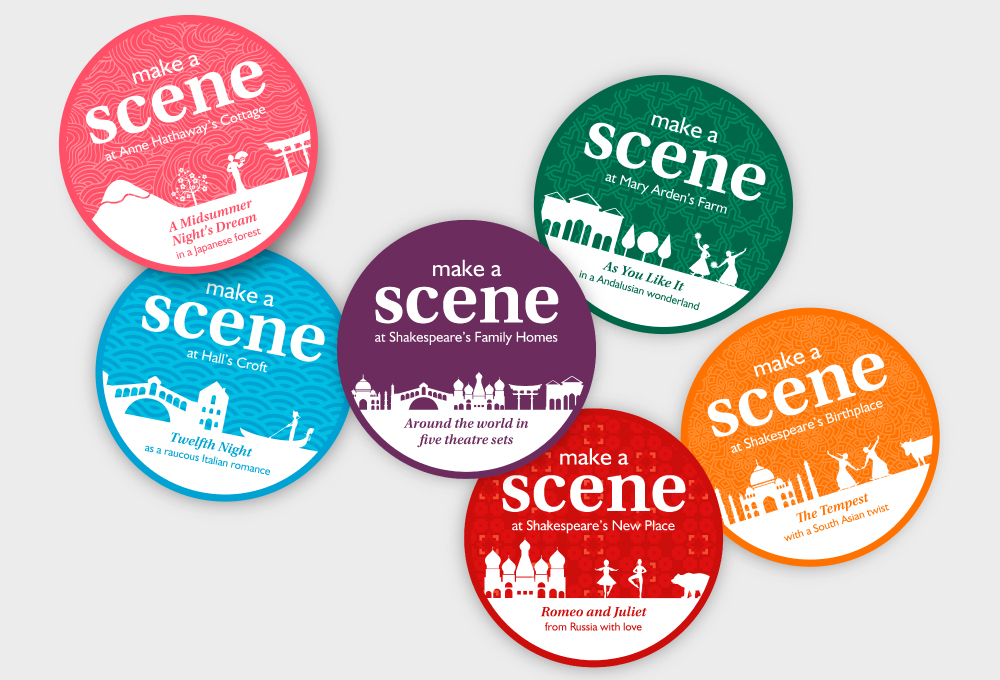 We were pleased to hear that the activities were well-received among visitors of all ages across the five locations, and the performances were well-attended.