Creative Insights: Engaging customers to fight fraud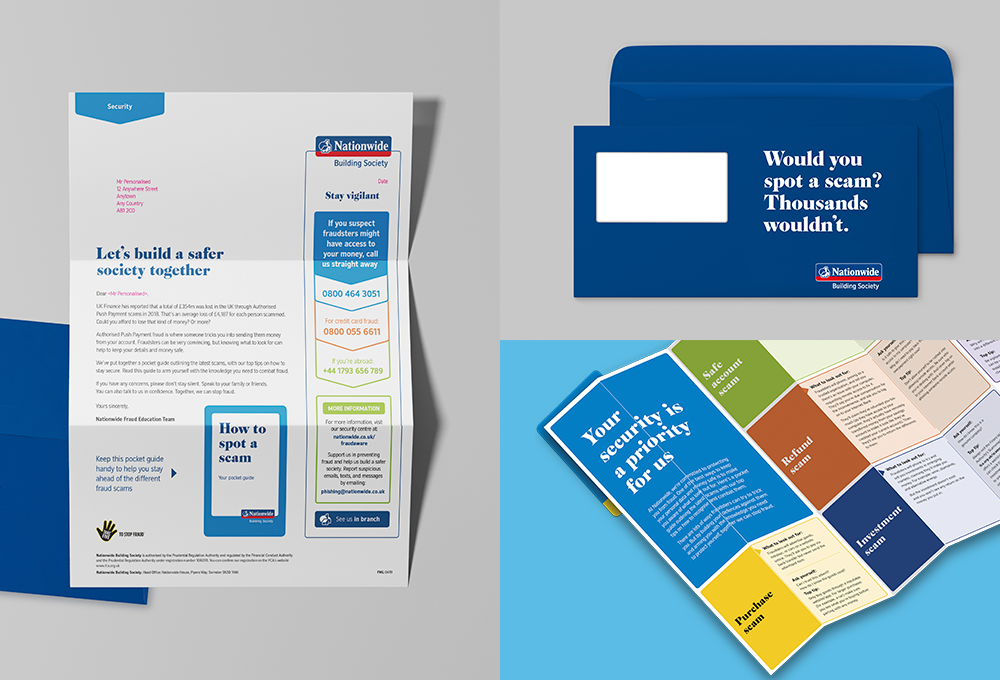 With fraud at an all time high, it's never been more important to raise awareness on how to protect yourself against financial scams. Nationwide have worked with mark-making* to create an engaging approach to communicating the precautions their members can take to spot a scam.
Rachel discusses the process with Creative Director Nic, Account Manager Fran and Designer Emily.
Q. How did this project begin?
Nationwide wanted to highlight the threat of fraud to those most vulnerable. When we talk about vulnerable, we mean those who have the potential to be targeted by fraudsters in new and intelligent ways- which could be just about anyone. A vital part of this project was to break down the assumption that victims of fraud were only the gullible or the elderly, which couldn't be further from reality.
Q. What was the most challenging aspect of this project?
The Financial Crime Team at Nationwide initiated the campaign by targeting approximately 50,000 customers to engage with, all from a variety of ages and financial histories. This is a huge spectrum of people to talk to, and receiving a letter from your bank isn't something that sparks interest in most people. We needed a way to captivate Nationwide's members for maximum impact, in a way that is enjoyable to interact with without downplaying the impact of fraud.
Q. How did you achieve this?
Being clear and educational didn't take any of the fun out of our concept designs. Even the envelope had to be designed to catch a reader's curiosity; 'Would you spot a scam? Thousands wouldn't.'
The initial ideas were a compilation of straightforward leaflets, conversational booklets and playful information wheels, but it was the concertina fold-out that Nationwide were interested in expanding on. This design was a well-rounded solution to appeal to its audience: small enough to be in a wallet or on a fridge yet packed with information.
To make this design easier to navigate, we turned the information into an almost map-style Z-card. Similarly to the concertina, the Z-card was small in size and foldable, but the information could be taken in at a glance. Sent alongside the Z-card was a personalised letter and a warning triangle, flagging the safety benefits of using a card-reader whilst online shopping.
Q. And the outcome?
Nationwide were delighted with the final result, especially the multifunctional and interactive Z-card. What started as a letter targeting a select audience has now been introduced in branches, providing critical advice on-hand to anyone who wants to learn more about fraud prevention. This is a huge success for the project, and we hope Nationwide see a decrease in fraud victims in the future.
On top of this, we are now working on an anti-fraud landing page for the Nationwide website to a similar brief.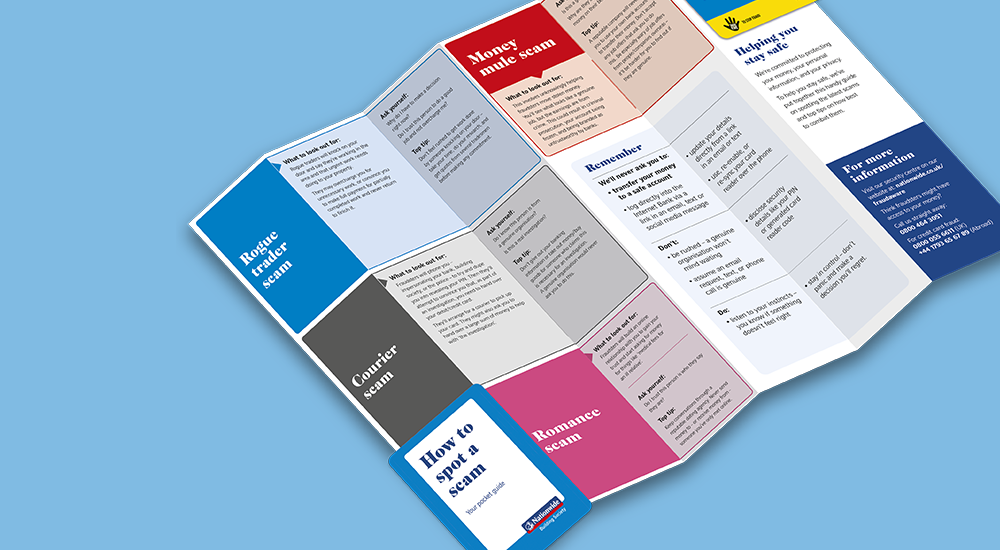 Q. What was the most enjoyable part of the project?
Fran: For me, the most enjoyable part of the project was the concept stage; this always feels like the most creative part of a project and I love seeing how the team take a challenge and set of messaging and translate them into a series of interesting ideas that are unique to the Nationwide brand. The nature of the project was interesting in itself, and certainly opened my eyes about the type of fraud to be aware of.
Emily: I'd have to say I enjoyed all of it, but especially the early concept stages. It was great to be able to explore different formats to help bring the message to life and even better to see them well received by the client! This was made even more rewarding when the finished pocket guide was so popular that more were ordered to have in branch.
'It was really great to see the initial concepts through to the final designs, we're really impressed with it. The Fraud department also really liked the Z-card format and want to create more for our branches.'
– Joe Luckham, Marketing Manager at Nationwide.