B2B financial services: the opportunity in complexity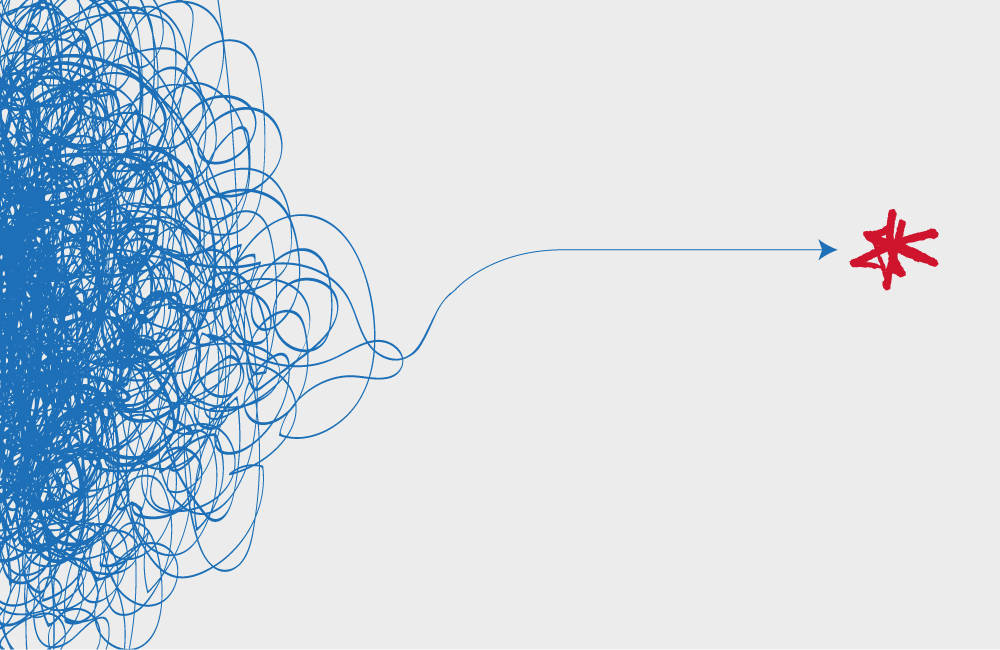 Complex products. Confusing features. More jargon and acronyms that you can SASA. Throw in frequent and often incomprehensible regulatory changes and it's easy to appreciate the extent of the challenge facing marketing teams in B2B financial services. From grabbing attention, to engagement and ultimately eliciting action, complexity takes the universal communication problems to a different level.
With over two decades' experience in the sector, we've gained a solid understanding of the nuances of the challenge. Here are three thoughts on how to address them and realise the opportunity in complexity.
1. Really know your product (no, really know it)
To quote a notably bright German physicist, 'If you can't explain it simply, you don't understand it well enough'. So just how well do you understand your own product? Surprising as it may sound (or perhaps not), not all those in marketing roles understand their own offering as well as they ought to – indeed need to – in order to drive effective campaigns.
And it's rarely a competence thing. More often it's simply down to the pace of change, diversity of products, and competing priorities – having the time and headspace to get a sufficiently good handle on what you're selling is a real challenge.
The simple technique of actively putting yourself in the shoes of your audience and questioning the coherency of the message on that basis, quickly highlights any short-comings and is always worth the effort.
From an operational perspective, it's also worth assessing the nature and quality of your inter-departmental relationships. One thing we've learnt from experience of working with some of the most successful marketing teams in B2B financial services, is how strong, close and proactive their relationships are with their product development colleagues. When campaigns are product-centric, they recognise how the clarity of the brief – from product team, to marketing team, to agency – makes all the difference, dramatically reducing the likelihood of any messaging being lost in translation.
2. Bring order and simplicity to your messaging
Throw someone a ball and they'll probably catch it. Throw them six and it's likely they'll drop them all. Resisting the urge to say everything at once is tricky at the best of times. When what needs to be said is complex, you're on a losing wicket.
Information hierarchy is key. By definition that's about organising content in an ordered way, typically with descending importance.
We put a spin on this with our work for LV= Life Assurance, by presenting sobering and emotive issues of death and critical illness, and related LV= products, in a sensitive and easy to digest way.
The LV= Little Book of Protection took inspiration from the classic split-page children's books. The childhood association immediately made the sombre subject matter softer and more accessible, and the mechanics of the split-page design were ideally suited to the stats-heavy content.
The campaign resulted in an unprecedented level of uptake by insurance brokers and IFAs, with all 3000 initial copies of the book being ordered within seven hours. The work won the Financial and Insurance category at the Marketing Design Awards and the Business Campaign of the Year at the Money Marketing Awards.
With your information hierarchy sorted, it's time to focus on your copy. Strive for simplicity, economy of words and plain english, and it's more likely your messages will hit home.
3. Sweat the power of the visuals
A picture's worth a thousand words. Not a new idea, but with the exception of the rapid rise of the infographic, one rarely exploited to its potential. The very notion that a complex idea can be conveyed with just a single image more effectively than a lengthy description, presents a huge opportunity for marketers in B2B financial services.
Watson Wheatley is one company that really does understand its product. As leading providers of financial reconciliation software, they should do because they built it.
They can explain it simply. We sought to take that a step further, and reflect simplicity in their identity, by creating a design language that communicated the essence of what they do – showing to what degree sets of numbers balance. The solution was a bold identity with an 'equals' symbol at its heart. The result? Immediate cut-through and easy recall in a competitive space.
With payroll and accounting services provider, PayStream, we applied this thinking to the redesign of their website (due to launch early 2018). All about numbers and tax implications, addressing mixed audiences with an exceptionally diverse range of products and frequent legislation changes, you'd be hard pushed to find a more challenging space for marketing. Resisting the default position of leading with jargon and information overload, the route to differentiation materialised through an emphasis on the human element and visual simplicity, focusing on end-users.
To conclude simply
Complexity in this space isn't going anywhere. But, as in every problem, there is opportunity, often in direct proportion. So, embrace the added difficulty and take advantage. Just as most financial intermediaries, advisors and brokers recognise that complexity is the very thing that enables them to demonstrate value, so too can B2B financial services organisations capitalise on the reality of the situation.
As a final example, The Mortgage Works, Nationwide's intermediary-facing Buy to Let specialist, has demonstrated this beautifully in recent campaigns. Amidst the recent regulatory changes facing the buy-to-let industry, TMW's communications strategy has been to focus on helping brokers navigate the resulting complexity. As a result, TMW has created a compelling position as the lender with the greatest understanding of the challenges and the most empathy for brokers.
Now where's the opportunity for you?