A social just like mamm*a used to make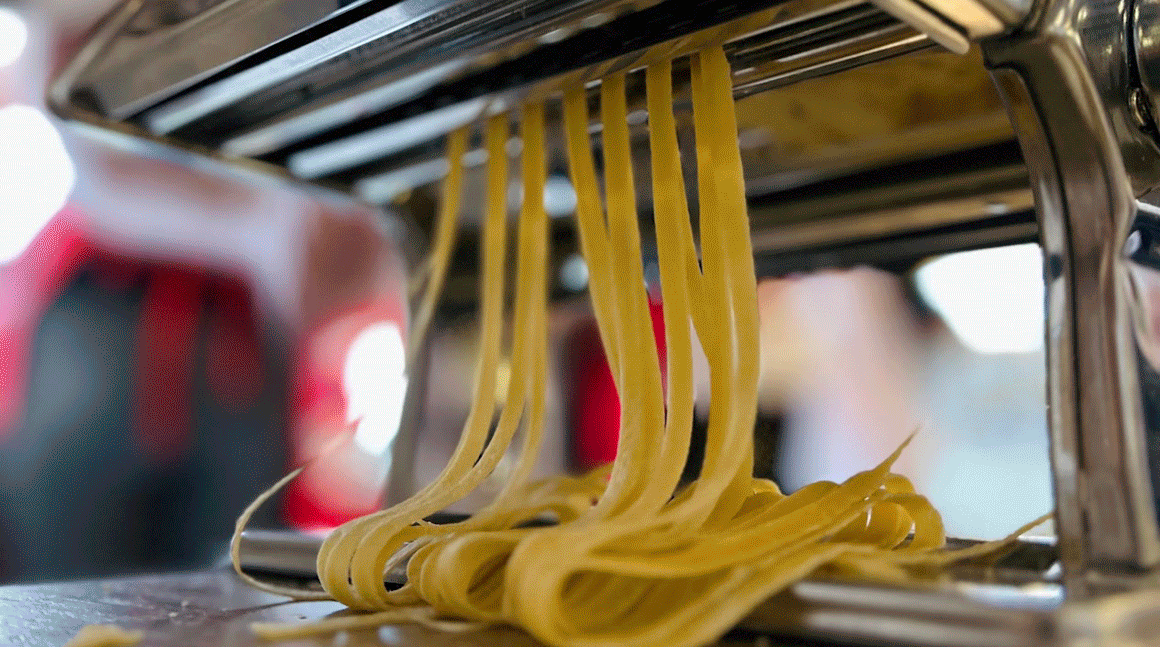 We know that creative inspiration can come from unexpected places. It's part of the reason that our Spring social – part of our Welldoing initiative – always has a creative theme. It's a chance to take our heads out of the day-to-day and into something out of the ordinary. This month saw us leave the office and make for the kitchen, when we visited Stratford-Upon-Avon's Dough House for a culinary masterclass in pasta making. Here's a glimpse into this memorable experience.
A recipe for success
When we arrived at The Dough House, it was immediately obvious that this was going to be a day to remember. Our benches were already laid out with everything we needed – all measured out correctly, too! And, after a warm welcome from our host, Fulden, we got cracking. Literally. Eggs broken, our dough was well on the way to being made. Everyone was in high spirits in anticipation for the class and so, all the ingredients were there for a fantastic time.
Man vs machine
Once our dough was prepped, we then faced the daunting task of the pasta machine. This was something that most of us had never tried before and it led to some more than comical outcomes. With one person feeding the dough through and another dutifully waiting to receive it on the other side, however, we managed to produce some impressive – well, at least edible – results. It truly was teamwork in action.
What's this called, again?
Apparently there are over 350 variations of pasta – different shapes, different textures, all of which lend themselves to different sauces and dishes. On our day, we made three different types: ravioli, tortellini – both stuffed with a delicious mushroom, ricotta and caper paste – and tagliatelle which would eventually be served with a rich tomato ragu. It reminded us that when you have the right staple ingredient, there are many ways to execute something special.
Just what we kneaded
After all that hard work in the kitchen, it was time to enjoy the fruits (well, pasta) of our labour with a sit down meal. Fulden and her team gave us strict instructions on how each pasta should be eaten, giving us advice on the complementary sauces, dressings and condiments. Then it was time to indulge – and that's exactly what we did. I think it's fair to say that no mark-maker* left hungry.
But there was definitely an appetite for more creative cookery!
A big thank you to all at The Dough House for this insightful and engaging session. We enjoyed the delicious pasta, sumptuous sauces and the wonderful environment that you provided us. We're still licking our lips and are keen to try our hand at another workshop soon.