Drive Fuze
Taking automotive in a new direction
Our interest was certainly piqued by the Drive Fuze offering - a car subscription brand which gives drivers the chance to get behind the wheel with less hassle and fewer commitments. See how we set about putting this start-up brand on the road to success.
The Challenge
Car subscription is an alternative way to drive. Customers can choose the car they want for as long as they want it. An all-inclusive monthly rolling contract lets people swap or return their car, giving them a newfound freedom when it comes to automotive. But just how do you encourage people to change their approach to driving?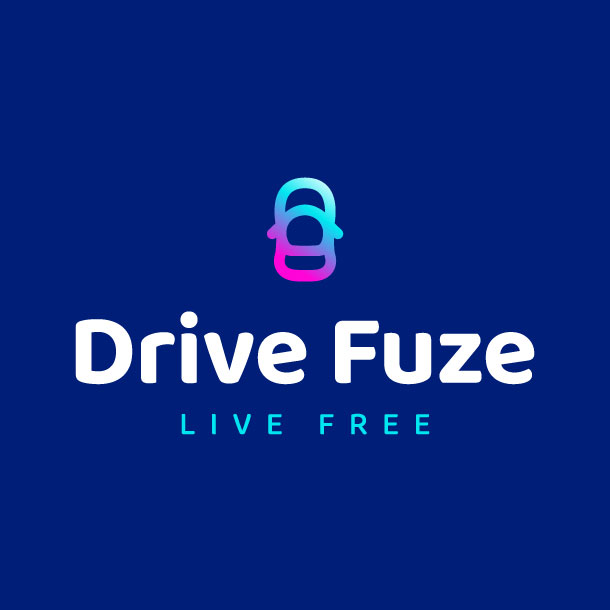 Drive Fuze came to us as a start-up business looking to enter the relatively new car subscription market. We immediately understood that part of our task would be to affect a significant psychological shift in our prospects. With car owning and leasing behaviours so deeply ingrained, we were looking to disrupt these accepted patterns by educating around the benefits of subscription.
We needed to tap into the mindset of drivers who, fatigued by the high-cost and time-heavy implications of running a car, may be on the lookout for a low-commitment alternative.
There was a need for the brand to have a strong and ownable identity that was fuelled by emotion and human truths. The challenge was set: to bring to life a brand that promised not only a new product and service, but also a meaningful lifestyle shift.
The Solution
Given that we pride ourselves on being an agency that builds brands holistically, the Drive Fuze challenge was one that we both relished and embraced wholeheartedly.
We began tackling the project with a consultative phase, canvassing opinions on what a car subscription provider should stand for. A large section of this preliminary work was dedicated to defining our target audience and what they want from a car subscription. We found that people placed a value on the extra time and freedom gained from an all-inclusive offer. And so the creative strategy was born: a benefit-led approach centered around the concept of freedom. In short, we promise drivers the freedom to live life the way they choose to.
The face of freedom
Armed with an emotive creative strategy, we set about creating a distinctive look and feel that would bring freedom to life for Drive Fuze. We wanted to get under the skin of exactly what freedom means for our target customer. It wasn't enough to explore conventional concepts of freedom, as these are already overused in the world of automotive. Instead, we developed four different territories linked to the idea of freedom, each of which resonated with the specific brand offer. The four areas of freedom we identified were: freedom to change; freedom to live life on your terms; freedom to move forward and freedom to focus on what matters to you. From here, we used the territories to craft our customer-facing messaging and source our customer-facing imagery.
Our client already had the beginnings of a visual identity which they'd used in order to secure initial investment. Using this as a starting point, we further developed the brand look and feel, ensuring that it fully reflected the promise of freedom.
The brand identity was developed using a bold and striking colour palette to convey the zestful personality that's so fundamental to Drive Fuze. With time, we looked to develop this yet further, creating playful and ownable elements. The 'beep beep' car played a key role in this and we used colour to develop a charming, now signature, brand asset. What's more, we've given it a crucial role in our communications: in digital environments it even animates, bringing a dynamism that truly reflects Drive Fuze's energy and charisma.
A bank of photography was sourced using our four territories as inspiration. We not only wanted to capture our main concept but also looked to depict everyday moments in and around a car setting. In doing so, we were able to highlight the freedom that customers gain by choosing to subscribe with Drive Fuze.
After establishing a visual identity for Drive Fuze, we set about applying it, designing a website homepage and social collateral that ooze personality and demand attention, all whilst prioritising UX.
Giving freedom a voice
Equally important to the Drive Fuze solution was the creation of a verbal identity. Alongside the strapline "Live Free" – which epitomises the Drive Fuze promise and has a playful symmetry with the brand name – we developed tone of voice principles which help us to talk to customers in a way that conveys the vibrant character that's at the heart of the brand.
Freedom in action
We understood the importance of reaching the right people with our Drive Fuze communications, so a significant part of our work was put into a paid digital campaign that targeted key segments of our demographic. Working in partnership with SEO/PPC agency, Common Ground, we developed an extensive multi-channel campaign. Granular segmentation of messaging allowed us to test what resonated with areas of our audience, giving us a platform to maximise reach and best serve our customers.
The campaign messaging was split between more aspirational, brand-building creative and more functional communications that had a rational tone – again this approach came from the territories that had been established in the brand strategy part of the project. We tailored messaging to both close adopters and on the fencers, using the more rational, conversion-based strategy for the latter audience segment.
The results
It's early days in the Drive Fuze story and our brand-building efforts are ongoing. So far, the feedback has been overwhelmingly positive, and the identity we created has been well perceived by Drive Fuze customers. There are some concrete results, too.  With the website live, we're seeing customers subscribing, some of whom are already on the move in their chosen cars. What's more, our ongoing digital campaign is really gathering momentum, having garnered 12.51 million impressions across Google and Facebook. The success of the campaign so far gives us confidence that this campaign will continue to benefit the Drive Fuze mission and help our client continue to move in the right direction.