The value of brand values in B2B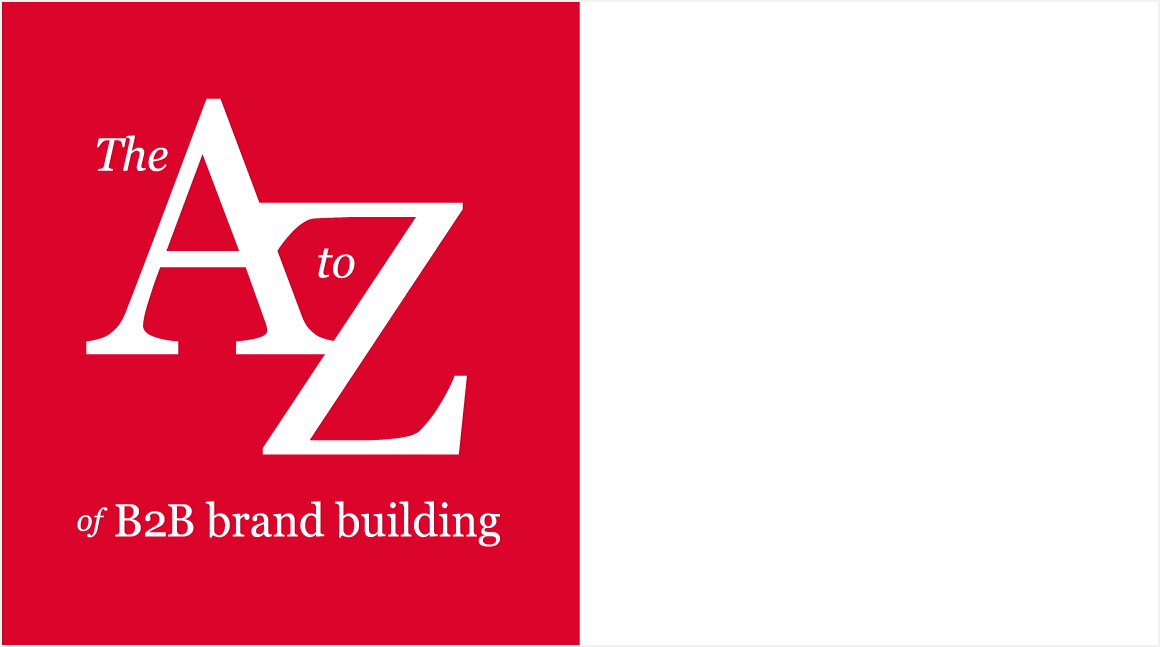 V is for…Values
In the July 2002 edition of the Harvard Business Review, Patrick M. Lencioni cites the published values of a famed global corporation.
Communication. Respect. Integrity. Excellence.
As Lencioni points out, if they resemble your own brand values, you should feel nervous. Because these belonged to Enron – the U.S. conglomerate that imploded in late 2001, declaring bankruptcy and triggering a stock market meltdown when it was revealed that the business was a fraudulent sham.
Examples like this debase the whole idea of brand values.
But, done right, we say they sit at the very heart of successful B2B brand building.
Here's why.
What are brand values, anyway?
In his March 2021 Forbes article Why Core Values Matter (And How to Get Your Team Excited About Them), Brent Gleeson summarises what values should mean to an organisation:
"Values are the guiding light that bonds a team with a shared sense of purpose for achieving common goals."
Values can shape culture. They can influence how teams think and how they respond to events. Fully embedded, they're an essential tool, guiding every decision an organisation makes. And they have commercial power, too.
Patagonia: setting the bar high
A brand that truly lives its core values is Patagonia, the outdoor clothing company. Revised in 2022, on the eve of their 50th anniversary, their values are:
Quality. Integrity. Environmentalism. Justice. Not bound by convention.
As far back as the 1980s, they were known for doing things differently. Their "Don't buy this jacket" campaign famously deterred consumers from purchasing their product, urging them to first check whether they really needed more clothing. Fast forward to 2022, and Patagonia's founder, Yvon Chouinard, gives away the company to be "in business to save our home planet". All profits generated (and there are plenty) are now redirected to "spend every dollar received to fight the environmental crisis, protect nature and biodiversity, and support thriving communities."
Patagonia does what they say they'll do. And they're loved for it.
At the other end of the spectrum, we have Enron and its ilk. And in between sit most other companies, core values on dusty paper, pinned to walls or tucked away in desk drawers.
Which is a shame. Because, according to Gleeson, "63% of customers say they want to buy…from companies that have a purpose that resonates with their values and belief systems".
The problem is that whilst brands might not struggle to choose nice words, turning them into effective tools is, all too often, a major stumbling block.
The question is, where do we begin?
Defining values, the mm* way
Brand building is what we do. And this typically starts with the 'Define' phase.
It's about getting under a brand's skin and understanding exactly who they are. So that we can tell the right story, in the right way.
To find the answers we need, we're forensic. We review internal plans and brand assets. We analyse market research and brand competitors. We run internal workshops, interview clients and conduct research. Because the knowledge it unearths is crucial for the story we're about to tell.
Values that go to work
A great example of a brand that fully embraced the work it takes to establish meaningful values is threat intelligence specialist, Seerist.
When they commissioned us to define, position and build an identity for the brand, the challenge was to amplify their unique offering of AI technology combined with human expertise, to create the differentiation it deserved.
Once our Define deep dive was complete, we had a thorough understanding of what the brand stood for. Because they believe in embracing and pushing the potential of AI, we established that their first core value was Imagination. Because honesty and accountability underpin everything they do, the word we chose to encapsulate their second value was Integrity. Because they're driven to be the best in the world at what they do – Ambition. And because they respond and act at speed and with energy, for their fourth value we selected Pace.
Imagination. Integrity. Ambition. Pace.
Four words that are so much more than a pretty face. Because they emerged from a deeply rooted culture and story, they are both livable and sustainable. In other words, they're rock solid. And they have gone to work.
Seerist has a voice, personality and visual identity that define and differentiate them. These authentic values have brought clarity, direction and behavioural expectations to a brand that's now streaking ahead of the curve.
Walking our own talk
As B2B brand strategy and creative specialists, we can't credibly establish the values of other brands if we don't live and breathe our own.
But do we?
Let's put it to the test.
In tune and in touch
This means we're invested in "building connections with our fellow mark-makers, our clients, our stakeholders, with our community, wider society and the environment"
The strongest evidence for the authenticity of this mm* value is goodmarks* – our longstanding commitment to leaving positive impressions wherever we go. From Team Welldoing, to volunteering and pro-bono work in our communities, to our recent B Corp certification – everything we do considers how we can positively contribute to the things that matter most.
The smart way, always
We say "Our love for what we do means that we care about every aspect of it." That means that whilst we're responsive and swift, we never compromise on quality. We get senior eyes on every task and because we like to keep ourselves honest, we'll gladly challenge ourselves, and the brief, when it's called for.
The proof of this is in the pudding. But you can also read what our clients have to say about us, here.
Serious about play
This means "we're always serious about our craft, but never too serious about ourselves."
It's through play that we find ideas that lead to the best possible solutions. But that ability to play doesn't just happen. We take time to develop the relationships that support us to play well – like our recent afternoon at cookery school. Time together away from our desks gives rise to the humour that infuses our process and makes work that's fun to work on. And because we love what we do, work, and working with us, is always a pleasure.
It's a virtuous circle, reflected in the fact that we've been twice recognised as one of Campaign's Best Places to Work and that in our last survey, 100% of our staff shared that they felt well supported and that leadership cared about their wellbeing. These are the accolades we're truly proud of.
Real Values add real value
In the words of Lencioni, if you're not prepared to do the work of establishing real values, 'don't bother'. They'll only serve as a standard you've set that you've made no effort to rise to. And should you fall spectacularly foul of the commitments you make, à la Enron, they'll be a neat little tool the world can use to mock you and your total lack of integrity.
But if you're prepared to invest time and work so your values are embedded through every twist of your DNA, you'll see growth everywhere. Because, where real values are concerned, it's no exaggeration to say that the benefits can be boundless.
---
Anna Glynn