YIMBY – A festival with heart
Every year we consider projects to take on pro bono as part of Project:Pledge, our commitment to give time and skills to make a difference (more on that in this recent article).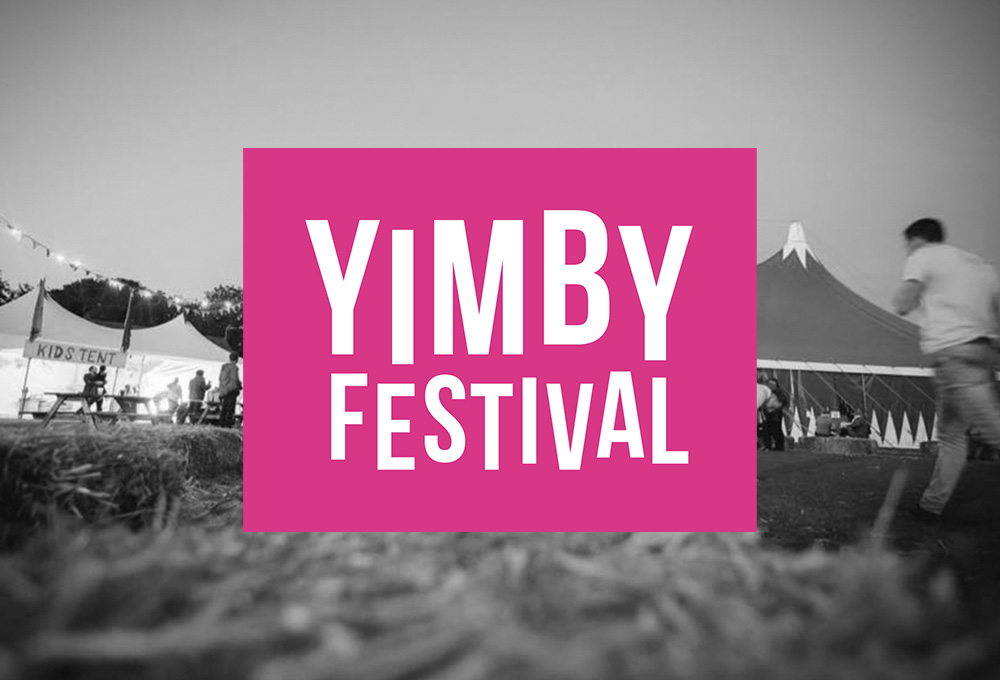 We'd worked with Ian Nolan Events on the fantastic Emma's Trust Festival, we already knew what we could achieve together with his high calibre team. Then earlier this year they approached us about the identity for a local festival.
The event was designed to engage young performers and support local businesses, while simultaneously raising money for charity and bringing together the local community here in Chipping Norton. All that made it a project we were very happy to give time to – the fact that designing a festival identity is a really interesting task cemented the appeal.
We first got to work defining the festival's purpose and positioning – and ultimately why anyone should care. Then, we brought it to life with a visual identity that expresses the purpose authentically and consistently.
We called it YIMBY.
Why YIMBY?
First off, it's an antidote to "NIMBY". For the uninitiated, that's: Not In My Back Yard – an acronym associated with objections to something different appearing in your neighbourhood or on your doorstep.
YIMBY turns that into something positive – a festival that the local community can embrace. Something new on your doorstep to celebrate about! It's greeted by everyone with open arms – yes! In my back yard! – and everyone can get involved. It really animates the festival's capacity to bring the community together. (Plus "Yim-Bee!" is really fun to say out loud).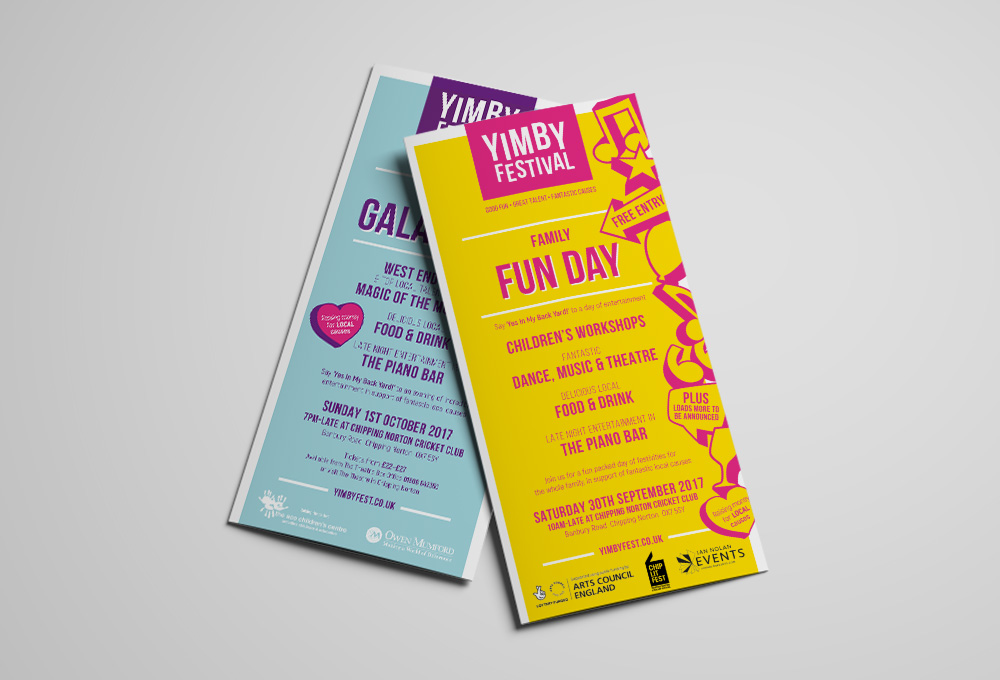 What is it?
"A local festival of the highest quality, that celebrates inclusivity and equality, whilst raising money to support and give back to the local community."
How is it different?
It's professional
At an organisational level YIMBY comprises a collective of professionals with a rich pool of experience and contacts in events, PR and theatre. They all have strong ties in the local community and are invested in producing an event that punches well above the weight of what might ordinarily be expected of a small, independent festival.
It's about giving back
The festival is not a money making gambit but a community-based cultural extravaganza and fundraising endeavour, championing local talent, organisations and produce.
YIMBY provides a venue to encourage, stage and promote performers and businesses, enabling them to benefit directly from the success of their efforts. The aim is to create a sustainable enterprise that will boost both interest in and revenue for local organisations while enriching the area with a unique and adventurous annual festival.
Attendees will benefit from an exciting alternative cultural education. Our local participants, young and old, will have the opportunity to work with national theatre professionals while festival-goers will in turn be able to take advantage of an impressive calendar of high-quality entertainment on their doorstep.
It's inclusive
The aim of the festival is to attract and include everyone. The festival offers an array of events and activities to suit a variety of different audiences and tastes with the aim of engaging (and entertaining!) as many members of the local community as possible.
YIMBY are passionate about creating the space and opportunity to strengthen our communities, to be inclusive and to give something back. They hope to inspire others to behave in more positive ways, and so we created an identity that reflects this feeling and brings it to life.
It's about the small steps we can all take to make our world a better place.