Nationwide Building Society
An impressive half year
Harshest critics, highest stakes. Internal half-year results communications take employee engagement to new levels.
The challenge
Half- and full-year business results are the key corporate employee touch points of the financial year. Nationwide wanted to refresh the delivery of their results, and create a stronger link between the results and other important corporate communications in the process.
Our challenge was to create print and digital results communications to tie into the corporate plan with strong visual links, increase employee anticipation and understanding, and improve overall engagement with the results.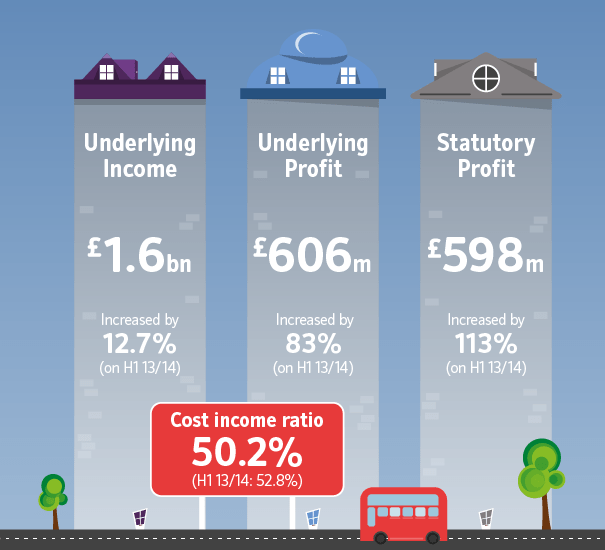 The solution
Working alongside the Nationwide internal communications team we developed a infographic design based on a high street, that put the information centre stage. It drew the analogy of the company's success being built on strong foundations. The reverse of the results featured a statement from Nationwide CEO Graham Beale, and a rundown of important company news.
The content was organised into business areas and bite-sized chunks, so it could all be easily digested. We also created a one-page interactive pdf version of the results that included pop-up explanations of the numbers and terms, without visually overcrowding the document.
I was impressed with the quality of the work and service. We were looking for a fresh approach to engage our employees on financial results, and the materials produced by mark-making* were well received.

Chad Rogerson Nationwide Building Society
The results
The immediate feedback from employees was excellent. The new results suite took employee engagement to new heights, with 100% feeling positive on learning about the results, and 99% finding the results handout useful or very useful. The manager briefing pack was a new addition, and 97% of managers found it useful or very useful.