Nationwide Building Society
Raising awareness and fighting fraud
Campaign raises awareness about new industry-wide security regulations, engages Nationwide employees and members, and evolves a fresh visualstyle for future comms use.
The challenge
Our challenge was to create a dual campaign for Nationwide (external for members and internal for employees) raising awareness of an industry-wide regulation being introduced within the financial sector to improve security and help reduce fraud: Strong Customer Authentication (SCA). SCA will affect the way people shop online: requiring two-step authentication more often.The campaign needed to convey multiple messages with clarity, remaining characteristically Nationwide while – asan industry-wide change – being visually distinguishable from their usual comms.
The external campaign aimed to help membersunderstand the upcoming changes and how SCA would affect their user journey. The campaign CTA needed to encourage members to ensure their contact details were up-to-date: avoiding potential pain points at a later stage and making the transition smoother. The internal focus should educate employees and equip them with the toolsto support members.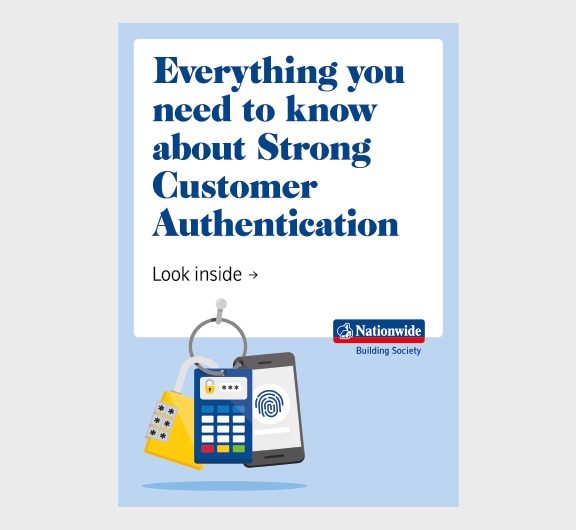 The solution
The Nationwide brand is characterised by real memberand lifestyle photography. This campaign needed to feel different from usual Nationwide comms, as it's a service message via a regulatory change delivered by Nationwide. We chose a graphic route so as to achieve this visually,and effectively differentiate the campaign.
We created distinctive graphic icons which represented different aspects of the SCA authentication process, focusing on a padlock element. These would be used throughout and beyond the campaign so that they became familiar: associated with, and instantly recognisable as, comms about SCA. The graphic icons were designed to be functional: a way to present the new authentication process as memorable steps and push the required actions to the forefront. For the internal campaign, we created an acronym "ACE" (ask, check, explain), to prompt employees to talk to members about SCA.
We condensed the multiple messages into a simple and coherent dual campaign, which brought the key CTA to the forefront. The campaign was a simple solution to a complex challenge. We brought the internal and external comms under one coherent overarching campaign while keeping the two distinct from one another. The internal-focused campaign worked to educate employees, and the external to raise awareness among members about the changes while also reassuring them that Nationwide is there to help. The dual campaign was clearly distinguishable from previous Nationwide campaigns by the new graphic style,it was also on-brand and maintained the Nationwide toneof voice throughout.
The results
Nationwide has been overwhelmingly positive with great engagement and fantastic feedback. Furthermore, this project has since been referenced within Nationwide as an exampleof work to aspire to.
A big thank you to mark-making*. This is the first time we're using graphics instead of lifestyle imageryon such a large-scale external campaign. We're all very pleasedwith the result.

Spencer Clarke Director of Customer and B2B Marketing – Nationwide Building Society