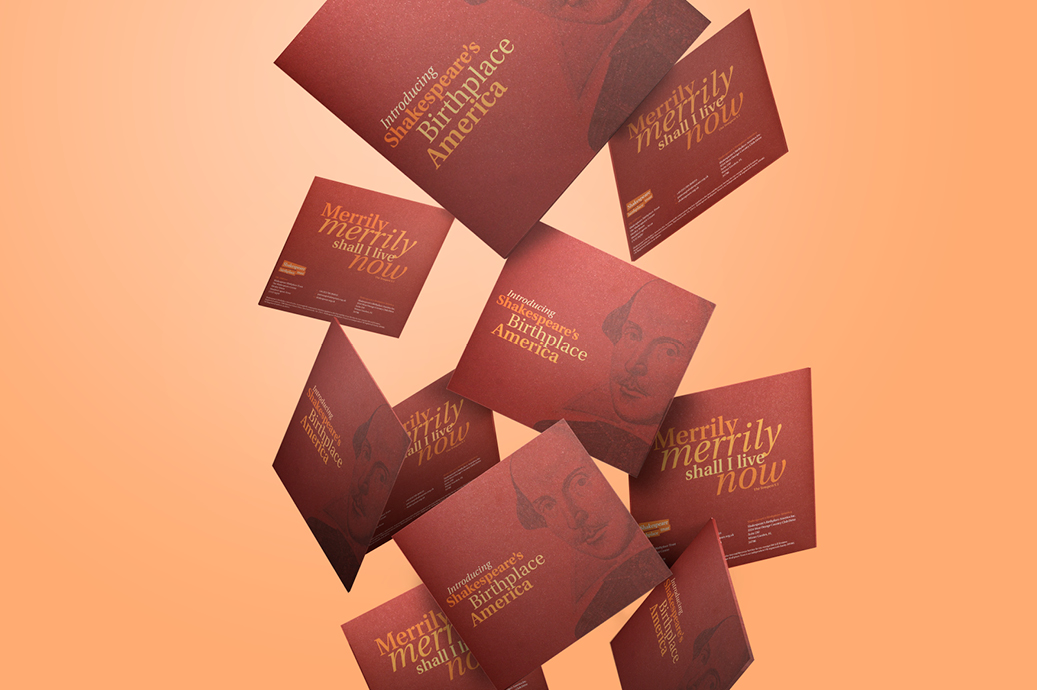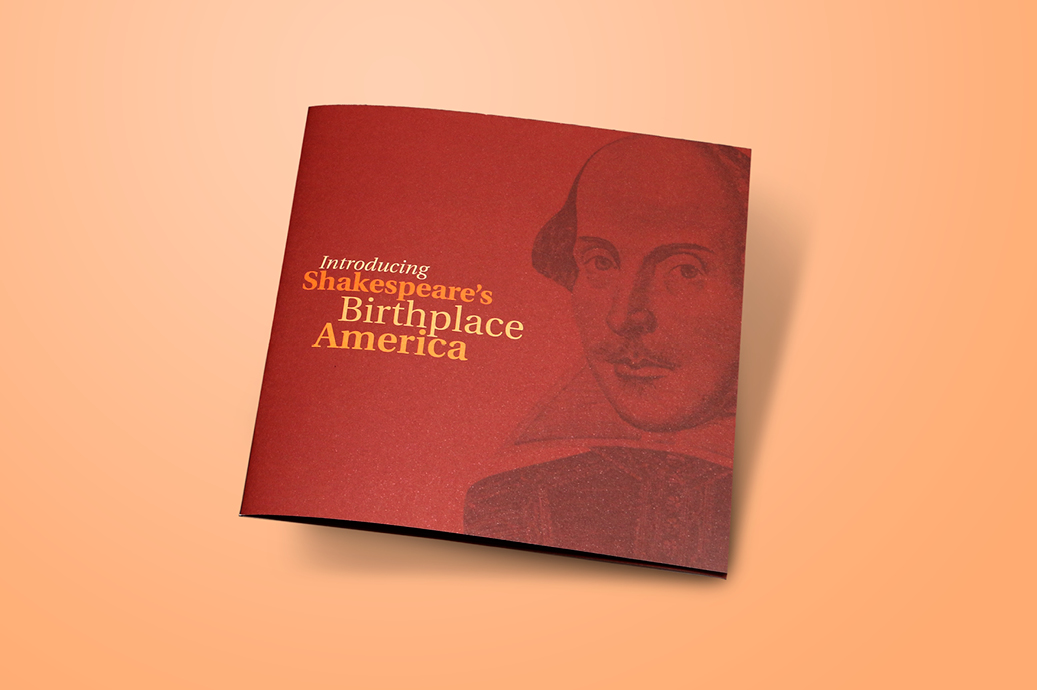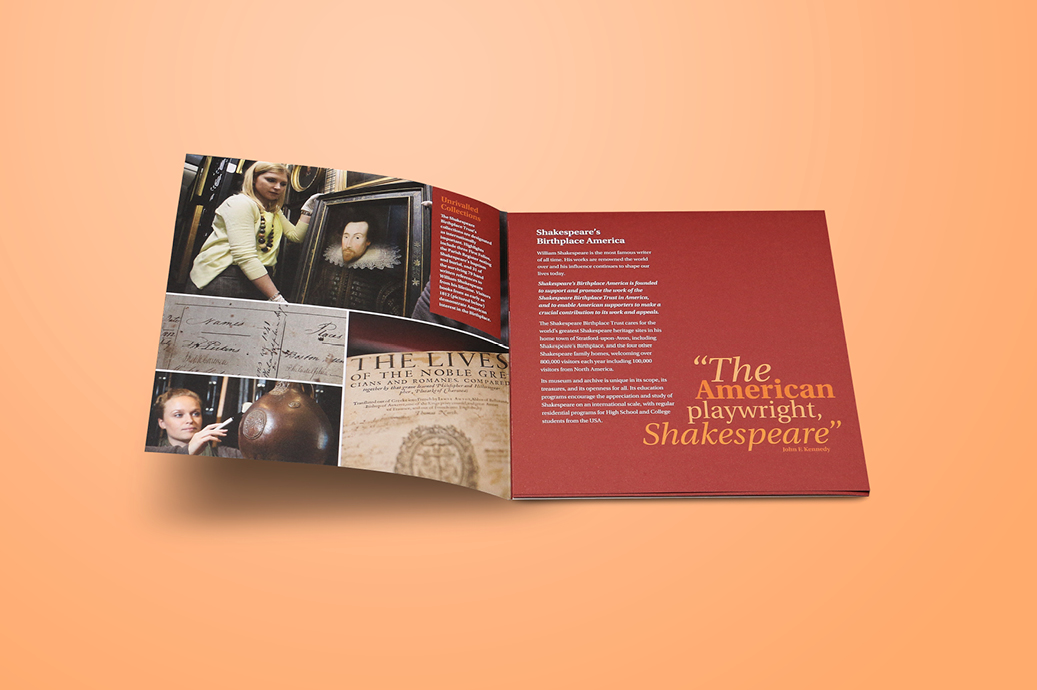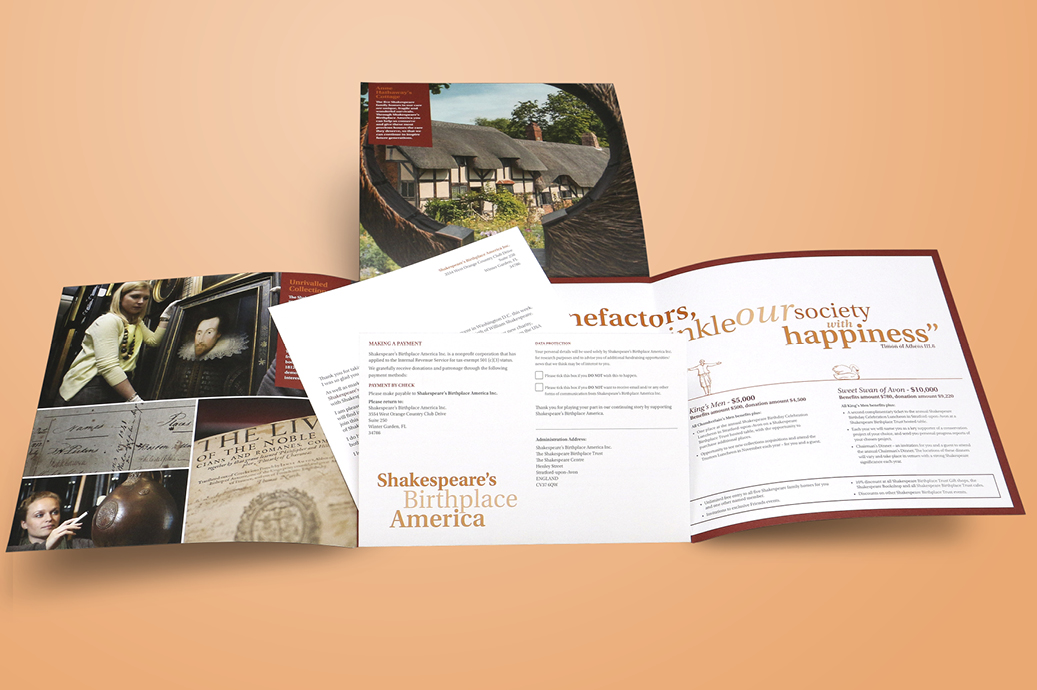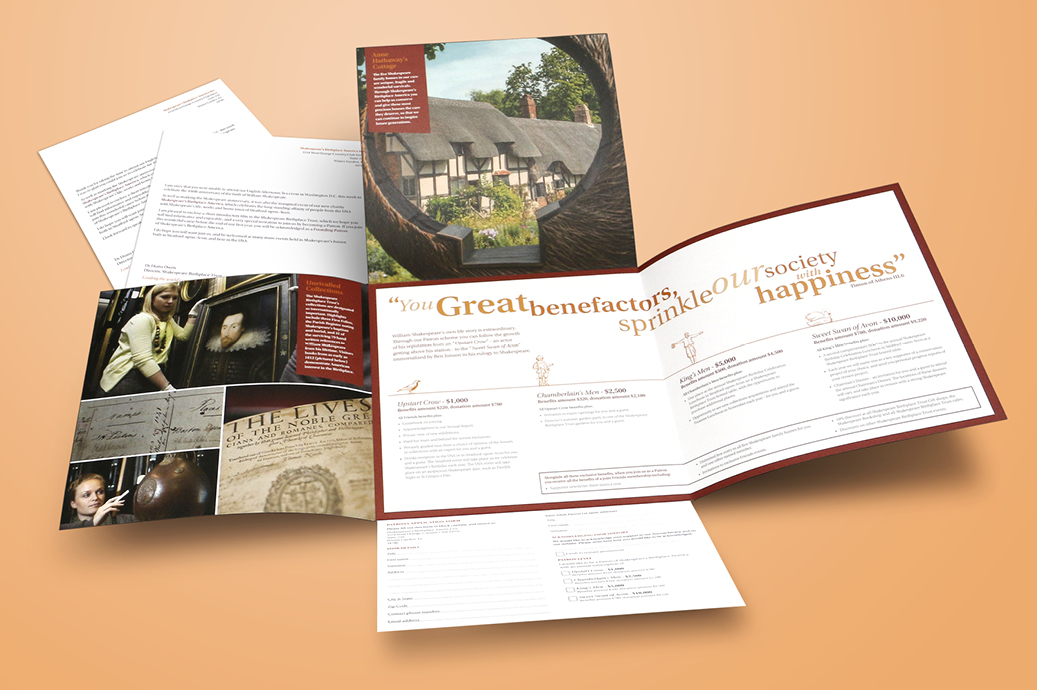 Background
Shakespeare's Birthplace America is a not-for-profit foundation that promotes and supports the works of the Shakespeare Birthplace Trust in the United States. It gives charitable US Shakespeare-lovers the opportunity to become a Patron, and play a part in the Trust's continuing effort to encourage appreciation of Shakespeare's work, life and times on an international scale.
Brief
The launch of Shakespeare's Birthplace America took place in Washington DC in September 2014, to coincide with the end of Shakespeare on the Road – an epic road trip telling the story of Shakespeare in North America. 200 potential Patrons were invited to an English themed tea party, hosted by Dr Diana Owen, Director of the Shakespeare Birthplace Trust. mark-making* was commissioned to create a Patron's brochure introducing Shakespeare's Birthplace America and its work and explaining the various levels of support within the Patron's scheme.
Design
We set out to tell the Shakespeare's Birthplace America story, whilst conveying the many layers of the work of the Shakespeare Birthplace Trust – from their unrivalled collections of artefacts and documents, through to conservation of his five family homes.
To achieve this, we used a Maltese cross format, allowing the content to unfold to the reader and lead them through the story from an introduction to the new foundation and how they might become part of the story, right through to a donation form to make a payment. The imagery used reflected the story within the copy, emphasising the historical and cultural significance of the foundation's work.
We took design language inspiration from the existing Shakespeare Birthplace Trust literature, using the same colour palette but focussing on greater use of the richer colours to convey a sense of heritage. The typography used on the cover for the Shakespeare's Birthplace America title reflects the staggered nature of the Shakespeare's Birthplace Trust logo. We continued this typographical style throughout the brochure, using a series of relevant quotations to support the narrative and bring it to life.
The inner spread features the various levels of patronage available, with their associated benefits. The patron level names tie in to various stages in Shakespeare's life story and follow his progress from an aspiring young playwright referred to as an 'upstart crow', through to a successful self made man returning to his home town as 'the sweet swan of Avon'.
Each guest received a going home pack containing a Shakespearean gift together with the Patron's brochure, a hand signed thank you letter from Diana Owen inviting them to join as a Founding Patron and a short introductory film to the Shakespeare's Birthplace Trust.