Greenredeem
Declining recycling rates reversed
Significant uplift in recycling rates achieved in the first local authority partnership following the repositioning and rebrand of green incentive and reward scheme operator Greenredeem.
The challenge
Launched in 2011, Greenredeem began as a recycling initiative that combined interactive reverse-vending kiosk technology with a web-based membership and reward scheme.
In April 2013, Greenredeem acquired Recycle Rewards UK, from US-based Recyclebank, a global leader in providing recycling incentive and rewards  programmes.
Bringing the two brands together under the Greenredeem name presented two key challenges. One, defining the new Greenredeem brand to incorporate a more holistic proposition and bigger vision. Two, bringing that to life in a meaningful way for all stakeholders, through an evolved brand narrative and new brand identity.
Additionally, it was important that the new identity minimised any risk of alienating the large and established customer base of Recycle Rewards UK.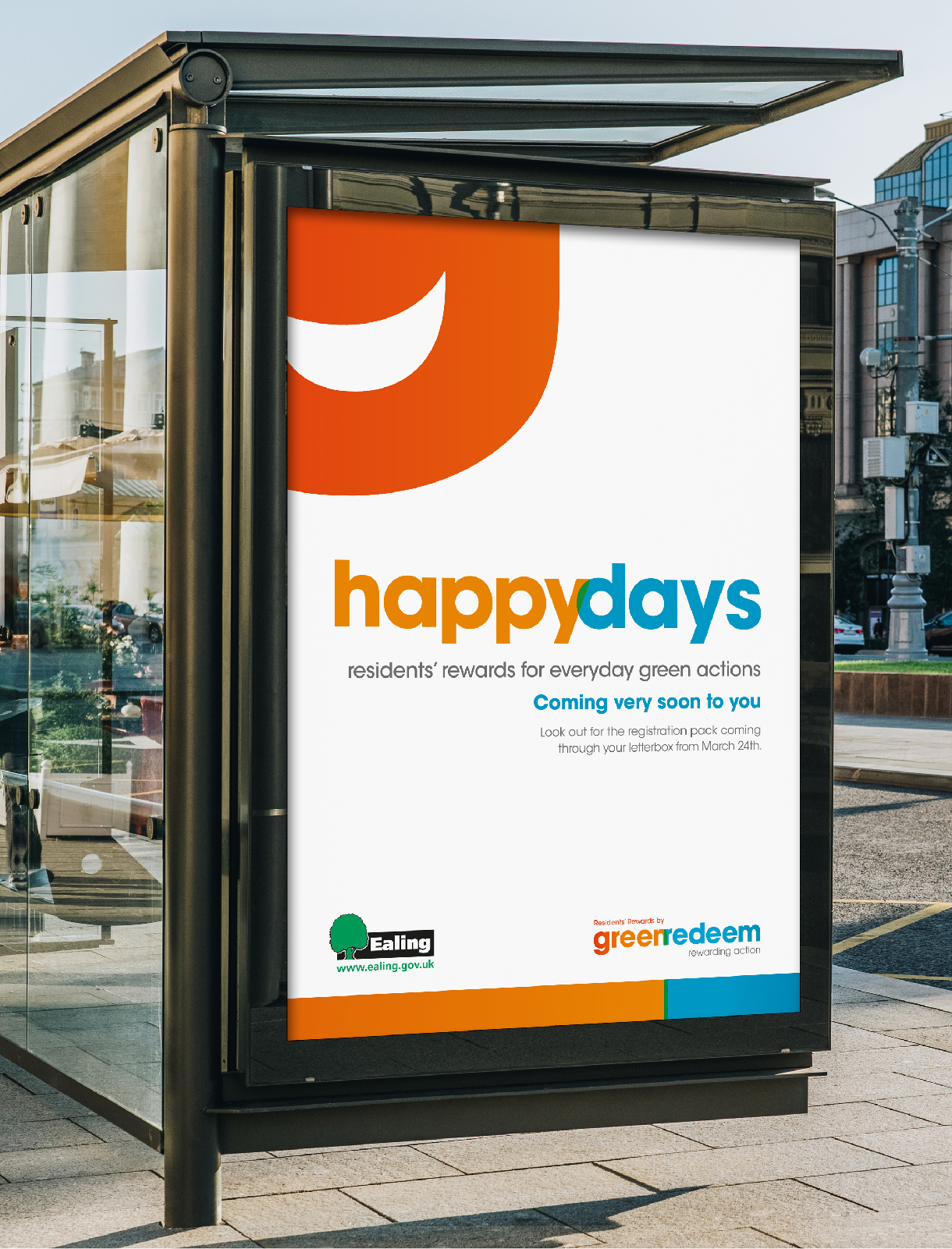 The solution
The new brand positioning and narrative embraces a vision of communities inspired to create a greener future, achieved through deeper understanding of the issues and greater collaboration.
At the heart of the brand story is a promise of 'reward', that recognises the concept of reward as different for everyone. In the context of recycling and greener behaviour, a healthy planet may be incentive enough for some, yet an additional nudge in the right direction is still necessary for many of us. Greenredeem's brand positioning and core proposition acknowledges, and successfully balances, personal with collective gain.
Central to the visual identity, the new Greenredeem logotype and letter-form brand mark draws inspiration from the creation of the colour green through the mixing of blue and orange. The use of blue also addresses the potential issue of audience alienation, by nodding to the new Greenredeem's heritage as Recycle Rewards UK.
The new identity was successfully rolled out across all brand and marketing communications, from website and direct mail, to info packs, kiosk graphics, and reward vouchers.
The repositioning and rebrand of Greenredeem was also supported with a launch campaign. The creative platform played to simple, two-word headlines, mirroring the new logotype structure, and further building the distinctiveness of the new brand identity to aid consumer recognition and recall.
The results
The repositioning and rebrand was universally well received and acknowledged to play a significant role in helping forge new partnerships with local authorities, retailers and community groups.
The first local authority partnership following the rebrand was with the London Borough of Ealing, which had been experiencing declining recycling rates amongst its residents.
An integrated campaign that included outdoor, social media, influencers and engaging local community groups resulted in a reverse in Ealing's declining recycling rate, with a 4.7% increase over two years, during which period other London boroughs saw their recycling rates fall.
More recently Greenredeem's positioning has evolved further to address the broader climate agenda. A strategic shift has seen the organisation successfully develop partnerships outside of local authorities, to include the likes of Thames Water and smaller commercial operations. With a new strapline that reflects a focus more on driving lasting behavioural change than simply rewarding action, the brand identity continues to express the essence of Greenredeem and provide stand-out in an increasingly competitive space.
mark-making*s rebrand of Greenredeem achieved exactly what we were looking for, providing the foundation for the clear and consistent communication of our positioning to all stakeholders. It has translated beautifully across consumer-facing campaigns and marketing activity, undoubtedly contributing to the success we have seen in changing UK consumers' behaviours with respect to being greener. And as our positioning and strategic approach has evolved, our identity has certainly stood the test of time, helping us tell our story in a way that gets noticed, remembered and truly resonates with all our stakeholders, from the public, to our people and our partners.

Matt Ball Managing Director Greenredeem