Gatehouse Bank
Broadening appeal and driving growth
Rebrand celebrates the values at the heart of Shariah finance and drives 60% increase in broker registrations and home finance applications.
The challenge
Gatehouse Bank is a UK bank offering Shariah-compliant savings products, home and commercial property finance, and real estate investment advisory. With aspirations to increase business from existing audiences and new, our goal was to define and articulate a positioning which would appeal to, and resonate with, those audiences at a secular and non-secular level.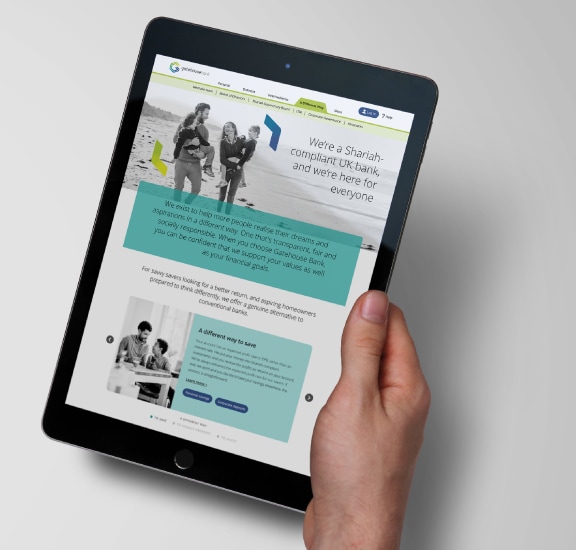 The solution
Our discovery activity revealed that in pursuit of growth beyond its traditional customer base, the natural inclination of Gatehouse Bank was to downplay its Shariah-compliant status for fear of alienating non-Muslims. Conversely, it also became clear that its Shariah principles and approach were the very things that made Gatehouse Bank unique, different to the traditional and challenger banking pack.
Shariah banking principles are derived from Islamic teachings, which promote fair play, transparency and socially responsible investment. Values with broad appeal, particularly in a sector rife with consumer mistrust. Embracing this thought our creative strategy was to celebrate these values, make them accessible to a broader audience, and use them to develop a genuinely different banking proposition – one supportive of customers' principles, as well as their financial goals.
"Choice & opportunity" became the brand promise, reflecting what Gatehouse Bank stands for in a market awash with 'me-too' lending and savings propositions, where alternatives are limited. With appeal to all irrespective of faith, it also speaks to audiences specifically looking for Shariah-compliant products, and whose options are restricted to a handful of Islamic banks far more traditional in their positioning and rhetoric.
The new positioning, articulated simply as "a different way", works on two levels, communicating Gatehouse Bank's more balanced and values-driven approach to banking, whilst also acknowledging the practical differences between Shariah-compliant and conventional banking.
The visual identity brings all this to life.
The new marque is an evolution of the original, crafted for a more open and accessible feel, whilst retaining a degree of important heritage through its shape. The logotype is based on 'Flat', a contemporary Arabic font designed to work in both western and Arabic letter forms. Distinctive and inclusive, it complements the marque.
The colour palette draws inspiration from the concept of East meeting West, Islamic green and a more traditional and corporate blue, blending to create a spectrum of colour expressive of diversity.
The new imagery leads with photography, chosen and treated to evoke a sense of aspiration and opportunity – a sense further enhanced through the incorporation of arrow-like shapes born of the new marque.
Together these elements paint a picture very different to that previously expressed, and one reflective of a brand with a now crystal clear understanding of its purpose.
The results
In the six months that followed the rebrand broker registrations, home finance applications, and total savings balances all increased by more than 60%.
Four years post rebrand, Gatehouse Bank is the fastest growing Shariah-compliant bank in the UK, with £1Bn in financed assets, following pre-tax profits of £3.6m in 2021, and a record number of people opting to bank with Gatehouse.
The rebrand has been received extremely positively internally and externally. The new identity expresses our distinctly different proposition with clarity and conviction. We are delighted with the work and confident in the role it will play in delivering our ambitious growth plans, by broadening our appeal not just to those looking specifically for a Shariah-compliant bank, but anyone simply wanting excellent products from a socially responsible source.

Charles Haresnape CEO, Gatehouse Bank