F.Hinds
Family and tradition
Brochure and supporting sales communications tap into 'family and tradition' to drive sales at Christmas, outperforming previous years.
The challenge
With hundreds of gift ideas to highlight, from diamond rings to collectibles, clocks and watches, it's essential that everything is presented clearly, creatively and in an inspirational way that captures the magic of Christmas and encourages purchase.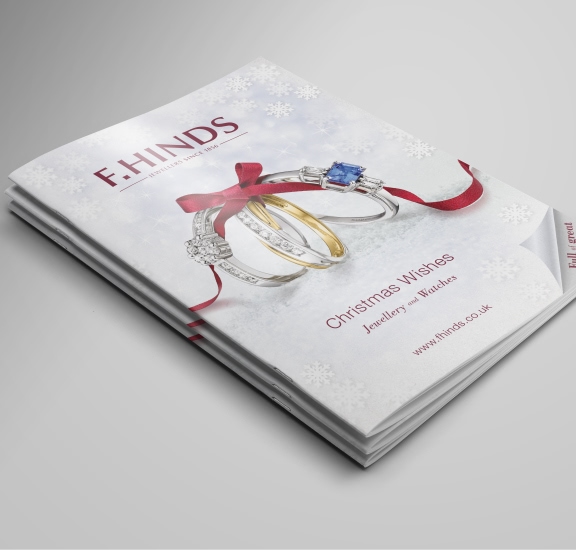 The solution
For 2013 we chose Christmas morning as the theme, to evoke memories and capture the excitement of the day, in particular the joy of giving and receiving in the company of loved ones.
The communication activity centres on a 68-page store brochure. This is the basis for other collateral including a 16-page A5 insert, for inclusion in weekend press in the run up to the Christmas shopping season.
We concentrated on the customer journey throughout the store brochure. The organisation of product types had to be clear, and the categories easily discernible. The content, and how it would flow, was carefully considered as each page was designed. Aesthetically, it was important to reinforce the F.Hinds brand through the use of colour – notably the burgundy ribbon – typefaces and tone of voice.
F.Hinds are a family brand of six generations; they position themselves as approachable experts. To communicate this, staff quotes were a really useful tool. Added at appropriate stages throughout the brochure, the quotes deliver an impression of staff knowledge and credibility, and add another dimension to the page design.
As an introduction to the brand, the A5 insert gift guide targets potential shoppers with messages of value, ease of access and expertise. 'Hero' pages still feature, set off well against pages featuring broader selections of products. Bookmark-style tabs are used to promote deals and the range of brands on offer, and to highlight calls to action.
We have a great working relationship with mark-making*, forged over several years, they understand how we tick and what we need, and they impress us by continually improving on the previous year's design.

Karen Rühr Merchandising Manager, F.Hinds
The results
The individual campaign elements worked in harmony. The A5 insert drove traffic to the website and stores with a print run of 3 million, while the store brochure provided a solid take-away reminder of F.Hinds' core message. The communication's outstanding performance was also recognised at the ECMOD Awards 2014, winning the Best Catalogue Creative and Production category against stiff competition.