Brakspear
Engaging new audiences
Rebrand reverses fortunes by drawing out a coherent, authentic, and compelling brand story, differentiating Brakspear from the industry's new entrants, and engaging new and old audiences alike.
The challenge
Brakspear is a family-owned business with over 200 years' brewing experience. In recent years, the brewing industry has seen an influx of craft beers encroaching on Brakspear's market share, coupled with a general decrease in the popularity of bitter, prompting consideration of their positioning and identity. The existing identity felt tired and dated compared to new industry entrants, and our challenge was to re envision Brakspear's place in the market as a contemporary bitter. One that would appeal to younger, new audiences while remaining relevant to its loyal drinkers, and ultimately reverse the trend of declining share in a declining market.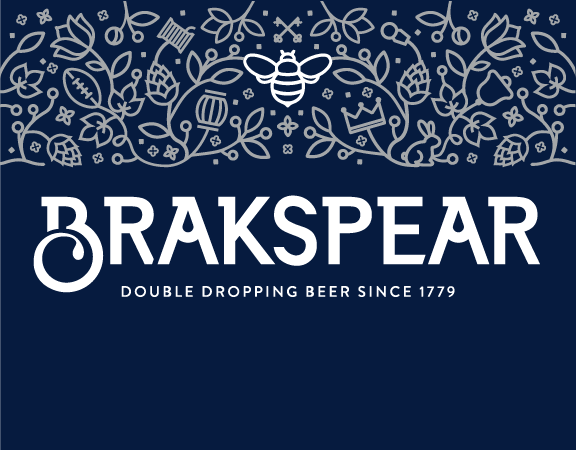 The solution
We began by bringing clarity to the Brakspear brand story. Brakspear has plenty to say, with an interesting heritage and an iconic location, in addition to an unusual brewing method, which involves a rare 'double drop' process.
We organised these three key elements into a coherent, balanced narrative, that brought the double dropping method to the forefront of the story and the core visual identity assets, focusing on the skill behind the brewing and the premium quality of the beer.
The broader design language pays homage to Brakspear's location, by virtue of a pattern of Oxfordshire-inspired motifs, including sports, flora, literature, and architecture.
With a flavour of William Morris, the pattern provides a playful and considered context for the iconic Brakspear Bee to live at the heart of. The nuanced story and the quality of the product demanded a carefully crafted visual identity, with attention to every detail. Also, one with the flexibility and versatility to work effectively in a wide variety of contexts, each with its own design limitations.
The solution addresses this with an identity that is immediately recognisable in any environment.
We love the new look, which is fresh and exciting and will attract younger drinkers who are used to the interesting, non-traditional craft beer designs.

Bradley Ralph Bar Manager, The Angel on the Bridge, Henley
The results
The new identity has been exceptionally well received, delivering on its objective of broadening appeal to new, younger audiences, whilst reengaging loyal followers. Whilst early signs are very encouraging, it's still a little too early to know the impact on sales and market share. But watch this space!
We are thrilled with this new look for our beers. Double dropping under gravity is at the heart of what makes Brakspear beers so special, so putting it centre stage on the new design gives us a real point of difference.

Tom Davies Chief Executive, Brakspear