Bevan Money
Launching a bank on a mission to serve the public sector
A distinctive, no-nonsense and thought-provoking identity to establish Bevan as the bank that gives public sector workers the security they need and deserve.
The challenge
The housing crisis is well documented, but for public sector workers the ability to save a deposit and qualify for a mortgage is significantly hampered by long-term pay freezes, expensive postcodes, and variable incomes from overtime and shift work. The majority of public sector workers can't afford the average-priced home in 98% of the UK. An unjust situation given their unmatched contribution to society.
Bevan was established to right this wrong. The first UK bank applicant to offer mortgages and savings that back our public sector AND contribute to a stronger, fairer society.
Our challenge was to establish a meaningful and distinctive brand for Bevan – initially to assist its bank authorisation process and attract investors, but ultimately lay the foundations for a successful launch.
We wanted to establish a brand positioning and identity that amplifies Bevan's unique mission in a way that would attract target audiences and have resonance long into the future.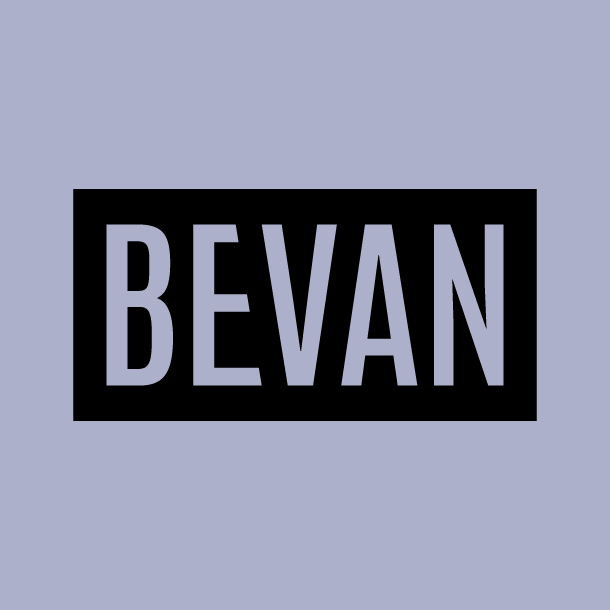 The solution
The Bevan brand needed to appeal to two audiences: savers and house buyers. The first part of our strategy was to understand them – their rational wants/needs from a financial services provider, but also the emotional insight that would allow us to create a distinct and meaningful brand that turns Bevan's mission into customer value.
We identified a commonality between our two audiences that would allow us to do just that: their values system. The Bevan brand and our audiences share a set of societal beliefs, with an emphasis on fairness, integrity, and community. Armed with this insight, we could engage our savings audience with a simple virtuous circle story: "Bevan is for savvy savers who want their money to support their values as well as their future financial security – helping to give those that work hard for the good of our society a step-up and on to the housing ladder".
This value-led solution became the core of our strategic and creative proposition, allowing us to create an identity which went beyond the usual savings/lending narrative. Bevan was set to be the brand that championed the rights of the hard working, under-represented pockets of society – giving us a strong emotional hook from which to start.
The creation of 'The people's champion'
After exploring several challenger brand archetypes in partnership with the client, we landed on the 'People's Champion'. Core to this strategy is positioning Bevan as a brand that consciously sides with the customer, standing up for a community that has been short-served for too long.
Using this territory as a jumping-off point, we developed a comprehensive brand strategy, to encapsulate why Bevan exists, what the brand stands for (and against), and how this manifests in character and behaviour.
The brand purpose acknowledges the empowering effect of homeownership for our target audience, as well as the wider moral and societal benefits: "We exist to put the positive power of home ownership in the hands of our public sector workforce, in pursuit of a stronger, fairer society for all."
Championing the underdog
Taking these strategic foundations, we set about bringing Bevan to life with a rousing brand narrative and no-nonsense visual identity.
As with any challenger brand, the narrative is key. And ours needed to advocate for our audience and mission in a way that speaks the same language as our target, with a down-to-earth, forthright, and upbeat TOV:
"Our key workers deserve more.
"The lifesavers, educators, guardians and linchpins who keep this country going have been rightly lauded as heroes.
"But doorstep applause doesn't pay for a deposit. Many public sector workers are unable to buy a home of their own in the communities they work so hard to serve.
"It's not good enough, so we're going to change it.
"At Bevan Money, we've created a new way to borrow and save, with mortgage and savings options designed to back the public sector and help plan for the future.
"Together, we can redress the balance and help create a fairer
society for all."
We then developed visual assets which also embodied a bold, vibrant and forthright tone.
The logo is a stamp of confidence – tailored typography punched out of a black rectangle, creates a distinctive wordmark that can be used flexibly over the brand colour palette. The arms of the 'E' are sculpted into ascending stairs – a subtle nod to Bevan's founding intent to get more first-time buyers on the property ladder, and set a fairer path for all.
Inspired by Bevan's target customer, we created a distinctive aesthetic of colours, textures, and patterns drawn from the uniforms and environments of the public sector. Familiar chevrons, checks, stripes, and quadrille grids set in unexpected tones and juxtapositions give the brand a playful and personal toolkit which, alongside our humorous and down-to-earth tone of voice, helped us tap into our target market with sector-specific references.
Photography also plays a role, giving us an opportunity to hero the healthcare workers, teachers, police, military, firefighters, civil servants, and other stalwarts who form the bedrock of our society. Featuring workers in and out of uniform, hard at work, and relaxing at home, our rich image
library celebrates these individuals.
The results
One of the first public-facing demonstrations of the brand is through a landing page (bevan.money) for potential investors, as Bevan moves into the advanced stages of securing a licence through the Bank of England's authorisation process. A full market launch is scheduled for later in 2023.
In addition, we branded an investor deck which helped secure initial funding for Bevan as they started out in their aim to get behind the public sector.
We look forward to seeing how our new positioning and identity develops as Bevan goes on to yet bigger things.
mark-making* were recommended to me by one of our Board Advisors (Colin), known for picking winners! They have made our journey through brand definition and design a fun, inspiring, and thought-provoking one, and our early decision to give them full freedom to explore strategic avenues and creative direction was sound and to be recommended. I'm confident that our business proposition, combined with our eye-catching and meaningful brand created by mark-making* will create a winning formula for Bevan's future success.

Mel Lane Bevan CEO