Why B Corp and What's Next?
Every business needs to make a profit. That goes without saying. Profit is the fuel for everything we do. But it cannot be our only measure of success. We must look at our broader impact on people, communities and the world around us because the power of business – to do both good and bad – should never be underestimated.
As owners of a creative agency, Ali and I have always believed in the power of creativity and imagination to affect change for good. Reading Alan Moore's book, Do Build – How to make and lead a business the world needs recently, he suggests that business leaders take the time to ask themselves the following questions:
What world am I trying to create?
What will be my legacy and my company's legacy for future generations?
What would my business look like if it were more beautiful?
Why would I want to do it any other way?
I don't know about you, but I love the idea of making businesses more beautiful.
In a previous post, I wrote about mark-making*s goodmarks* initiative and our journey to becoming a B Corp. Certified B Corporations, or B Corps, are companies verified by B Lab to meet high standards of social and environmental performance, transparency and accountability. I am now extremely proud that we have achieved B Corp certification with an industry-leading score of 121.3 (and for anybody that has gone through that process, you will know how important the 0.3 is).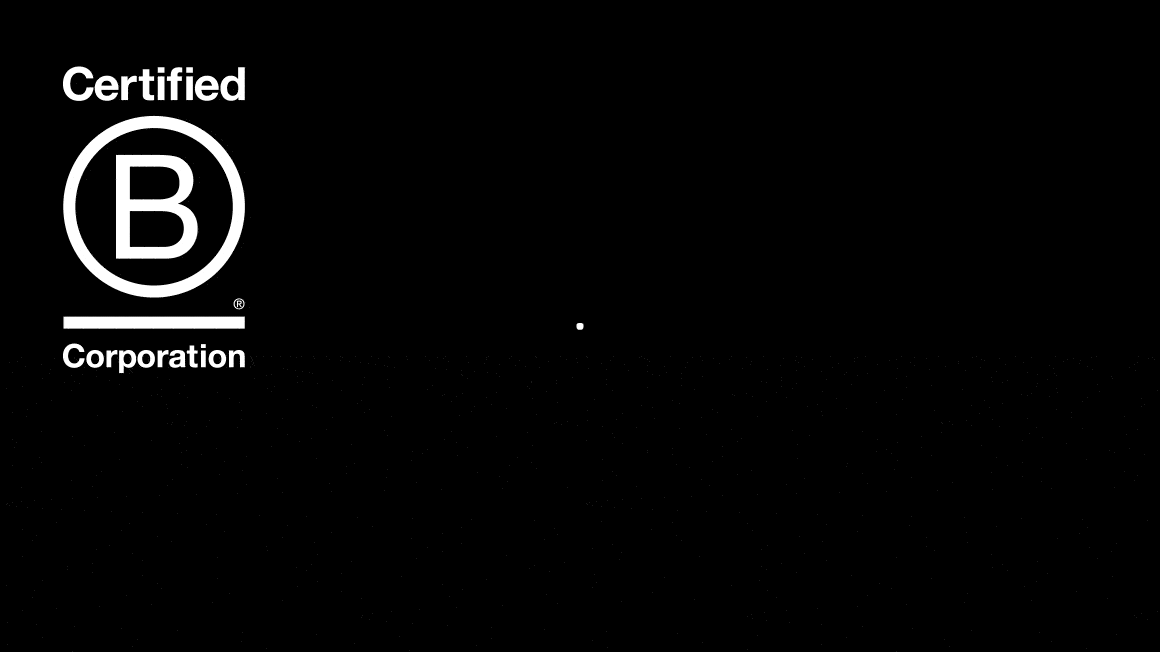 So why become a B Corp?
B Corp and Business Impact Assessment (BIA) have given us the framework to elevate how we run our agency. No stone was left unturned during the application, and although the process took a tonne of time and effort, we emerged on the other side a much stronger business. One with a much better understanding of its impact on the world. And, more importantly, a business with the know-how and momentum to do and be better – to become a true force for good.
The BIA framework is open-access (free), and I encourage any organisation to use it as a means to review its operations. Even if you don't go for B Corp certification, you will gain valuable insights into making your business a force for good.
B Local
Speaking of valuable insights, I gained some of my own recently. B Corp may be a global community, but it's thriving at a local level within our own county, too. In March (B Corp Month), I attended the Oxfordshire B Local event at Oxford Brookes University. 'Go Beyond' was B Corp's challenge to us, and we used the concept of exceeding expectations to spark some thought-provoking conversations. I left the event feeling energised by the issues we discussed and the people I met.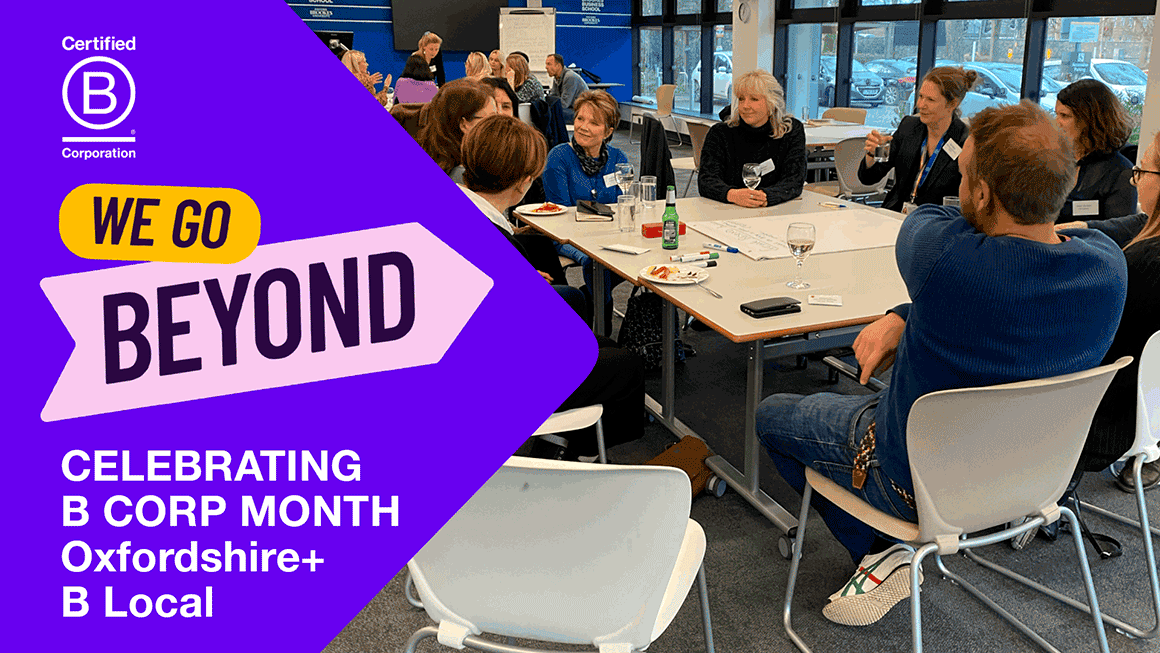 The B Corp community is brimming with great minds – people with a real passion for making a positive change, and Oxfordshire should be very proud of its B Corp credentials. At the event, Gareth Dinnage of Seacourts Printers (the world's highest-scoring B Corp media company) introduced me to Sarah Jordan, founder of Y.O.U. Underwear (highest scoring B Corp in the UK) – no pressure then!
It was inspiring to be around business leaders that are so focused on being a force for good or, in Sarah's words;
"I'm Sarah, and I'm trying to change the world one pair of pants at a time!"
Hearing these stories and experiences and having this supportive community around us, will be one of the most critical factors in enabling change, and I look forward to seeing where this journey takes us.
So what's next for mark-making* on our B Corp journey?
I say journey, because that's exactly what being a B Corp is, rather than a destination. And with recertification only two and a half years away, there is no resting on our laurels.
The two big questions for us are:
How can we improve our impact?
How can we help our clients and our industry to improve their impact?
How can we improve our impact?
The world's environmental issues have now gone beyond sustainability. We need regeneration, reductions (rather than hiding behind offsets), and an end to greenwashing.
We are committed to reducing all of our carbon footprint. Since 2019 we have included the purchasing we do for clients. Since 2020, because of Covid, we added homeworking, and for 2021 our footprint has included outsourced freelancers and subcontractors, insurance services, licences, memberships, other financial spending and digital photography – essentially, everything we can think of.
With our carbon offsetting, we use only Gold Standard VER (Verified Emission Reduction) offsets from reputable projects that genuinely have a positive impact on humanity. Through Climate Impact Partners we offset 110% of our total carbon emissions. In this way, we aim to be not merely a Net Carbon Zero business, but a climate positive one.
Richard Bilton's recent Panorama documentary, 'Is the Cloud Damaging the Planet?', was a real eye opener for me regarding the environmental impact of digital storage. I recommend taking 30 mins to watch it.
We are all told to 'think before we print', but what about 'think before you save'? I had never really considered the cost of storing everything on the cloud. Never deleting anything, just blindly backing everything up to this beautiful fluffy cloud.
But the vast data centres that are popping up worldwide to store our photos, social posts, movies, music, etc., significantly impact the environment and the communities around them. They consume an enormous amount of power and water (for cooling). By 2030, data centres in Ireland are predicted to consume 30% of the country's power; that's the equivalent of the energy used by all the homes in Ireland.
Even mark-making*s own website, in one year, is responsible for consuming enough electricity to power an electric car for 1,100km, producing 65.85kg of CO2 equivalent – as much as boiling water for 8,922 cups of tea. Reducing our website's energy consumption is something we are looking at this year. Visit the Website Carbon Calculator to see how your website performs.
But it's not just environmental factors that our agency can improve on. We have a way to go to improve our diversity, equity and inclusion (DE&I) credentials, which will be a crucial area for us in the coming years. Not only to improve the culture of our own agency but also to achieve the best results for our clients and their projects. As well as broadening our understand of DE&I through training, we are currently looking into working with internship agencies to reach a wider social and economic demographic.
It's an ongoing journey of betterment – and one that is made easier by following a framework like B Corp's, where a lot of the hard work has already been done.
How can we help our clients and our industry to improve their impact?
There are two key ways to support our clients and our industry to improve their impact: what we do, and what we say.
What we do
We can make a positive change through our clients' projects, using creative thinking to better achieve their objectives while leaving only positive marks on the world around us.
As well as the quality of our work, the way we deliver our work is vital. Ethical marketing, data privacy and security, and feedback channels all provide support in achieving successful results for our clients and their customers.
Being a B Corp reassures our clients that when they work with us, they can be confident that we are not adding to their Scope 3 carbon footprint and that our business is run using high standards of governance and care for our people, as well as the planet.
What we say
We are, after all, in the communication business, and by telling our story, we can spread the B word far and wide.
As a certified B Corp, we will produce a yearly Impact Report to transparently document our successes, failures and future goals. It will also allow us to share our learnings, and educate on best practice – supporting our clients and our industry in their own positive ambitions.
Our Impact Reports will cover the five sections of the BIA:
Governance – what we can do to enhance policies and practices concerning our mission, ethics, accountability and transparency
Workers (we prefer Team) – what we can do to contribute to our employees' financial, physical, professional, and social wellbeing
Community – what we can do to contribute to the economic and social wellbeing of the communities in which we operate
Environment – what we can do to improve our overall environmental stewardship
Customers – what we can do to improve the value that we create for our direct clients and the consumers of their products or services.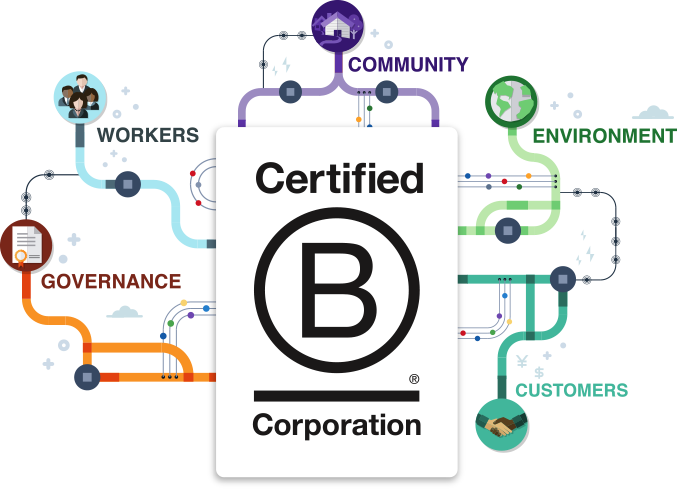 Our first B Corp Impact Report will be ready later this year. In the meantime, you can view our 2020 Environmental Report here.
Time for change
I recently read a quote which resonated with me and mark-making*s journey so far:
Yesterday I was clever, so I wanted to change the world.

Today I am wise, so I am changing myself.

– Rumi, a thirteenth-century Iranian poet quoted in Paul Polman's book, Net Positive
Businesses have the power to affect change. Change for the better. Change that starts with the individuals within the business and resonates through to our teams and stakeholders.
So that's it. Alan Moore put it best, so let's follow his lead:
"Let's make our businesses more beautiful."