The simple, the complex and the drone-based: live music shows in 2019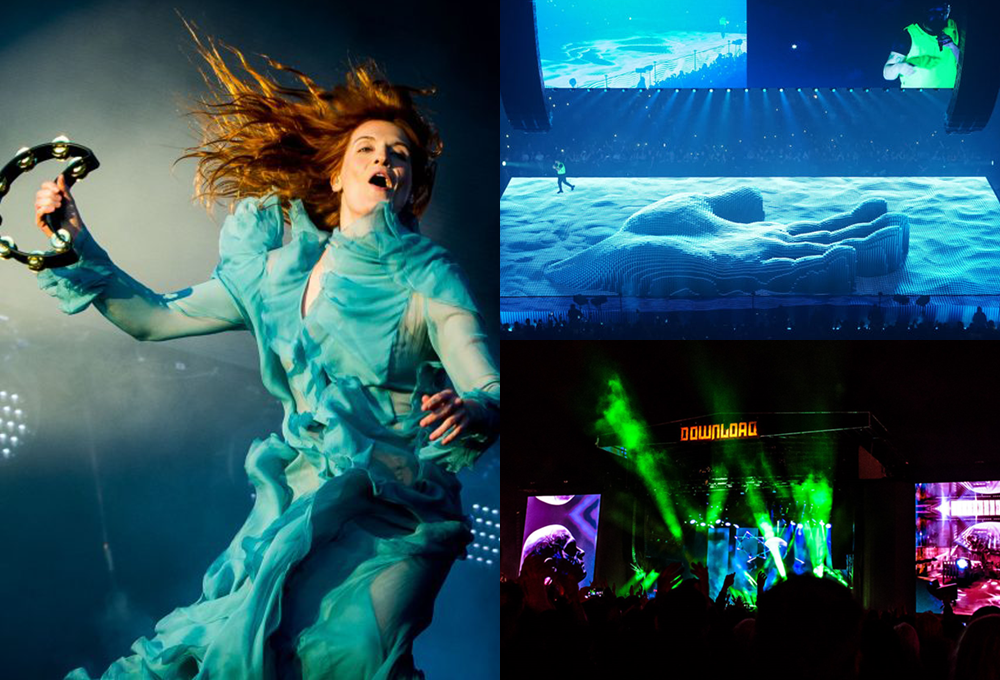 Glitter, sweaty crowds, and losing your voice are all part of the joys of music events. And since festival season is upon us, it seemed like the ideal time to take a cursory glance at the music scene and mark-makers' individual experiences of it.
Music events are always evolving, changing to give new approaches to the traditional music concert or festival. And many artists are harnessing the available technology in new and interesting ways to give audiences that unique, unforgettable experience. While some artists embrace this use of extravagant special effects and impressive backdrops to complement their music, others maintain a more stripped-back and simple approach…
Me
From a giant robot/alien puppet, to a suspended grand piano, to getting every person in the venue put their phone away (quite a feat, even for just one song) – every music event I've been to in the last year or so has been incredibly different.
Music can be a form of story-telling which offers escapism for the listener to be transported. While it's not all about "special effects", they can help to aid this experience…
An out of this world experience
Some have felt more like a theatre performance than a music concert. In March I went to see Panic at the Disco at Manchester Arena, and this month I was in London for Muse's 'Simulation Theory' tour. Both huge venues, but despite sitting a very very long way away from the band, I always felt part of the experience and didn't, at any point, find my attention wandering.
Muse's 'Simulation Theory'
Muse's performance featured LED-clad dancers, a brass band, lasers, and the appearance of a giant robot alien towards the end of the show. It was a surreal, out of this world experience which didn't detract from the music, but complemented it.
Though the band members looked so small I felt like I could put my arm out and pick them up, the clever use of props and lights kept me involved, and undoubtedly helped to hold the audience's attention wherever they happened to be in the arena.
Panic at the Disco's 'Pray for the Wicked'
In a similar way, Panic at the Disco's showmanship and effective use of tech made every song feel a bit like a dramatic piece of theatre. For example, during Dying in LA, Brendon Urie played a grand piano which was lifted into the air and drifted, lit up, high above the crowd – resulting in many oohs and ahhs from the audience below.
A performance to remember (without all the tech)
Florence and the Machine's 'High as Hope'
At the other end of the spectrum, I went to see Florence and the Machine at the much smaller venue of Cardiff Motorpoint. Compared to the other "stunt-filled" concerts I've been to see, this was much "simpler". It didn't have dramatic techy backdrops or light shows, in fact for one song Florence Welch asked us to put our phones away and "have a moment". It turns out there's something incredibly freeing about being asked to put your mobile away and not having anyone's phone in your line of vision at a music event.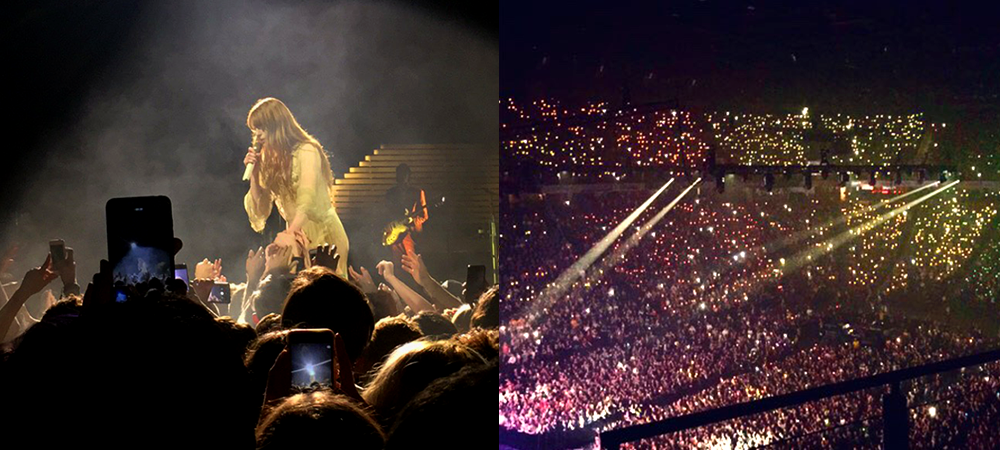 The concert had an intimate feel, and the simplified, no-frills approach worked well for the smaller venue resulting in a completely different experience.
"Every individual that attends…[a music event] takes a unique path through it."
– Neal Cohen, Marketing Director, Superfly
Behind the music
More than just a performance, music is about connecting people. And can share a powerful message.
I experienced this at the Panic at the Disco concert. We'd all been provided with coloured paper hearts on our seats, with the instruction to shine our phone torches through these during their song Girls/Girls/Boys. The result? A pride flag of coloured lights round the whole of the stadium. Not only was this a breathtaking sight – 21,000 people forming a rainbow of lights – it was also amazing to feel part of such a huge crowd all showing solidarity with the LGBTQ+ community.
(I was also interested to find out that the PATD Hearts Project was not planned by the band, but originally organised by two fans and became an element of PATD shows.)
Another example of this is the cube project…
Avicii's 'TIM'
On 6th June, Avicii's friends and family posthumously released TIM, the album which Tim Bergling (Avicii) had worked on before his death. All proceeds from the album will be donated to the 'Tim Bergling Foundation', set up by Avicii's family for mental health awareness and suicide prevention. On 1st and 2nd June in the lead up to the album's release, Avicii's team placed six cube structures in six major cities – Stockholm, London, São Paulo, New York City, Sydney, and Tokyo. These allowed fans to preview three randomly selected tracks from the album. All they needed to do was place their hand on the screen inside the cube to start the song. But, the song would only start when another fan placed their hand on the screen in a different location – allowing the fans to connect and share the experience from completely different parts of the world.
"Today's experience was all about connection. How music connects us to our emotions and to each other."
Tom
I can't pretend to be a regular concert goer, in fact I'm too ashamed to mention who the previous band was for fear of losing any responsibility over the studio Sonos! But this spring saw me head to the O3 (for five nights the O2 rebranded) for the final night of Canadian rapper Drake's Assassination Vacation London tour.
Whilst being treated to a stellar lineup of guests, the work of Creative Director Willo Perron couldn't go unnoticed as he ensured the audience got a connection and experience that will long live in their memories.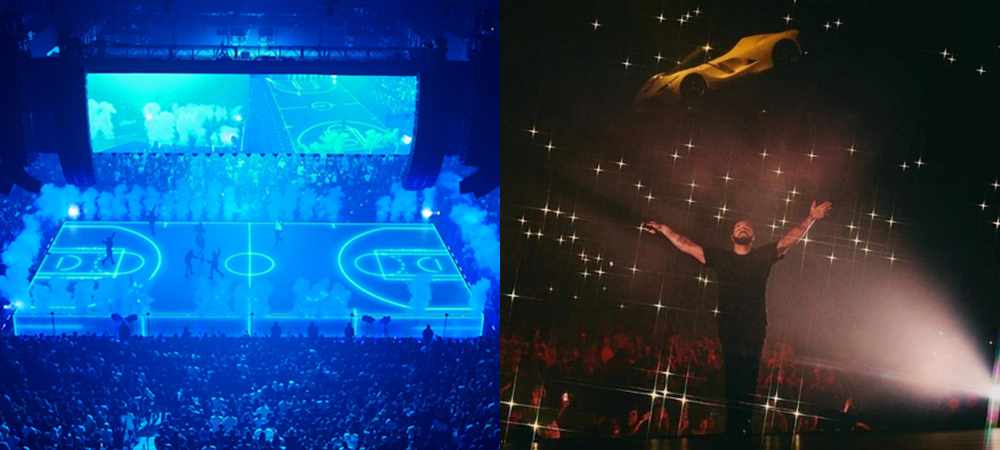 Featuring a digital LED floor of the stage that projected videos throughout the set, from a 3D scorpion in a box (a reference to Drake's latest album) to a projection of a plain of ice, which used motion sensors to "crack" when Drake stepped on the stage.
Then there was the basketball court, the two hundred drones used throughout the show, which at one point choreographed to form a giant, rotating cross in the sky, and the small matter of transporting a flying yellow Ferrari around the arena – to my disappointment not Drake's actual £3million supercar but a foam replica filled with a helium balloon. As if this wasn't enough, Drake chose the start of his show to premiere the trailer of Netflix's new Top Boy series before it even aired on our TV screens. Only sealing my call for Drake to receive UK citizenship!
Often the impact of music can be overlooked in our design process, many of us rely on it to drive us through creative block or take us in a different direction.
That said, the role design had in entertaining and elevating Drake's show was clear for all to see, even those who missed out!
Shannon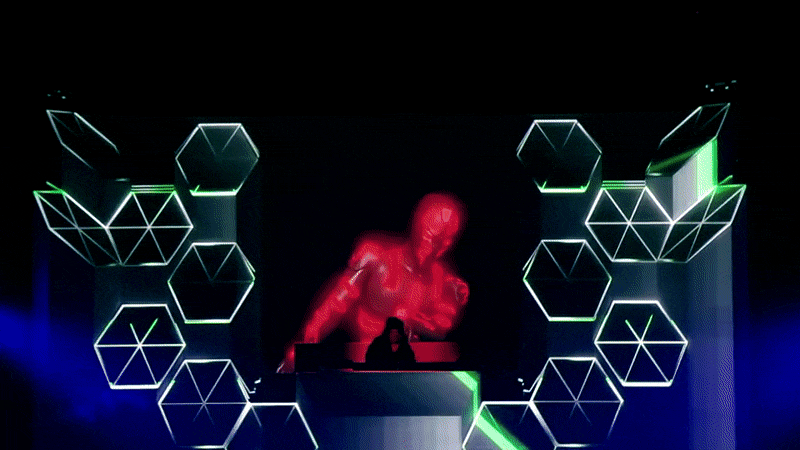 I went to see Skrillex at the height of popularity in the sweatbox O2 Academy. The visuals behind him were amazing. These were elevated on his 2011/2012 world tour where he wore a sensor suit that tracked his movements and an avatar projected behind him mimicked his movements.
For me, when I see people sharing their experiences I get serious FOMO, especially when performers are using new and exciting technologies.
Chloe
Back to the old school
My preferred musical genres generally come with slightly more low-key setups. They tour long and hard, lugging everything between small-ish venues across multiple countries and continents. Lights do a lot of the heavy lifting, and at festivals, screens really come into their own.
Taking Back Sunday are on their 20th-anniversary tour at the moment. I saw them at the Birmingham Institute (a regular haunt of mine) on 13th June, and the show was pretty relaxed. Lots of good lighting design, a massive panther in profile on the wall behind them. That was kind of it.
But lead singer Adam Lazzara oozes Southern charm (he hails from North Carolina) and loves to tell a story. This time I learned that all the songs from their debut album Tell All Your Friends are titles of TV shows listed on the cable preview channel (the only kind of cable channel you can receive if you can't afford to pay for cable TV). The whole show was a love-in, a huge pile of huge fans celebrating with a band that has fond memories of the venue. An absolute bargain at around £25 if you ask me.
I was also lucky enough to be at the Sunday of Download Festival this year. It was exciting because Tool were headlining. They haven't played in the UK since 2006, which was also the year of their last album release. I was fascinated to see what kind of show they'd put on after 13 years.
Well, the show was very Tool. Their hypnotic, heavy, super-syncopated tunes were accompanied by their music videos played on huge screens. Tool's music videos are pretty weird. They're confronting and creepy. But they make sense when you're right there in it. Lead singer Maynard James Keen takes up an unusual position, towards the back of the stage to the left of the drummer. Tool's sound is all-encompassing, almost overwhelming. The guitarists, the light shows and the videos create the atmosphere, and it felt right that no single person should be the focus of such a deep, broad noise.
Smashing pumpkins supported Tool (a great choice, IMHO), and they brought some fun stuff to the stage. Huge, abstract doll-like figures in bright colours inflated to let us know the band would be coming on soon. Then after half a set they each rotated through 180 degrees, stately and slowly, to reveal a darker, gothier colour scheme on the other side. The set was a delightful bonus on top of seeing a band I've always enjoyed, and they eased us into Tool nicely.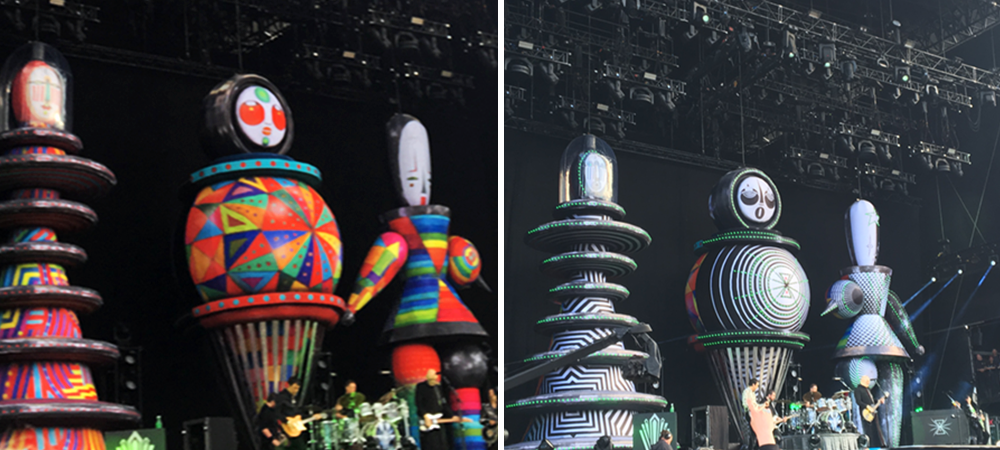 As you may be able to tell, I turned up that day for Tool and Tool alone. But I got four other chunky band sets (and two hours of an NXTUK wrestling stage show) into the bargain. Not bad for around £100.
Programming is half the battle at festivals. The individual sets can be perfectly designed, but if they're put together in the wrong order, it leaves everyone feeling weird and can make for a restless crowd, which can be a recipe for trouble.*
I take my hat off to the organisers charged with scheduling an entire weekend of bands, of overlapping but subtly different genres, from all over the world, who take the temperature of the fandom and (9 times out of 10) pitch the lineup just right. It's impressive.
*See also: My Chemical Romance bottled off stage during their headline slot in 2007, having been scheduled after a set of bands that arguably set them up for a rough time.
---
Original author, Marianne Fish