The circle of (agency) life
Without clients we're nothing. Nada.
We all say it because it's true: the agency-client relationship isn't just about supplying design – it's about working together to solve a problem. It's about people, and the journey we take together to get where we need to be.
That's what all mark-makers come to work for. But in our quest to help our clients make their mark, we often don't take the time to reflect.
With that in mind, we look at the two RAR Awards nominations we picked up last week as an added bonus, and not much more. I'm not here to tell you about bagging an award (wonderful as that would be) because the best thing about it happened way before the nominations came through. We got the kick we need every once in a while to reach out and ask for more in-depth feedback.
Feedback keeps us on track and helps us to focus on our strengths, as well as on areas where we want to improve. It can even reveal insights and opportunities for new or different kinds of work that just wouldn't have surfaced otherwise.
This year, we went old-school and printed out all the lovely comments to make a mural of constructive, inspiring words in the studio.
It's lovely to know that our clients are happy – when you're happy, we're happy – but that's just the beginning. Your feedback also inspires us to keep raising the bar.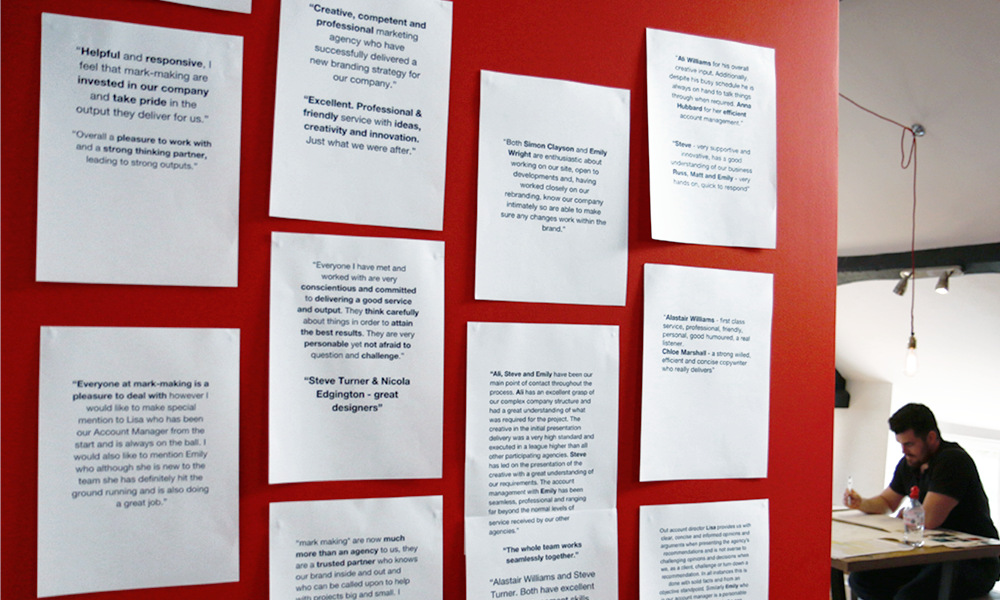 We pride ourselves on listening to our clients all the time. A big focus for us in 2017 is making the most of your comments in consistent, structured ways that really make a difference to the projects, and hopefully to you, completing the circle of, er, agencies?
Here's a flavour of the times and places where your feedback comes in handy…
Kick-offs
When we kick off your project, we've got your objectives in the forefront of our minds. We've also got your latest results, feedback and successes in our back pockets as context for what we're about to embark on together.
Wash-ups
Once your project is up, running and out the door, we have a wash-up meeting. It's a chance for mark-makers to feed back to each other about what went well and what we could do better. Having your thoughts in the mix gives us a 360-degree view.
Design effectiveness
We look for the purpose and desired outcome of every piece of work we do. Your feedback and results help us objectively assess whether the work did what it was supposed to do. Was it effective? Did it achieve the objective and perform on the metrics we agreed before the kick-off meeting?
Monthly meetings
Most of the mark-making* monthly meeting content is highly classified. What we can reveal is a section called "marks made" where we share good feedback from the previous month. This is brilliant because it also informs mark-makers at large about what a given project team has been up to, which makes everyone feel warm and fuzzy.
–
So there you have it. Obviously, it would be marvellous to win an RAR Award for brand strategy and/or strategic thinking, but we'll settle for channels of client communication staying well and truly open.
–
Written by Emily Wright