Smiling in the face of a pandemic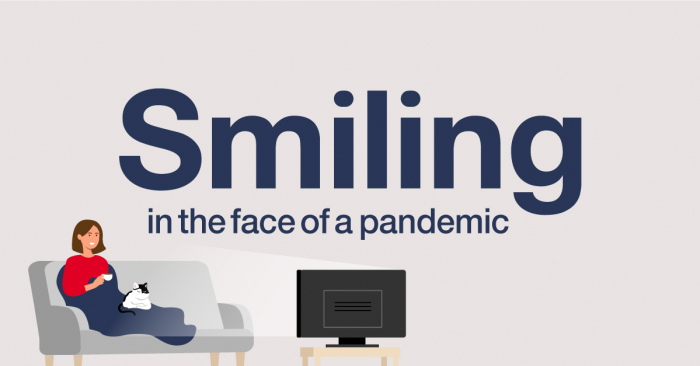 This month marks four years of me working at mark-making* – and what an amazing four years it's been! As I've spent time reflecting on this milestone recently, my thoughts have turned to my first day – and a moment in particular when a small gesture had an impact that's stayed with me ever since.
Walking nervously towards the agency to begin life as an official mark-maker, a lady wished me a good morning, grinning from ear-to-ear. This took me by surprise, as my previous life in London had ensured I'd grown accustomed to no eye contact, let alone smiles, from strangers. Here in the Cotswolds, however, this seemingly-normal act had not only made me feel good, but instinctively made me smile too, both on the outside, and in. It had the power to move my muscles and boost my mood, all in a matter of seconds.
The importance of 'smiles' in our industry
This got me thinking about the importance of smiling – particularly in relation to branding. If it is, as they say, 'as contagious as the flu', and able to make someone else smile (in other words, influence behaviour), brands really should be using this to their advantage if they're not doing so already, shouldn't they?
The key, for me, is that smiling is almost always the result of happiness. And what else is our industry about if it's not about helping people to be happy? As a human being, I'm not actually in the business of selling products or services; I'm in the business of selling happiness.
The brands that get this make their audience feel as though they're being listened to; heard; understood. Their conversations feel more natural, and in turn, people become more likely to invest in their products or services anyway. In a normal world, it's fair to say that brands using emotion is a no-brainer.
Adapting with the times
In the awful context of living with a pandemic, however, it's understandable that brands have perhaps felt uneasy about how to communicate with their audiences. With all that's been going on, has it been appropriate to evoke happiness, or even joy, with so many people suffering?
My view is that, yes, it's been absolutely appropriate.
During my own time on furlough, I found myself spending more time than ever before engaged with brand advertising. And the ads that showed an emotional understanding of how I was feeling played a genuinely positive role in keeping my mental health in a good place.
Over these last 16 months or so, I feel like we've all needed this form of escapism, storytelling and imagination to create moments of happiness for us. Arguably, the effectiveness of advertising has never been more important.
I've found it so uplifting to see that certain brands were brave enough to tap into the mood of the nation (and its people), and adapt their messaging during a time of upheaval. Many companies used their TV spend incredibly wisely to reflect new social constructs that the vast majority of us were experiencing first-hand. These brands moved (and moved us) with the times, shifting their storytelling to reflect the truth of the present, and making us feel like our needs were genuinely represented and cared about.
Capturing the mood of the nation
The brands that made the biggest impression at a national level were the ones that really stood out to me, too. They created a smile in my mind, but perhaps more importantly, in my heart. Take EXTRA Gum's 'For When It's Time' as an example (not just because I'm a Celine Dion fan, despite what other mark-makers might tell you!):
For When It's Time – EXTRA Gum TV ad
The brand didn't just make people smile or laugh for the sake of it, but rather, took an experience that everyone was going through and helped us see its lighter side. The ad gave people a momentary break from the doom and gloom around them, which provided a small shot of reassurance that things were going to get back to 'normal'.
Another favourite of mine was AA's Summer 2020 ad:
This was very much a feel-good ad that didn't focus on products or services, but on emotion and truth. It didn't specifically address the pandemic, but instead acted as a mirror, reflecting how many of us were feeling. It's a wonderful example of simple, concise and emotional storytelling (despite the creation of it being far from simple!).
I asked my fellow mark-makers which ads stood out to them and why – beginning with David, our Art Director. Here's what he had to say:
"Stuck within our own four walls, it was easy to become disheartened and a little bit lost. Our houses had to become our safe space; a haven. And it wasn't long before it dawned on me just how much I cherish what my home means to me. I think this is why Uncommon's campaign for B&Q, 'Build a Life', really hit home. With its powerful, emotional narrative, this ad genuinely felt like its writers had been present during my own childhood.
Fast forward 30 years and B&Q had almost become our only escape. Whilst shops had shut their doors and restaurants remained closed, there was a place at the top of town that housed everything we needed (and didn't need, of course!) – and where more importantly we too could 'Build a life'."
– David, Art Director
"For me it was the Tesco Christmas ad, and how Santa's naughty list had been cancelled for the year. It made me smile because it showed off our typical British sense of humour in all its glory. I loved the way it poked fun at all the little things that had annoyed so many of us over the months before it, such as the panic-buying of loo roll and those trying moments of homeschooling."
– Debs, Creative Artworker
"This ad showed us a bleak United Kingdom brought to a halt by Covid, yet it still managed to make me smile. Every cinematic scene, from a lone pair of socks on a clothesline to an empty telephone booth, subconsciously resembled the black and white of a pint of Guinness. Overlayed with the poignant lyrics "Maybe I didn't love you, quite as often as I could have. And maybe I didn't treat you, quite as good as I should have", the newfound appreciation for all the things we took for granted pre-Covid was echoed in this ad, including the simple pleasure of enjoying a pint with friends. As a non- Guinness drinker, I could still relate to the sentiment and experience a warm feeling that good things were on the horizon (at last)".
– Nic, Creative Director
Has the face of advertising changed forever?
By using positivity and humour to varying degrees, these brands (and lots more like it) helped make us feel better – and even happy – in the face of a pandemic, reminding everyone that it was ok to feel good, despite living in a very difficult situation. They all found different ways of connecting with our reality and making it feel more manageable – even if just for a few seconds.
Has the bar been permanently raised? Coming out of this pandemic, will brands revert to more product- and service-led messaging across their different touchpoints, or is this more emotive, human and relatable form of advertising here to stay?
I know which one I prefer, and I believe brands that continue to be successful will be those that create happiness in the mind, as well as in the hearts, of their consumers.