Six reasons why Asda's #chosenbyme campaign is an excellent idea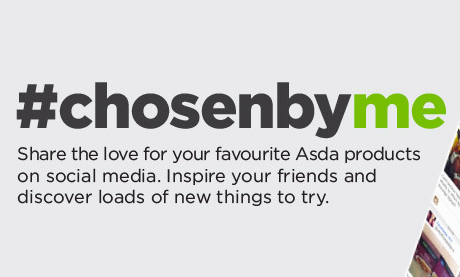 We love finding examples of retail stores embracing digital and even finding ways of incorporating online activities into the in-store experience. Asda have started doing just this by inviting customers to post their thoughts on its Chosen By You range on social media using the hashtag #ChosenByMe, and curating the best of these on a hub page on their website. Asda will then choose their favourites and display these quotes in-store and on product packaging, in an attempt to make this middle of the road range 'more emotional'.
The feedback Asda is getting online is surprisingly positive; it can be a dangerous game to get users to submit their thoughts freely with a hashtag, like the Starbucks #spreadthecheer backfire last year.
Overall I think this is a great idea and has more benefits than just providing Asda with quotes to use on their packaging. These are the things I like about this campaign, in no particular order:
It promotes Asda's online presence. By encouraging customers to go online and give their opinions, Asda are promoting their own online presence to people who perhaps were not following them before.
It gets thousands of people saying great things about Asda on social media. As a brand, you want social media to be a tool to spread positive messages about yourself because the exposure social media can provide is incredible. Each and every positive #chosenbyme post online is a positive message about Asda that many are getting exposed to.
It takes online seriously. I love seeing brands who ultimately do most of their business offline realising the potential online has to offer, and for Asda to go as far as to put these messages onto POS in-store shows their commitment to digital channels.
It realises the importance of recommendations. We are more likely to make a purchase if someone has recommended a product to us, and it's the same with groceries. While I can't say with any certainty whether social media quotes in-store will boost sales, it is well worth experimenting with to find out.
It uses many different social networks. This campaign isn't limited to just one network, but the hashtag is being used on Twitter, Facebook, Instagram, and Google+ (with unsurprisingly little being said over there). Clicking on the click for Instagram shows that not many people are using that hashtag on the platform, but Asda are still curating posts that involve positive sentiments about their food in some way that don't feature the hashtag.
It shows integration. When you combine two or more different channels, the result is greater than the sum of its parts. Integrating offline and online like this only serves to offer a boost to both channels.
This campaign does have its critics, saying "people just don't care what the average person thinks about this donut in 140 characters", but they're missing the point.
This campaign has given Asda a brilliant way to get people talking about them online, and it's most certainly doing just that.
By Peter Meinertzhagen