Pepper Homeloans – The Story of Interesting
Pepper Homeloans (the UK mortgages arm of the global Pepper Group) launched in June 2015. The team approached us just over their 18-month mark for support with marketing and branding. As a new part of the Group, the mortgages business had tough targets to hit to prove itself a success. Lending figures and broker registrations were the metrics to watch.
To tell the Pepper Homeloans story, we needed to find a compelling identity and voice that sat comfortably with the global brand. We started by asking: what do we really need?
Take a step back
Our research into the business Pepper has been writing and the wider financial landscape (one we know well) revealed that lending has changed; there is a new normal. Borrowers' profiles are different, and so are credit records. Multiple income streams and self-employment are increasingly common, as are minor credit blips, missed payments and CCJs. The knock-on effects of the financial crisis have caused many borrowers a period of financial difficulty – a one-off when considered next to their full credit history, but nevertheless damaging to their prospects with some lenders.
The high-street banks haven't caught up, but demand across the board is still high. Otherwise credit-worthy borrowers who've had a blip or recovered from a difficult patch may have slim chances, if any, of being accepted by a high street lender.
Brokers face the quandary of where to take these borrowers' business. The high street is unreliable, and while there are many "specialist" lenders out there, the name can cover a huge range of business, and is often associated with expensive rates and difficult paperwork.
Part of the problem was the language around borrowers with less-than-perfect credit, and the names of products that cater for them. Many of the words thrown around are either out of date, harking back to the financial crisis or just plain negative. Words like non-conforming; sub-prime; adverse; difficult.
Challenge
We needed to find a new way of talking about the kind of borrowers Pepper helps. A platform free from the baggage of the crash, that would ring true with brokers' day-to-day experiences. Doing this would position Pepper clearly in the landscape of lenders that brokers, packagers and distributers deal with every day.
Solution
After interviewing a cross-section of the team, and a qualitative sample of brokers, we held a workshop at Pepper HQ. We discussed how to address dated terminology, to instigate a different kind of conversation about this part of the financial services sector. Managing Director Colin Snowdon came up with word that covered everything: interesting. It truly met the brief, and our next challenge was to bring it to life. Here's the Pepper team to tell you more:
Story of Interesting from Pepper Homeloans on Vimeo.
The interesting campaign launched to coincide with the 2017 British Specialist Lending Senate. Online advertising and trade press ads drove traffic to a landing page with the above video, which was also featured on the Pepper Homeloans homepage.

Educating an audience
For the campaign to be really successful, we needed to educate the broker audience about what "interesting" cases look like, and how Pepper can help. We turned to good old-fashioned storytelling. We found six true stories of borrowers Pepper has helped, and brought them together in The Little Book of Interesting. It was important to couch the cases in terms of the individuals' real-life circumstances, rather than the credit problem they presented. For example, we used the title "The interesting case of the divorcee and the gifted deposit" rather than headlining with the borrower's immature credit history.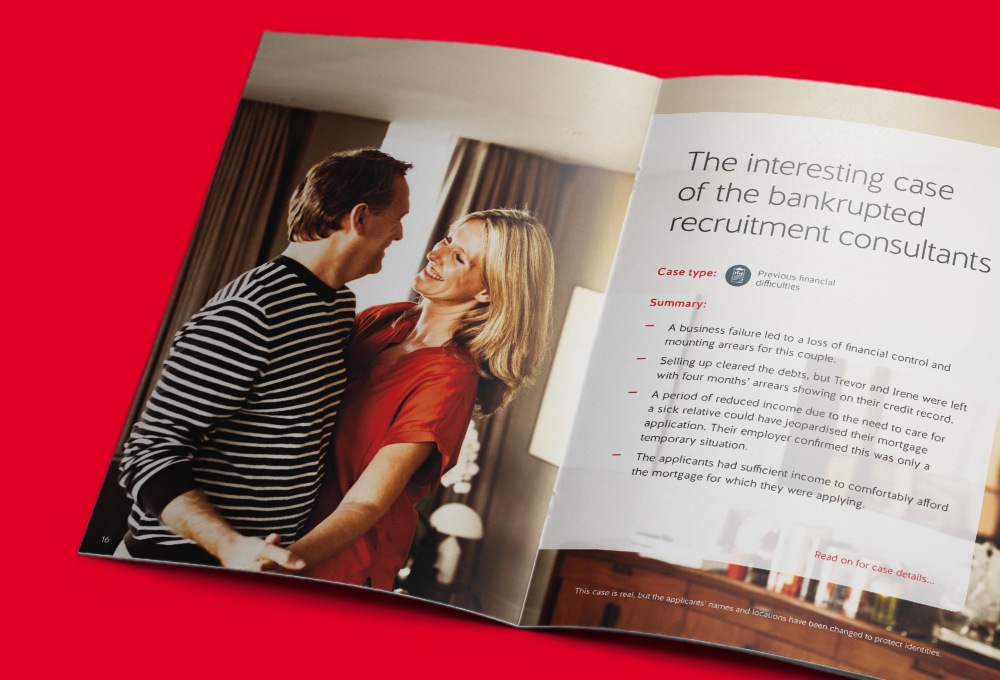 Pepper don't credit score – they are more interested in having a conversation, and taking a common sense approach to people's circumstances. The book was intended to engage the broker market, encourage online registrations and be used as a give-away item for networking and events. We sent copies directly to registered brokers in the post, along with a letter from Rob Barnard, Director of Sales. At the bottom of each letter was a tear-off book mark, printed with the contact details of each broker's local Business Development Manager – to make starting the conversation that little bit easier.
What's next?
A follow-up campaign "We're interested", has launched a few weeks later, to encourage brokers to get in touch with interesting cases they aren't sure where to place.
This is an important period for Pepper. Lending has grown fast over the last year, and we hope this campaign will support continued growth in lending and a steady increase in the key audience: registered brokers. We're excited to be with them on the next leg of this journey.