Own-brands are coming into their own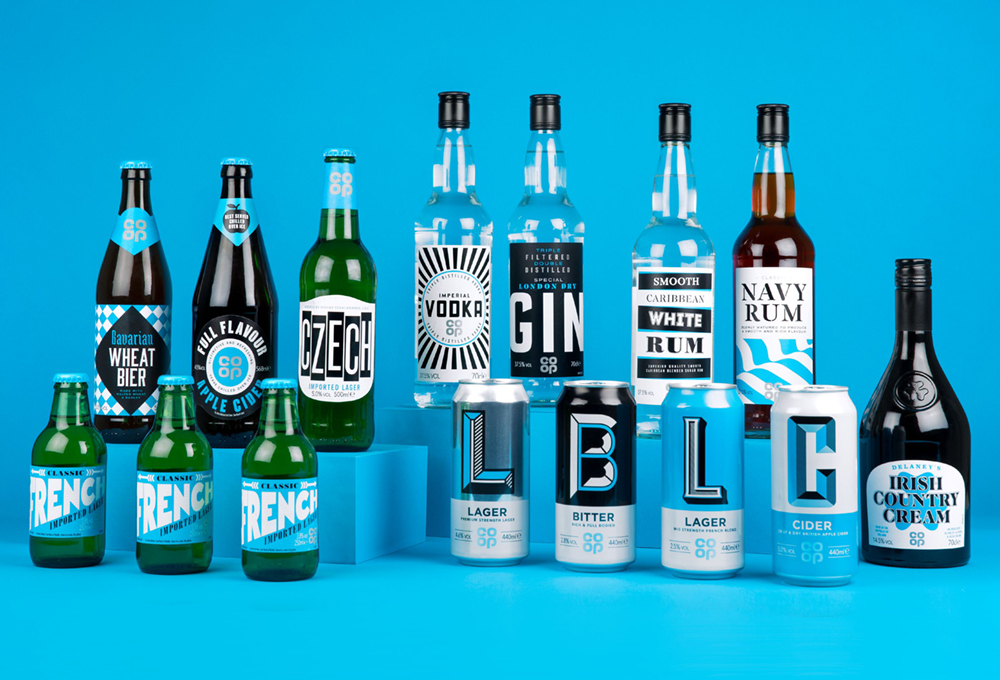 Supermarkets, the backbone of Great Britain, keeping us fed and watered and to be honest where I spend a disproportionate amount of my time and money and it seems I'm not alone. In 2017 we collectively spent an eye watering £157bn on groceries, so it's little wonder that Britain's supermarkets invest so much effort in cornering their share of the market.
The supermarket we choose for our weekly (or daily) shop has fascinated me from a very early age. I have a memory of my best friend at primary school hiding her bag of own-brand Co-op crisps (the Co-op wasn't very cool back in the 80's). Even at this early age she was thinking that this 'uncool' own-brand packet of crisps somehow reflected something about who she was. In reality, crisps are crisps, but the brand is the thing that creates the cool or uncool associations, and that's why it's so important.
So it was with great interest this month that I saw the rebrand of the Co-op's own-brand alcohol range. How cool does this look? The good people of Studio Robot Food have given the Co-op range of beers, cider and spirits a new look with a consistent style and colour palette, with the aim to change perceptions of supermarket-branded alcohol as being "inferior" and a last resort. But it's not just the design that has peaked my interest, more the drivers behind this rethink and the investment from the Co-op in their own-branding.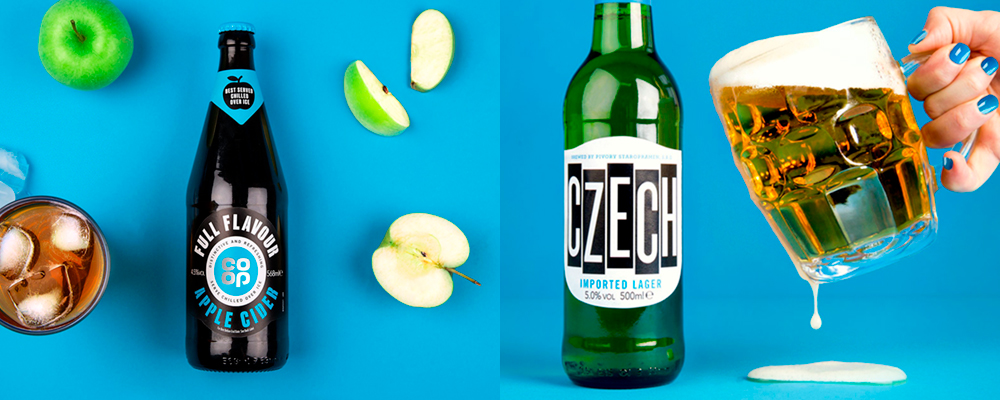 "More shoppers are now savvier to own-brand alternatives, aware of the innovation, quality, choice and price they can offer over big name brands."
– Studio Robot Food
The UK grocery landscape is dominated by four big supermarket chains. Tesco, Asda, Sainsbury's and Morrisons, but with the economic recession and rising food prices the market has been shaken up by our search for value, with all four losing their market share to discounted brands Aldi and Lidl. Initial reactions were to reduce prices, resulting in ongoing supermarket price wars. But this is a dangerous game to play. If everyone is competing on price, price can no longer be your differentiator – and yet discounters Lidl and Aldi are still coming out on top.
In 2017 Lidl overtook Waitrose as the UK's seventh biggest supermarket with a market share high of 5.2% and sales of own-label products growing by 6%. A sharp contrast to branded products which saw sales growth of just 0.6%. So it's obvious: cheap is winning the day. Right? I'm not denying that price is clearly a big factor, but there are definitely other forces at work and it has to be about more than price. So what else is going on? How are the likes of Aldi and Lidl winning the battle for brand loyalty? I think the answer lies in the strategy of creating unique brand experience.
With Aldi and Lidl, simplicity is key. New research has revealed that 62% of consumers will actually pay more for simple experiences. Why? Because no one has time or space for anything anymore, and decision-making tires our brains out. We are living at 100 miles an hour. The discounters offer a straightforward shopping experience that meets their customers needs without confusing them with complex promotions, and without multiple options in the same product category – the low price point becomes an added a bonus.
"The store format is focused on simplicity, designed to enable customers to do their full weekly shop in less than 30 minutes… We source the very best and offer it at the lowest price, every day, so that our customers can spend the time and money they have saved doing something more amazing in their lives with friends and family."
– Adam Zavalis, Corporate buying and Marketing Director, Aldi UK and Ireland
Aldi have a clear purpose and commitment to saving customers time, which as we know is a valuable asset. It's clearly resonating with the consumer.
Another example in a slightly different space is Superdrug. They have created a unique positioning for own-brand products that is about more than value. The retailer has positioned itself as an affordable option for cruelty-free beauty products. All its cosmetics carry the leaping rabbit symbol to indicate they are certified by Cruelty Free International, and last year Superdrug launched the B.Makeup range, a fully vegan cosmetics collection.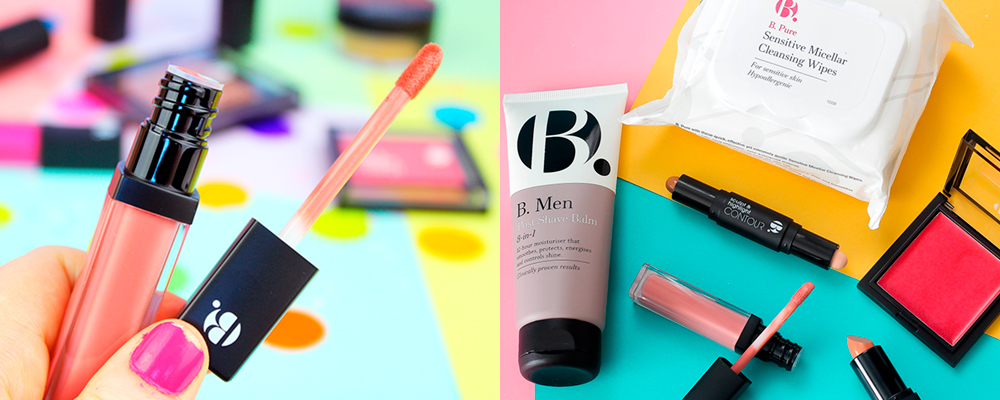 Own-brand is only set to become more important as shoppers look for value and choice amid rising prices. Retailers keen to capitalise on this consumer shift have to successfully communicate value but also create a meaningful brand experience. The gift of own-brand compared to branded rivals is that these products can serve as platforms to elevate the brand's bigger purpose: whether it's Superdrug promoting cruelty-free beauty; Aldi valuing customers' time, or the Co-op bringing design with attitude to its own-brand alcohol range.
By using own-brand as a platform to elevate brand messaging, you put your key point of difference right there on the shelf, engage your customer beyond the price point, and add real value.