Out and about at the Birmingham Design Festival
This month some of the mark-makers visited the Birmingham Design Festival to see, hear, and learn from the industry's finest. Featuring a whole host of talks, workshops, and presentations, we came away brimming with inspiration, ideas, and new perspectives.
Here's how we got on:
Nic
The BDF describes itself as a celebration of the local, national and international design industry and after a couple of years of working in isolation during the pandemic, it was especially joyful to be in the same room as other creatives and industry leaders. A lot can change in two years, so I was ready to be fully immersed and inspired.
I was booked in for three talks during my afternoon visit: Design for Planet, outlining the latest green initiatives from the Design Council; Creative Hustlers: The steps to greatness! – A highly entertaining talk by Dines, founder of Studio Blup; but the talk that especially resonated was Design + Motion + me by Glen Yeoh, Motion Director at Moving Brands. One of the key challenges I face in my work is bringing the emotion of a brand to life, to effectively connect and resonate with the audience, from the smallest interaction to large-scale installations and everything in-between. Glen clearly relishes this challenge, using motion to create emotion and impactful brand-led communications. His portfolio spans from the world-famous animated Netflix "ta-dum" identity, huge-scale interactive moving wall installations for intel's headquarters to the re-invention of the BBC identity for a digital age.
Glen said:
"I'm excited about pushing new technology, how moving image can affect space, process and thinking, and how we interact with products and applications to tell human stories." And after his talk, I was very inspired to explore the potential of motion in my own work.
You can see more from Glen on instagram @iamglen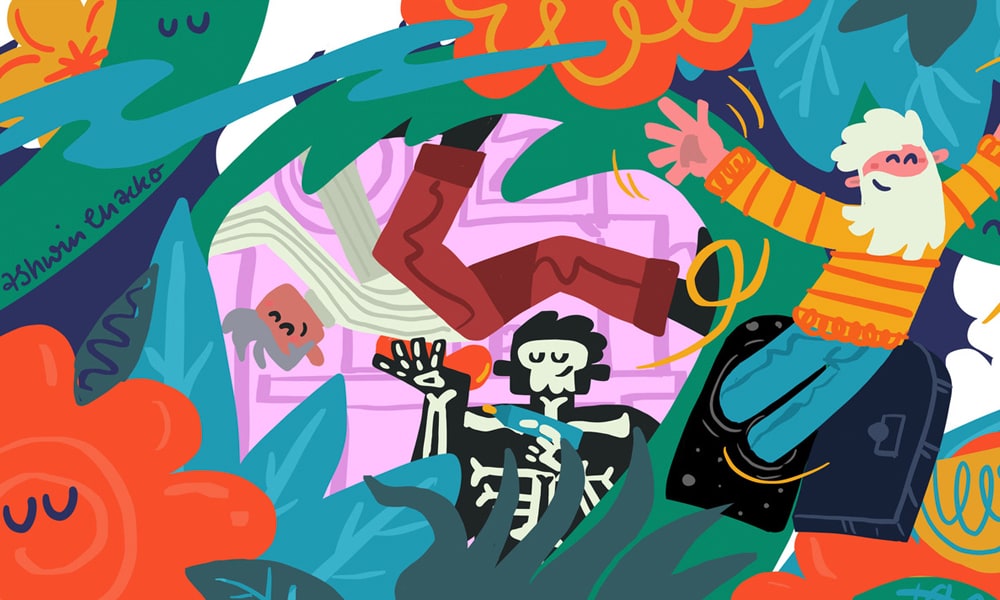 David
Ashwin Chacko, a storyteller and motivational speaker based in Dublin was my second talk of the day. Ashwin specialises in positive visual storytelling through illustration and with a talk entitled The impact of why it was always going to pique my interest.
Ashwin talked quite candidly about how when the pandemic hit over 2 years ago many creatives faced crossroads in their personal, and working lives. But out of all of this came opportunities for many to take a step back, pause and reassess what they do, and why they do it. This reflection time gave Ashwin the much-needed space to clarify and deepen his understanding on his own purpose, his vision and the path his career would ultimately take (something that I'd been doing, but maybe not quite in the same vein).
The talk explored how his love for illustration had started from an early age but the balance between doing what he loved and having a career (and of course making money) seemed to shift. He'd found himself wanting to be everything for everyone and this was his way of finding acceptance throughout his career, jumping from Motion graphics to Graphic designer then to Art director.
He talked about the obstacles that he faced and one in particular that really hit home was the concept of 'Fear' and it being the greatest thief of potential. 'Because when we submit to our fear, we are putting our faith in the negative future and thus setting ourselves up for failure.' But he looked to flip this around and rather build a positive mindset and always remembering that we cannot control our circumstances, but we can control our attitude.
'Be true, be you' was the tagline that ended the talk and acted as a little reminder that we all need to learn, and embrace what it is that makes us unique and share that unique perspective with the world, because our stories are our superpower.
The talk acted as a great reminder that just because life twists and turns, you shouldn't be afraid to twist and turn with it. As someone who loves illustration as a form of expression, I think it's time for me to pick up the pen and create something that's a bit more 'Me', so watch this space.
Mike
The whole BDF experience was a real eye-opener for me, actually.
It's always smart to learn something new, my old mum taught me. So I thought it savvy to pop along to Brum with our worldly design-types, despite being a mere copywriter by trade. Of all the disciplines forming the 'holy trinity' of Design-Art Direction-Copy, the former has always been my achilles heel. And it always will be. But it doesn't stop me being interested.
Pleasingly, there was no shortage of things to be interested in. My opening 'Design for the Planet' session was a real thought-provoker. While the ensuing 'Motion in Design' talk was a genuinely moving experience (get it?).
But the 'wow' moment of the day was undoubtedly 'Notes on Determinism: Bringing the Unexpected into Product'. Hosted by the charismatic, genius-like Creative Technologist, Neef Rehman, this awesome session was, in its simplest terms, about the creation of generative graphics through random-number-generating code. Mind-boggling. Veeeeeeery random (or not at all, perhaps – I'm confused). And massively idea-enhancing.
Maybe I do like tech, after all?
The word 'inspiring' gets thrown about everywhere in our industry, but this was an ACTUAL source of inspiration to me. So thanks very much!
BDF, I salute you.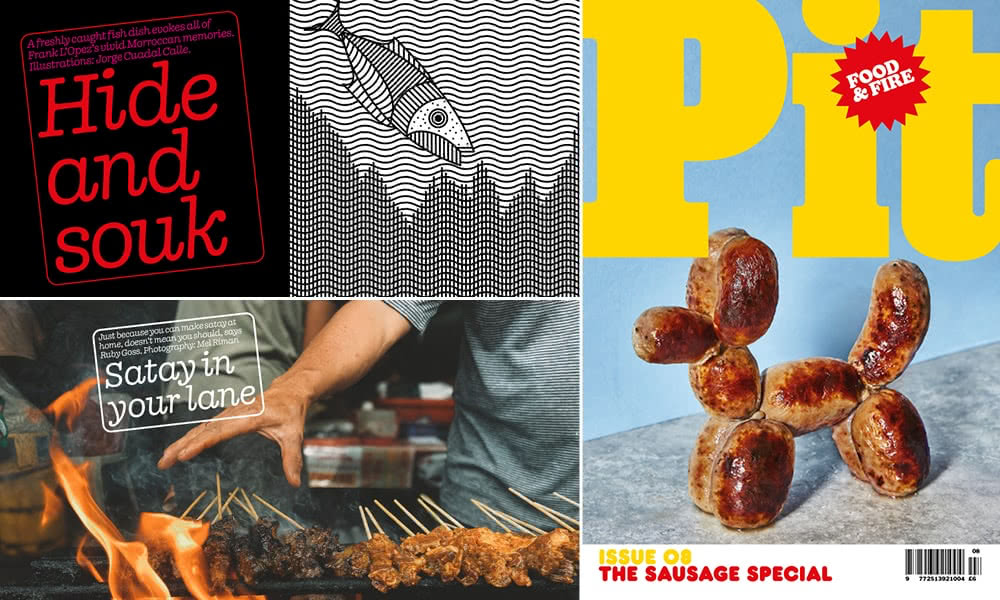 Russ
The second of my talks titled Eat with your eyes: editorial design for food, was presented by Holly Catford, Founder of Pit Magazine. She's also an editorial designer at Esterson Associates.
Pit Magazine has its roots in barbecue cooking or smoking food. Each issue is themed. These include The Potato Special, The Sausage Special and The Kebab Special.
They are designed from scratch and commission a different illustrator for each issue. Features range from 'Why does smoke make food taste so good?' to 'What Even is a Kebab?' The stories are told by award-winning writers.
If you love food, you will love Pit.
Nick
My second talk of the day was Polinations with Angie Bual. Half of the talk was a fascinating insight into her outdoor theatrical performance, "The Hatchling". The talk described the project's journey from conception during time in rural China to the finale in Plymouth where a team of performers worked the double decker bus-sized dragon puppet. Later that evening the puppet folded out its enormous 20 metre wingspan and took flight over the city.
The project was focussed around equality and the freedom of movement. The date was specific to this as the performance was linked with the 400th anniversary of The Mayflower's voyage from Plymouth to Plymouth, Massachusetts carrying the pilgrims who would go on to establish the Plymouth colony.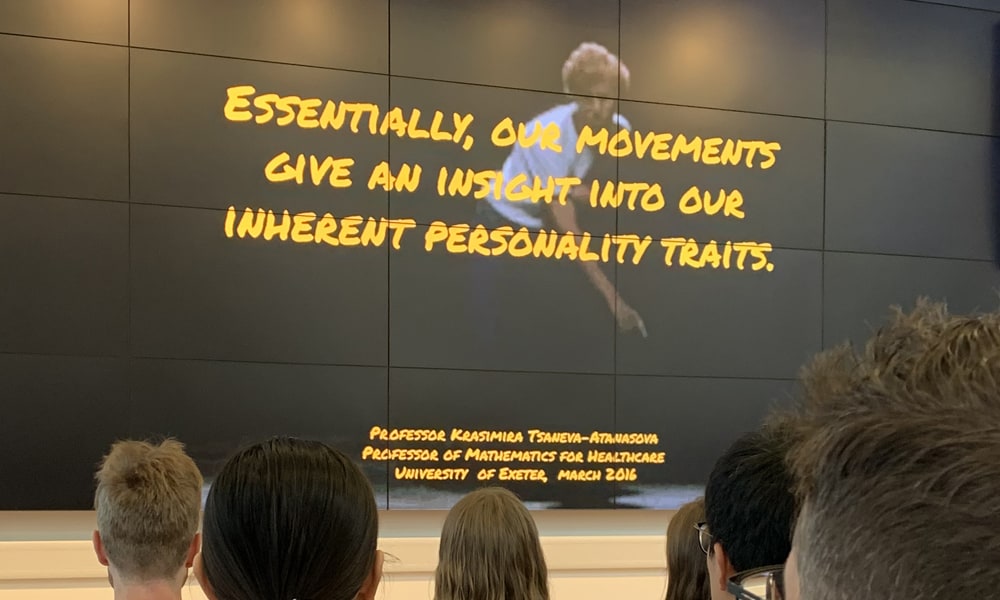 Meg
My top takeaways from the BDF:
The importance of "playing around with stuff" in the creative process – Design + Motion + me by Glen Yeoh
The notable impact of personal charisma on building a business and invigorating a crowd in a drowsy lecture theatre – Creative Hustlers: The steps to greatness! by Dines of Studio Blup
Birmingham University have both a printing press and a classroom of digital weaving machines that I'd very much like to get my hands on – me, nosing between talks
"The devil lives in Solihull" – confident interjection by a complete stranger on the train home. Well, now we know!
It was also reassuring to see that technical problems are universal. Our first speaker Cat Drew, the Chief Design Officer at the Design Council continued with aplomb when her Design for Planet introductory video could not be heard by the audience. She encouraged us to share it with clients with the goal that every design brief should be seen "as part of a bigger ecosystem" aimed at a more sustainable future. Got two minutes? Give it a watch here: