Our year in web: thoughts so far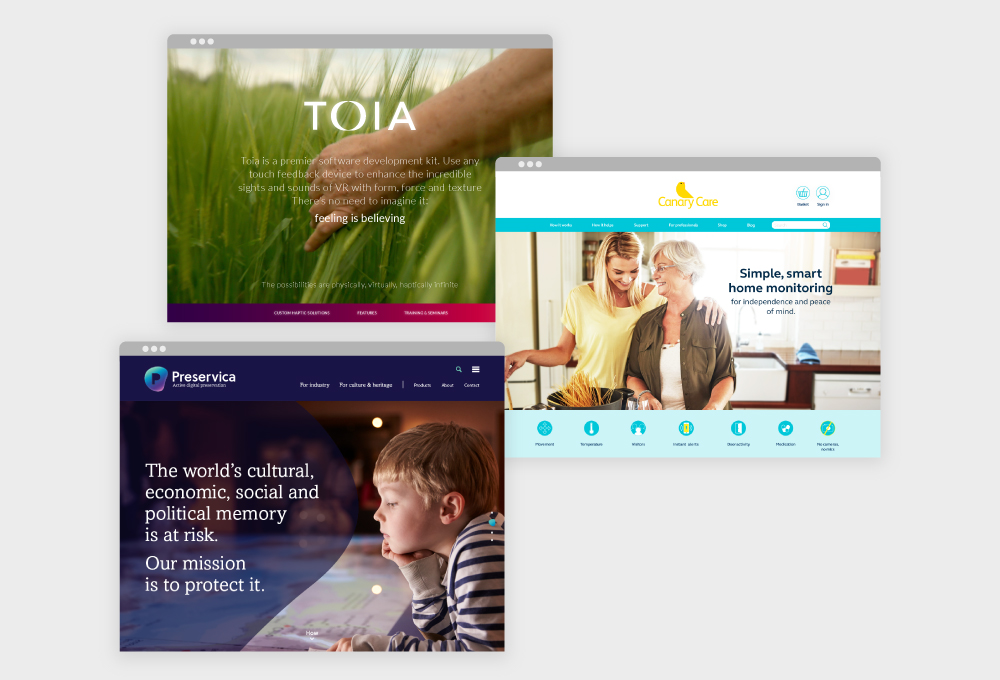 2017 has brought us a lot of web projects, and while every client needs a slightly different approach, repeating the process a few times in particularly close succession has given us a chance to reflect on how we do things around here.
Here are a few thoughts and observations from three different web team perspectives. A few things you may know already about our process, and maybe a few new insights. We hope you find it useful if you're thinking about your next web project.
Emily – Account management
Every project is different
All design projects are different in approach, but web projects can feel especially different from each other. For a start they usually involve much bigger teams, with a larger internal multi-disciplinary team, and greater client stakeholder involvement compared to other kinds of project.
It's kind of a big deal for everyone
Naturally, across mark-making* and client teams, there is an element of more acute apprehension with a web project. It's usually a large portion of the marketing budget to accurately represent the brand's shop window to the world and support ambitious sales targets. It's a big journey for everyone involved and shouldn't be underestimated – especially as websites sometimes involve stakeholders who don't ordinarily have much contact with marketing practices and processes.
Collaboration, collaboration, collaboration
It's at the heart of how we work with our clients whatever the medium, but particularly key for web projects. One of the key early stages of a web project is often a user journey workshop. It's a couple of hours where we get together to discuss and challenge assumptions around your business goals for the website, who your users are, what they're trying to do, what you're trying to do, and where these things overlap.
We often run various elements of the project simultaneously to meet time and budget constraints, so it's vital that everyone is working towards the same end goal. We have regular team catch-ups to ensure each discipline is happy with how the project is progressing. We keep client updates staged and focussed as we work through the project, and we're flexible with how this works, because we want to make sure the right people know the right things at the right time.
We look back to move forward
As part of our internal process, we have a team wash-up meeting when a project ends. This combines a multitude of success factors – design effectiveness, timescales, client satisfaction. Ultimately it's about us as a team having an open and honest discussion about what's worked well, what's been a challenge and what we can do more of next time. With each one, our approach to web projects gets a couple more refinements.
Nic – Brand and design
Think brand and keep coming back to it
It's so easy to get lost in the functional, techy aspects of website projects and it's no surprise with so many things on the go: site structure, navigation, content and look and feel. But it's important to engage users emotionally in order to drive action. Expressing your brand throughout the total web experience ensures you can achieve this. It will elevate your website from one that looks good and is functionally sound, to something that truly represents who you are and is the keystone to your brand's digital communications.
Process is the key to success
But it's not a one-size-fits-all affair, every project is slightly different, but we always start from the beginning! Seems obvious right? But it's so easy to get lost in the bigger picture of what you are trying to achieve and worry about details before you need to. This just results in a confused outcome and can have knock-on consequences for the whole project. So, we break the project into stages to ensure we have clear space to really think at the right times, with the right people. Most importantly, this makes it a much more enjoyable experience for everyone.
Start with strategy
We take a strategic approach, understanding your business and your primary goals in order to reveal key insights that ensure you achieve your objectives. We often find that inspiration can be found in unexpected places. It might be that a business in a completely different sector is engaging your target audience in an effective way and so what lessons can we learn from them? Expect to be really pushed and question everything you thought you knew about yourselves and your users.
Expect to feel uncomfortable
Positive change is not made in comfort zones! At the beginning of every project I often warn clients it's normal to feel slightly uncomfortable at times during the project. But be reassured: it's our job to understand what you're trying to achieve, and we appreciate what is important, but sometimes we need to encourage you to push things in order to bring your vision to life.
Content and design go hand in hand
There is a symbiotic relationship between content and design. Creating intuitive, well designed web experiences means the designer needs to understand the content structure, not necessarily the exact content, but what the content is made from. They have to work in unison with each other otherwise you will have a design without substance. One cannot thrive without the other and this is a key part of our design phase. That's why we start the content strategy very early on in our process.
Chloe – Copywriting and content
Less is more (except when it's not)
But I'm going to come right out and say it: in most cases, less is definitely more. Most adults are used to thinking about copy volumes in terms of the printed page. But what looks like a few tight sentences in Word suddenly becomes an unreadable essay when shoehorned into a more dynamic, engaging web page design. That's why we think mobile first: even with copy. Especially with copy. And why we run early design concepts and content structure side-by-side.
Sometimes, less is not more, and a couple of thousand words is just what the internet ordered (for example, when you want to release an in-depth blog post to shed light on internal processes). If that's the right thing to do, we'll know, because all our research, user investigations and collaborative work will point in that direction. Less is usually more, because in the vast majority of cases we're trying to help a user get from A to B, to the thing they need, in a helpful way that's coherent with the brand in question.
Deadlines
The go-live date is not the only deadline (that would be terrifying). Milestones throughout the design, development, and particularly content creation processes mark sign-off of various aspects of the website. Managing web projects in these bite-sized chunks (with a solid process, see above) takes the pressure off everyone. The hallowed go-live date becomes little more than the flipping of a switch, because everything else is long since taken care of (at least, that's the theory).
In rare cases, the deadline is set, with no wriggle room, in which case it's a case of getting something live in the minimum time, and ironing out the bumps later. More often, go live is contingent on all the other stages being completed and signed off as planned, which results in the minimum viable product (MVP) we've agreed will be live for phase one, with a clear to-do list of desirables for the next phase, which leads me nicely on to…
Go-live is just the beginning
The go-live date might shift a little to make sure what we deliver is as good as it can be, and makes sense for what a brand is trying to achieve. These shifts get more significant if more change requests come in after or in-between sign-off stages, or if there's an unforeseen change in the content production process. In some areas a change might have a big impact on timescales, in others not a jot – the only constant between projects is that there are usually *some* unforeseen changes!
We just try to keep an eye on which new features and content stages are clearly essential for go-live (part of that MVP), and which might turn out to be more effective, or indeed even unnecessary, after a few months of monitoring. Version 1.0 of a website is the end of the design and build project, but only the start of a new online journey for the brand (first stop: content maintenance!).
Enjoy it!
It's easy to get bogged down in the many elements of a web project, but it's important to remember you've got a brilliant account manager like Emily looking after everything for you. I'm lucky to get involved in the early stages where meetings are interactive and exciting, full of possibilities – everything's up for grabs at the beginning! Most businesses only get time, space and budget to rethink a website once every so often, and we really try to make it a rewarding, educational, enjoyable experience.
–
Food for thought?
We hope this helped to give you an idea of how we help our clients make their mark online. If you've got a project to discuss, we'd love to hear from you: call the team on 01608 649 600, or email letstalk@mark-making.com