Meet Debs, Hannah and Marianne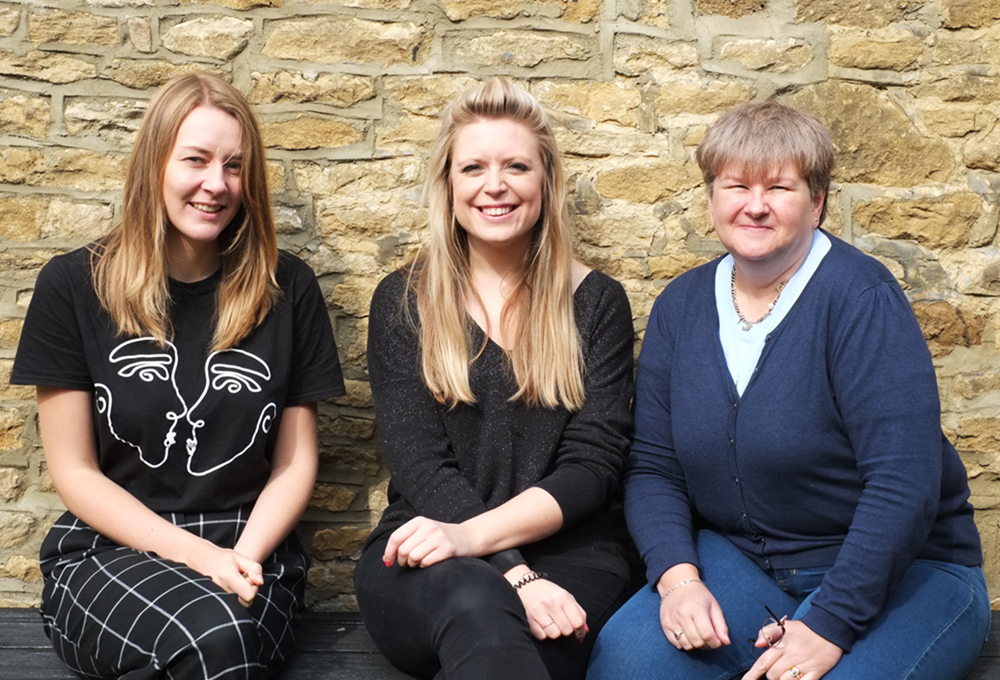 The last few months have brought us three new mark-makers. Debs joined the Artworking team, swiftly followed by Hannah our new Senior Account Manager and Marianne our first ever Copywriting Intern.
We'll leave you all to get acquainted…

Debs Barrett
What do you do?
A little bit of everything from text amends to photo manipulation and design tweaks. I ensure that artwork files are press ready or web-ready and accurate to our clients' guidelines.
When might our paths cross?
Depending on what I'm doing, I generally work with the creative team in the studio.
What's your favourite bit about working here?
The location, the people and being part of a great team. Having spent most of my career specialising in packaging I'm really enjoying learning new skills.
And when you're not mark-making*?
I would love to say I have an exciting hobby, but sadly I don't! Most weekends you'll find me at our local garden centre looking for just one more plant to squeeze into the garden and looking after my family, which includes my 2 large Maine Coon cats.

Hannah Bridgeman
What do you do?
I'm here not only to make sure that projects are delivered on time, on budget and on brief… but also to ensure a great experience along the way and that our clients are getting the very best out of our expertise. My role is to know our clients better than they know themselves and ensure that everyone is singing from the same song sheet through the full strategic and creative process.
When might our paths cross?
Throughout the entire process – I'm here from the first brief through to the very last deliverable (and beyond) and always at the end of the phone!
What's your favourite bit about working here?
As a newbie, I have been made to feel so welcome, so as cheesy as it sounds – it's the people. It really is a team effort!
And when you're not mark-making*?
I'm either sweating on the netball court, watching trashy TV or taking bad Instagram pictures of my food. I also love to travel, so I might be planning my next getaway, with a Gin in hand of course.

Marianne Fish
What do you do?
I write copy and content for anything from social media posts to direct mail – a few words to essay-length text. There's lots of editing, proofreading, blogging, organising text, and getting creative with words involved in my job role.
When might our paths cross?
I work closely with and am learning a huge amount from, Chloe. The account team briefs me ready to compose copy required by clients and I work alongside the design team and the creative directors on campaign work.
What's your favourite bit about working here?
The variety makes every day interesting. The people are all incredibly supportive and the company has such a great atmosphere. I'm also a little in love with the location.
And when you're not mark-making*?
Whilst I don't pretend to be an avid runner, I do enjoy getting out for a gentle run (or, probably more likely, a fast walk) when I can. Part of the Ultimate Frisbee Society (it is a real sport!) during my university days, I'm also partial to the occasional throw-around. When I'm not pretending to be sporty and trying to run off some of the chocolate I've eaten, I love a good pub trip with friends, or else burying my nose in a book with a pint-sized mug of tea.
Bonus content! Introducing new mm* babies
In addition to our three new mark-makers, the last few months have also brought a couple of slightly smaller additions to mm*. Andy and Liz welcomed baby Eugene in May (right) and in July Dan and Liz welcomed baby Joshua (left).