The main focus when choosing a typeface for a brand is that it should align with and elevate your values and personality. Are you friendly and fun, with an approachable, rounded font like holiday company TUI? Or serious, with a credible serif like the Financial Times?
On the surface it seems pretty straightforward. But the digital revolution is changing the conventional brand rulebook. As more of us engage with brands on a huge range of digital platforms, readability and usability are key to the typeface decision. In our digital era, how easy it is to interact with your brand says more about your values and personality than anything else.
And if the right font doesn't exist? Create one.
About six months ago, the BBC Sport website started to change. The words took on new character with the introduction of BBC Reith, a bespoke font commissioned by the Corporation from type foundry Dalton Maag.
The brief – a design to support the transition of a huge, public organisation from traditional broadcaster to digital media service – was a tough one. It had to work at countless sizes, in so many contexts. And then there's the pressure of working on a brief for public company, paid for with (in effect) public money.
The designers have done an incredible job, creating both sans serif and humanist serif versions of Reith (named after the founder of the BBC). Each one comes in multiple weights, with matching italics, and having both sans and serif helps it to fulfill the most challenging bit of this brief, which is making sure that the type displays clearly and legibly on many, many different screens, at many different resolutions, in contexts from web pages to apps to games.
Apart from all its fine details (which I could bore you with for hours) I find this type project interesting because, while it is a vital element of brand expression, the brief came of out a very functional need. It was commissioned by David Bailey from the Global Experience Language (GEL) team to solve the everyday problems they encountered when trying to use type to improve user experience. (GEL is "the BBC's shared design framework which enables [them] to create consistent and delightful user experiences across all of [their] Digital Services.")
So while I might geek out about the brilliance of this type as a piece of work in its own right, I can't ignore the fact that it was always created to be part of a whole, and commissioned with the holistic objective of improving the entire experience. It's a fundamental element that, when improved, tweaked and refined, elevates all the other elements in the comprehensive GEL design system.
Reading about BBC Reith and the challenges that brands face when expressing themselves through great typography online, I noticed a few other cases that illustrate good type's dual purpose: both crucial in itself, and vital to a system. My examples take us back in time…
The year 2015 saw big type changes for two huge tech brands: Apple and Kindle. Apple launched San Francisco, its first custom typeface after years of off-the-shelf selections, to coincide with the launch of the Apple Watch and a new iOS. Apple's previous choice, Helvetica Neue, while an improvement on its predecessor from a UX and aesthetic point of view, wasn't fit for purpose on the shiny new wearable. So the rethink addressed legacy aesthetic issues as well as the immediate UX challenge.
Kindle's Bookerly also launched in tandem with other improvements. I think this brief possibly embodies the digital type challenge in its most intense form: create a font (and typesetting system) that emulates the craft and care of type in printed books… but deliver that experience just as perfectly across digital platforms, including apps from different providers, different OSs within those providers, and multiple Kindle products.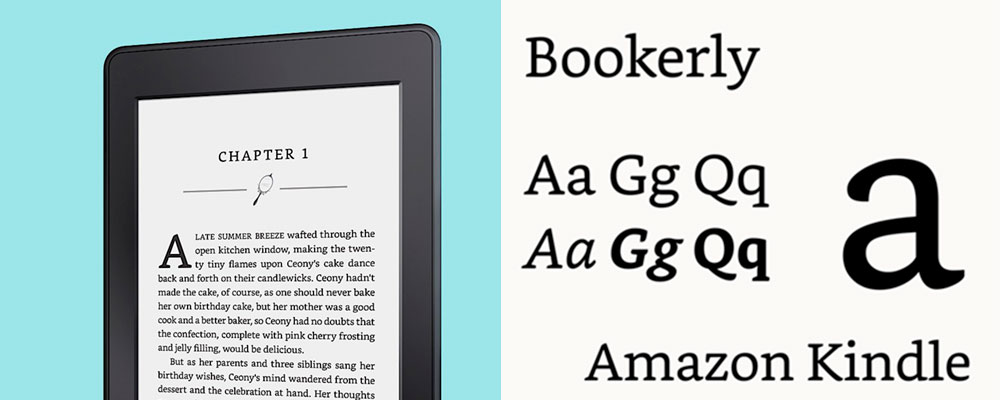 While the (admittedly lovely, super readable, super scalable) new serif font grabbed the lion's share of the headlines, it was an advanced new layout and typesetting engine that made sure the update was a roaring (reading) success. The old system set absolute margins on the left and right, resulting in some lines with huge spaces between words, and some lines that were really cramped. The new engine justifies text in a way that's much more like a print book, with as many words as possible on each line without compromising the spacing – what better home for Bookerly to inhabit?
Again we're confronted with the importance of type, *and* the part it plays in a bigger system. And both of these huge players found that commissioning a custom typeface was the easiest way to solve the challenge of readability, usability and scale.
Back again to 2014, and it's Google's Roboto update. It was first launched in 2011 to mixed reviews, and three years later the search engine giant overhauled Roboto, such that "almost every glyph has been tweaked or updated in some way". Not surprising they wanted to get it right, seeing as it has to work across so many "screen sizes and conditions, from watches to desktops, televisions to cars". It too was released in company, this time with Google's Material Design guidelines. The updates and tweaks suggest that, while some brands will choose to refine a digital typeface and stick with it for the foreseeable, others are open to treating their typeface just like the products they build: as an evolving, reactive, living thing.
So a custom typeface can be the right call for a big brand to make its offering more accessible for its users, and of course to make the visual articulation of its brand's voice authentic and accurate.
The last font I want to tell you about wasn't designed for a brand. It's available for anyone to use (personally or commercially), and it solves a very specific UX problem. OpenDyslexic is a bottom-heavy sans-serif font available in regular, bold, italic and bold-italic styles. It was created to "increase readability for readers with dyslexia", and – like Google's Roboto – it's always being updated and improved, except here the changes are based on input from dyslexic readers specifically.
I'll let the creator explain how it works…
"OpenDyslexic is created to help with some of the symptoms of dyslexia. Letters have heavy weighted bottoms to indicate direction. You are able to quickly figure out which part of the letter is down which aids in recognizing the correct letter, and sometimes helps to keep your brain from rotating them around. Consistently weighted bottoms can also help reinforce the line of text. The unique shapes of each letter can help prevent confusion through flipping and swapping."
I'm going to come clean now: when I first heard about a font designed to make reading easier for dyslexic people, I wasn't expecting it to look great. But when I first clapped eyes on it, I was pleasantly surprised. And it struck me that it wouldn't be too much of a stretch to incorporate the design elements that make the difference into more classical typography, to improve readability. Now that I know about OpenDyslexic, I'll think about my audiences slightly differently from now on.
We always recommend making websites in such a way that they're easy for screenreaders to interpret, to cater for the visually impaired – one person in every 30. Dyslexic people account for one person in every 10-20, which is a much bigger chunk of the potential user base.
Countless things make up the expression of a brand out in the world. Online specifically, while type plays an in important role in brand expression (as the visual representation of the brand's voice), it's intertwined really closely with the other elements of the user experience.