How to begin, according to 10 mark-makers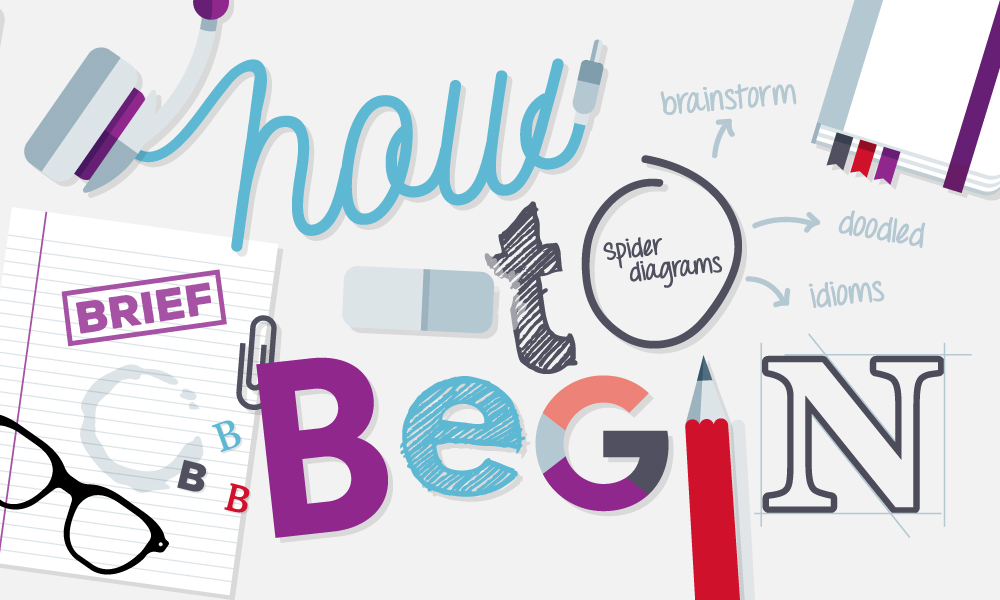 Sometimes, the hardest part of a project is getting started. Actually setting fingers to keys, pen to paper, pencil to sketchpad. So the question is – how do we begin?
We don't mind admitting it, and we're pretty sure we're not alone.
We all have different ways of tackling the beginning, and in the spirit of solidarity, we thought we'd share a few of ours. We hope you find them interesting, amusing and perhaps even useful.
So without further elaboration, procrastination or ado, here's how to start according to the mark-makers.*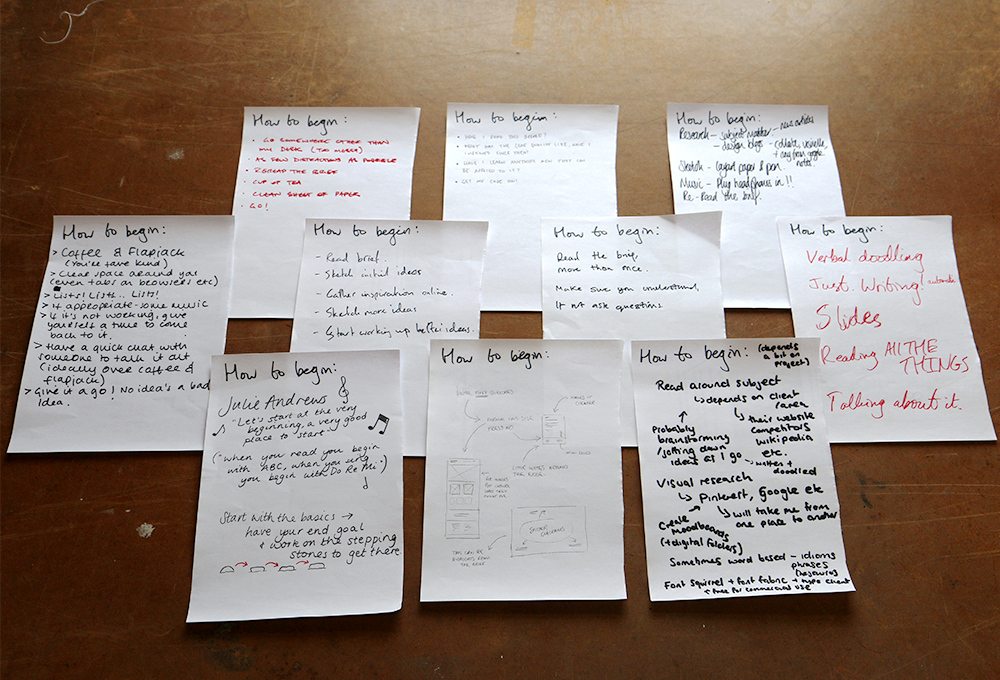 Meg is into broad, far-reaching research that comes at the project from every angle: verbal, visual, conceptual, typographic. She's partial to a mood board.
(It depends on the project)
Read around the subject
Look into the client and their area
Brainstorm and jot down ideas (both written and doodled) while reading
Do visual research (Pinterest, Google images)
Make mood boards
Do word-based research – idioms, phrases (Thesaurus.com)
Play with fonts.
Tom is discerning in research and particular about conditions for creativity. Excellent tunes and the right pen are a must.
Research – read about the subject matter (news articles), read design blogs, Collate, Visuelle and make notes
Re-read the brief
Music – headphones on
Sketch – layout paper and pen (but not just any pen: Muji 0.5 Black Gel Ink).
Russ keeps it simple. (We could all learn something from Russ.)
Read the brief
More than once
Make sure you understand
Ask questions if you don't.
Will is like a yo-yo. Sketch, research, and sketch s'more. He chooses the better ideas, and lavishes them with further care and attention.
Read brief
Sketch initial ideas
Gather inspiration online
Sketch more ideas
Start working up the better ideas.
Like Meg, Chloe pursues several lines of attack.
Do some verbal doodles
Just write. Write anything. Automatic writing. A shopping list. ANYTHING
Use slides to organise different trains of thought
Read all the things – client material, subject matter research, similar work, something else entirely…
Talk about it.
Emily has specific nutritional needs and believes firmly in clearing the desk (and the desktop) to make mental space for creativity.
Coffee and a flapjack (your favourite kind of both)
Clear space around you – your desk AND your desktop. Bookmark that blog and save your Amazon basket for later. It's time to focus.
Lists
If it's appropriate, a little music
If nothing's working, set a time to come back to it, and let yourself do something else
Have a chat with someone to talk it out (preferably with coffee and a flapjack)
Just give it a go! The first time round, no idea's a bad idea.
Shannon carefully assesses what's gone before in the interests of ease, efficiency and doing things better. Because doing work twice is silly.
Have I done this before?
How good was my code? Have I improved since then?
Have I learned anything new that can be applied to it?
Get my code on.
Ali is an escapist with simple needs, and a hella messy desk.
Go somewhere other than my desk (too messy)
With as few distractions as possible
Recap the brief
Cup of tea
Clean sheet of paper
Go!
Charlotte takes her starting inspiration from the movies, and believes in taking things one step at a time…
"Let's start at the very beginning, a very good place to start…"
Start with the basics
Have your end goal in mind
Work on the stepping stones to get there…
As for David, well, mere words can't do it justice…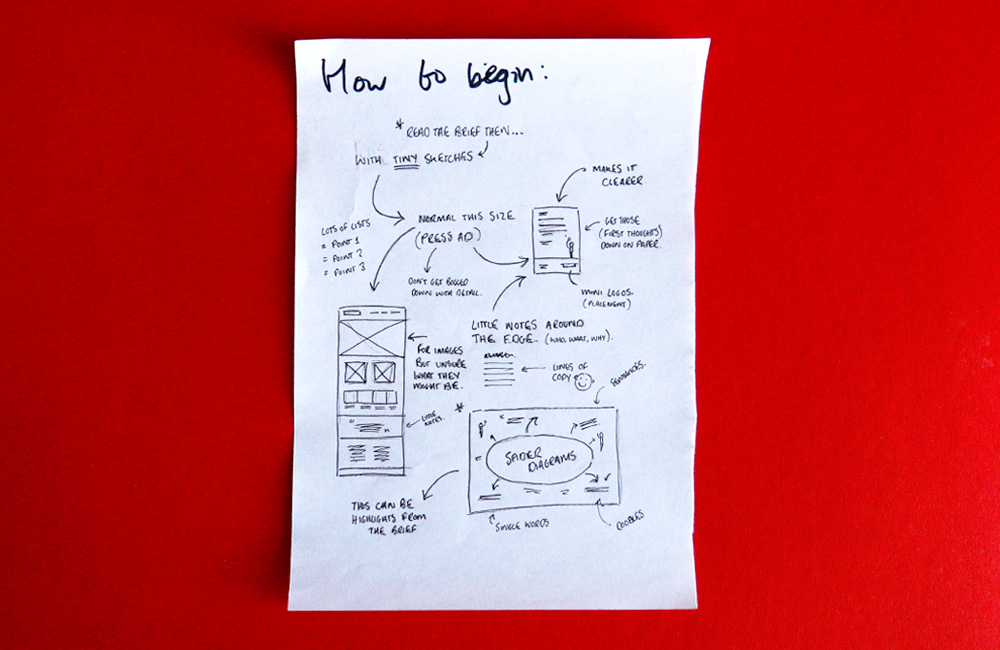 Voilá. How to begin according to 10 fine mark-makers. Now that you're well underway, we speak from experience when we say things will probably play out something like this…
The Creative Process
1. This is awesome
2. This is tricky
3. This is shit
4. I am shit
5. This might be ok
6. This is awesome

— Marcus Romer (@MarcusRomer) October 23, 2013
*It should be noted that while some mark-makers specify reading the brief and some don't, we do all read the brief. At least once.