Hot off the press: the PROJECT:PLEDGE newspaper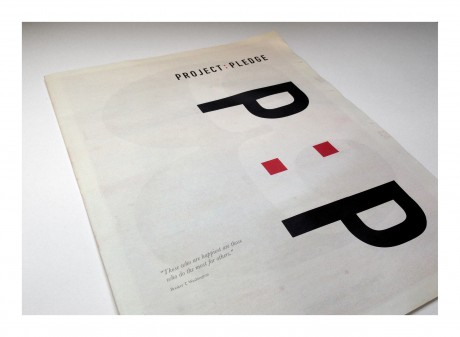 What difference can a pledge make? Since last year we have been promoting PROJECT:PLEDGE to inspire us and others to make good happen by giving away our time and skills.
We wanted to find a new way of telling the story of people's pledges to different organisations, charities, and local communities, to spread these acts of kindness even further. So we decided to put the campaign to press with the PROJECT:PLEDGE newspaper.
It was our designer, Nic, whose idea it was to show through a newspaper the story of how we and others have been pledging time,
"By it's very nature, the format of a newspaper, its size and paper stock, suggests you are being given the most up-to-date information and something exciting to read. However, I didn't want the content to be designed in this way. I wanted to design something that people would be intrigued to read and keep, not use for tomorrow's fish and chips."
We're pleased that it isn't just our own efforts being presented in the newspaper, with some great pledge stories from others too. But – we want more! We are looking for more stories from individuals who pledge their time and skills to worthwhile causes.
If you feel inspired, please check out our PROJECT:PLEDGE website for more information. You can contact us at pledge@mark-making.com and share stories of how you donate your time and skills to help other organisations and people.
You can see more images of the newspaper on our Behance page.
Please help us spread a bit of happiness and join us on our journey.