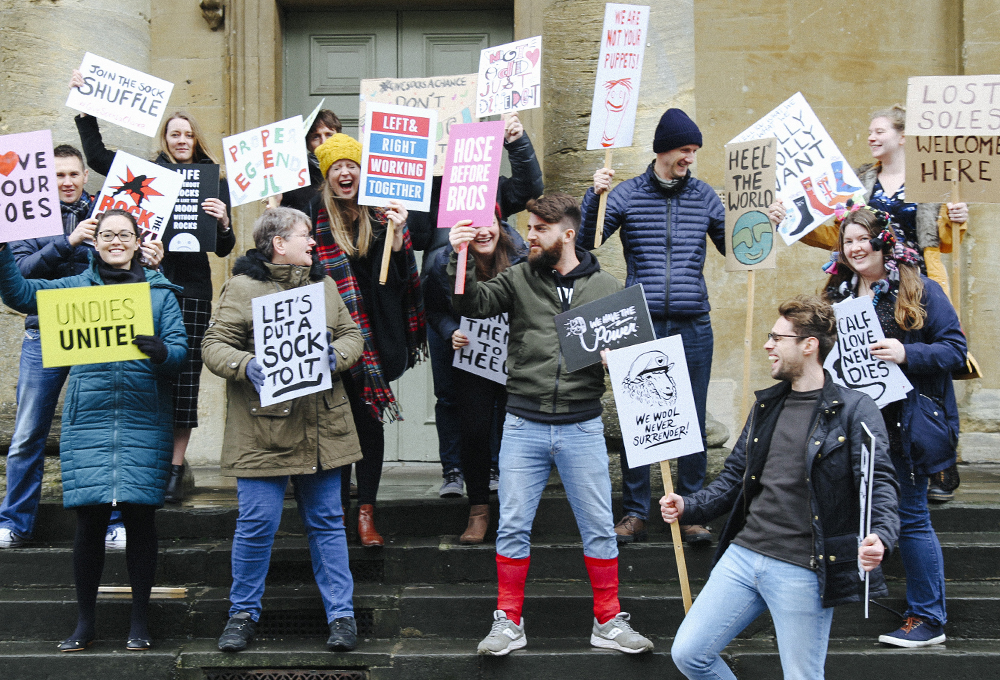 For too long socks have been unfairly branded as disappointment in spun-cotton form: underappreciated and hung out to dry. And why? We owe so much to socks; they stop us getting cold feet at the most crucial of moments and keep our toes toastie. So, this Christmas we're on a mission to give socks their due as the top-drawer gift they are.
And how do you raise awareness of something you believe in? With a rally. So what did we do? A sock rally!
Obviously.
What do we want? Recognition for socks! When do we want it? This Christmas!
Preparation began, as can only be expected at mark-making*, with some creative work. Mark-makers created signs and banners with strongly-worded and thought-provoking messages that they felt best captured our fight for sock-appreciation.
Some favourites included: 'Weave got rights too!', 'Hose before bros!' and 'Rage against the washing machine!'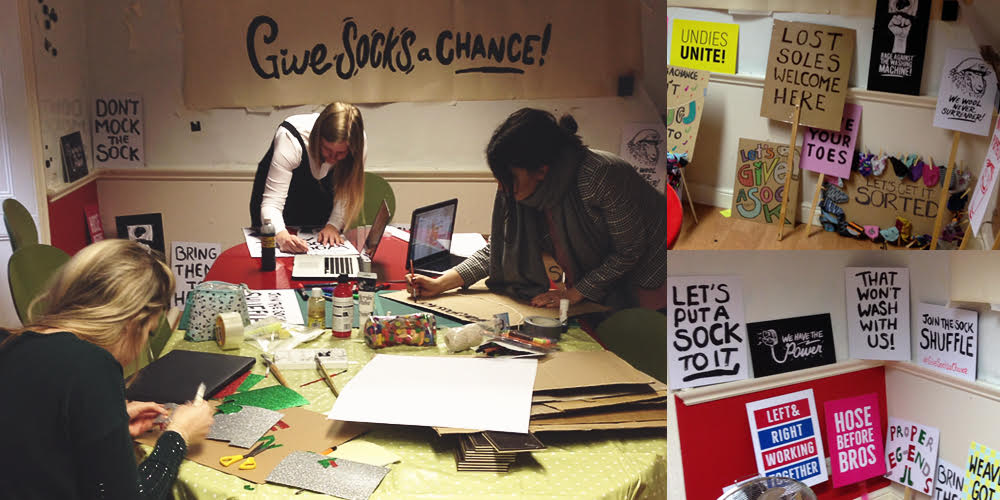 We wool not toe the line!
When the big day of the rally finally arrived, we pulled up our socks (quite literally in Shannon's case), and took to the streets of Chipping Norton to fight for the cause. We didn't let the cold deter us (we had our socks to combat the chill) and, putting our best foot forward, we marched on the town.
The locals were, probably understandably, rather confused. We created quite an impression: shouting our rally cry at the town hall, marching on the streets, literally stopping traffic, and chaining ourselves to the railings. We like to think we made a real difference to the perception of socks.
In reality, we got a bemused email from the mayor asking why we were disturbing the peace.
…the point is, we definitely raised some awareness, and that is no mean feet.
Here are a few dramatic shots from the rally.
(Please note: No mark-makers were embarrassed in the staging of this rally… Maybe.)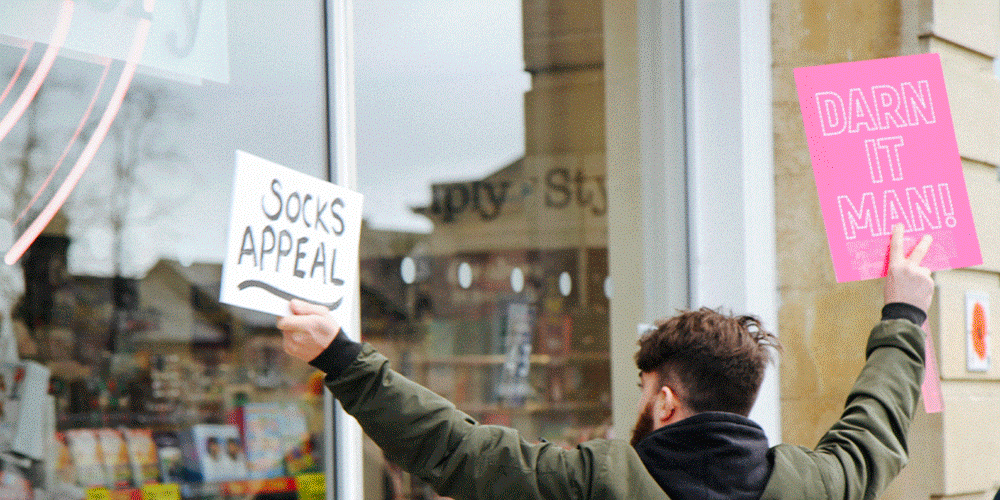 Join the sock shuffle
We will sock at nothing to make toe-togs the ultimate gift. And we'd love you to support our cause.
So, if you've got some jazzy socks or just the one snazzy sock (lonely soles need recognition too), post a #sockselfie on Instagram and tag us @givesocksachance

Can you spare a pair?
As well as showing our appreciation for this classic gift, we're also raising awareness of the fact that socks are a vital item of clothing that many of us take for granted.
This winter, we're launching a sock drive and collecting unwanted socks for Oxford-based homeless charity The Gatehouse. So please, if you have spare socks – a pair that isn't being worn and is just sitting at the back of a drawer – donate them to those who really need them. For more on this and how to help, read our blog post.
Go on, be a #goodietwosocks