Give Socks a Chance: The leg-end continues…
If you followed our Give Socks a Chance campaign this Christmas you'll recall that we've been on a bit of a mission lately. Namely, to give socks their due as a top-drawer gift, and also to collect spare pairs for The Gatehouse, a local homeless charity in Oxford.
With the help of friends, family, and fantastic clients (shout out to F. Hinds for their impressive donation), we managed to collect 620 pairs in a colourful array of shapes, sizes and patterns. It was a sockcess beyond our wildest imaginings, and only one thing was left to do – deliver them!
When the big day finally arrived, two brave soles set out from mark-making*, limbs laden with heaving bags of toe-togs. With what can only be described as a great feet of strength, we made it through the bustling city streets of Oxford to safely deliver the booty.
There we met a brilliant bunch of volunteers and workers who regularly give their time to support local homeless and vulnerable people. For over 30 years The Gatehouse has offered a safe refuge in the city centre, providing food, clothing, social activities, and care to those who need it.
While the team prepared for that evening's walk-in session, we were given a behind-the-scenes walk & talk by the lovely Setareh – a Project Worker at The Gatehouse who has handled our odd sock-shenanigans with wonderful aplomb. The tour included a peek into their small but extremely well-organised storage cupboard, where our socks will be kept and distributed as they are needed.
'We get through a lot of socks throughout the whole year, and it's after the first few months of the year that we look round…and all the stuff we got in at Xmas starts dwindling down…and before you know it, the clothes boxes are near to empty in our tiny clothes store.'
– Setareh, The Gatehouse
We were so pleased to be able to pass on our sock haul to a truly fantastic cause, and hope this might be the beginning of a bigger partnership with The Gatehouse as we explore the ways we could continue to support them in the future.
If you'd be interested in getting involved by donating money, time or goods to this brilliant charity, please check out The Gatehouse's website for more information. They have limited storage capacity so if you'd like to provide clothes etc. please consult their wishlist first.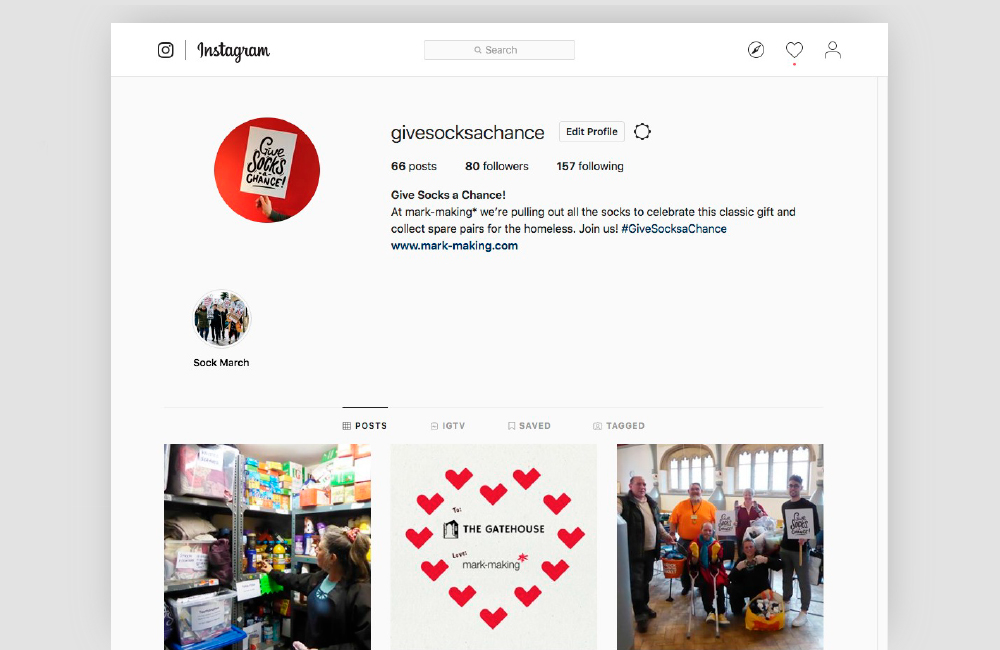 If you've missed out on our sock shenanigans, check out our Give Socks a Chance Instagram account – we're putting our feet up for now, but watch this space for more toetastic content when we next pick up the thread.