Getting to know what's on your doorstep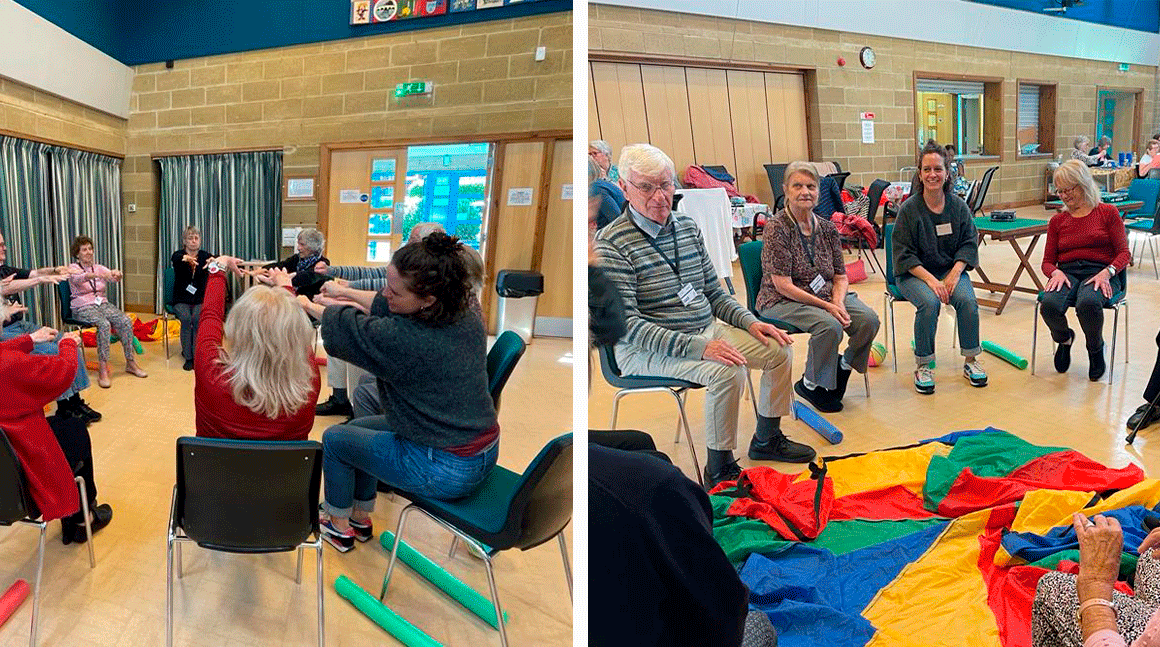 I've lived in Eynsham for the past thirteen years, so I've been aware of the Eynsham Day Centre (EDC) for quite some time. It's a volunteer-run service that caters for older and more vulnerable members of the community. But I'd never visited. Until I joined mark-making* and our volunteer scheme gave me the spur I needed to get involved.
Community spirit in action
During the pandemic, many of us found our neighbourly side. We checked up on older friends and made a point about chatting over fences. But when most of the world got back to business as usual, parts of every community were forced to stay home, be it because of health conditions or a lack of access to care. The harsh reality is that, for our most vulnerable people, loneliness has replaced Covid-19 as a primary threat to their well-being.
Thank goodness, then, for the volunteers who run the EDC. Every Monday, Eynsham Village Hall transforms into a welcoming home-from-home. In exchange for a small donation, older folk in need of company and a bit of distraction are provided with a full day of activity, including a two-course lunch, and a hefty dose of community spirit.
A warm and familiar welcome
On both days I visited, the comfortable chairs were already out and tea and biscuits were being served. Despite coming along to get my hands dirty, I was one of those handed a cuppa and encouraged to simply sit and chat.
I recognised several ladies. In the past, instead of being served, they'd served us – handing out squash and biscuits at the village playgroups I took my toddlers to. We caught up on everything: life since we'd last met, the village in days past when farming was the community's lifeblood and, of course, the perennial question of how many years it takes to be accepted as a fully-fledged 'Eynshamite'. The upshot was – thirteen years is not enough.
In full swing
Next, it was time for exercises, and I joined in with a pretty unforgiving game of catch. Then Scrabble and dominoes. And, finally, lunch, lovingly provided by our local pub, The Jolly Sportsman. I was part of the wait staff, making sure every member received their meal, before joining a table for some more conversation.
Each session is brought to a close with entertainment or activity, and across the two days I attended, there was an incredible variety to enjoy. First, music and song and, the following Monday, a chance to play pub games and meet some very sweet guinea pigs and fluffy yellow chicks.
Both sessions were fraught with laughter and tears, as the music and interaction with the most gentle and tiny of creatures brought up emotion all round – including for me.
We're better, together
My experiences with EDC have had a lasting effect. I'm profoundly touched by the commitment that members of my community make to support the people who did so much for Eynsham when they were able. And spending time with wise, funny, resilient elders is an inspiration for what living well really means. It blew my mind to discover that the service is entirely unfunded. Because without the unpaid hours given to it by so many people, it simply wouldn't exist. And that would be a terrible loss for the wonderful people who find routine, interest, challenge and friendship in their weekly club.
It got me thinking, too. What if more businesses paid for their employees to give 8 hours each year to a charity? How much better connected and better supported might we all be? So I, and the team at the EDC, thank mark-making* and the other forward-thinking employers out there, who recognise the value of giving back to the community, and everything that simple act gives back to us.
---
Anna Glynn