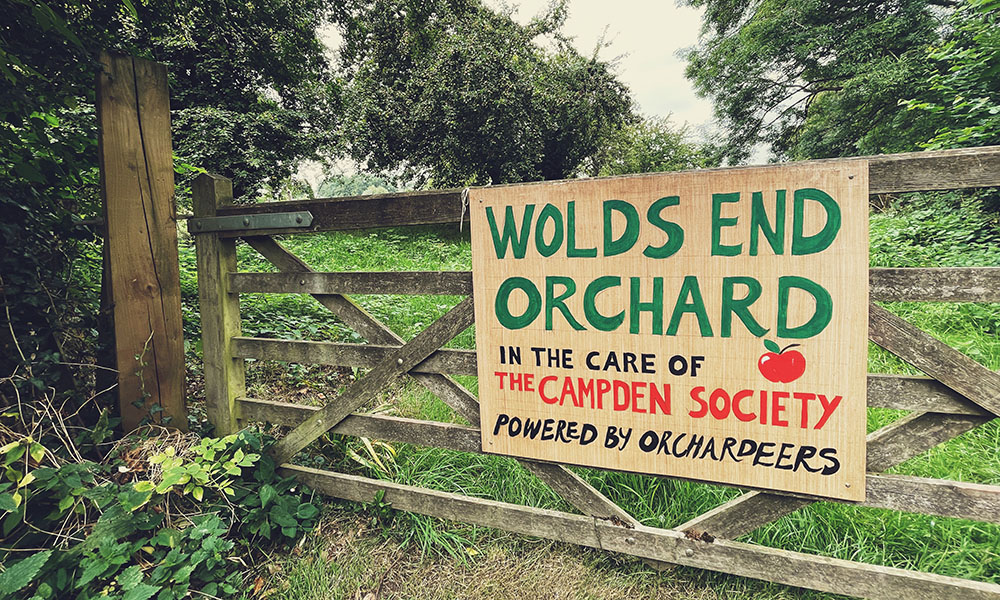 As part of the mark-making* volunteering scheme, I have given up my time to help support the Friends of Wolds End Orchard in Chipping Campden. This is a cause that is very close to my heart, literally, as the aforenamed orchard is opposite my house.
For many years, Wolds End Orchard has been under a dark cloud of potential development plans. Plans that would have seen this irreplaceable piece of the town's history turned into a pay and display car park.
Following a long and hard-fought battle, an amazing group of locals, known as the Friends of Wolds End Orchard (FoWEO), have successfully protected this precious example of our agricultural past. And I am happy to say that it is now under safe management that will ensure it is protected from any future development.
The orchard holds a very special place in the hearts of many local people, but it requires a lot of work and support to maintain and protect it for future generations. FoWEO now has a committee and a host of volunteers that are looking after it. The team have been led by some very knowledgeable and experienced individuals and are undergoing a programme of activities that include, low-intensity maintenance (no use of fertilisers, herbicides or pesticides), tree management, harvesting (making the most of the amazing apples, and fruits on offer), hedgerow repairs and management and much, much more.
On my volunteering days, I was involved in clearing years of bramble growth from the apple trees. A somewhat tricky task as the brambles are not the easiest plant to be messing with, but very rewarding. After a few hours, we could begin to see the shape and beauty of the tree that had been hidden for all these years. Uncovering the trees allowed the more skilled members of the team (not me) to get to work with pruning and caring for the tree so that it could have a new lease of life.
Through mark-making*s journey to becoming a B Corp I have learnt about the importance of protecting our local habitats and the vulnerable species within them, which has made it even more rewarding to see the fruits (literally) of our labour with this ancient orchard.
Not only did I get to learn new skills from our local horticultural experts, I also got to meet new people. This cause has brought many people together, from proper Camdonians (I think you need to have been born in Chipping Campden to claim this), to 'blow-ins' like myself.
But it's not all been work, work, work. In May, an open weekend was organised so that people could come and explore the orchard and in July we had a 'Picnic in the Orchard' day with live music.
There is a full calendar of events throughout the year and we are now coming up to fruit picking and communal apple juicing, which I am hoping will finish off with cider making.
In January, we will be welcoming back the Wassailing ritual where we ward off the evils spirits in order to ensure a bumper crop of fruit – think the Wicker Man without the grisly end.
If you would like to know more about the Friends of Wolds End Orchard you can visit their website or Facebook page.
Right, I'm off for a bit of scrumping…