Freely given: community by design
Chatting with my Nan recently, I got to thinking about how much the world has changed since she was young (sounds obvious – stick with me). Transport, travel, food, health and technology have all come on astonishingly, and we consume more now that we could ever need.
What I've noticed, in myself and around me, is a continuous tipping point. Now that those of us who are lucky to have so much – have enough – are thinking about ways we can give something more valuable than possessions to others, in order to make a meaningful difference.
Now, here in agency-land I'm under no illusions that I can save the world (and there's nothing better to remind you of your place in the grand scheme of things than having close associates who do jobs like paediatric anaesthesia and in-school counselling). But I do believe working in the world of brands can have more influence than most of us realise. I do have a unique set of skills and a way of seeing that can have a really positive impact.
But, there are numerous ways to give what skills we do have for good, in the community, in a very direct way. Freely giving time isn't a transaction, there's no value judgement, and there's something really fulfilling about seeing a need or an opportunity, and putting time and skills against it with no expectation of recompense.
Junior Designer Tom discovered a great example of this. It's the story of a modest wooden shed in Manchester – it's taken shape as The Pilcrow pub. Named for a typographical character popular in the middle ages that designates a new train of thought, it was created in ten months, with the help of 350 volunteers, guided by workshops with local craftspeople. The project's leader Ben Young, said:
"We're laying out a design framework and inviting people to come along and help us build an aspect of the pub, and as a by-product of that, we're building a neighbourhood. That's the theory – so people become invested in the space and if they've built a bar tile or a bar top or a stool, they get a bit of ownership."
Ownership and community were also the by-products of Christmas in Chippy, a late-night shopping Christmas market carnivalesque extravaganza that brought together SO many elements of Chipping Norton's community. I helped to organise the event with local business owner Julia Cook, and we were joined in various capacities by more local business owners, the town council, deputy mayor and town clerk, firefighters, primary school kids, charities, churches, football clubs, a member of Blur, a theatre company, and this here creative agency.
I used all my client experience, and approached it just like any other mark-making* project, getting all the stakeholders on board and tackling things in the right order. We thought about what we ultimately wanted to achieve – to be the most inclusive event possible – and everyone came together to make it happen. The result was a brilliant night and something the whole community now feels ownership over. Plans are already afoot for next year to raise money for two local charities.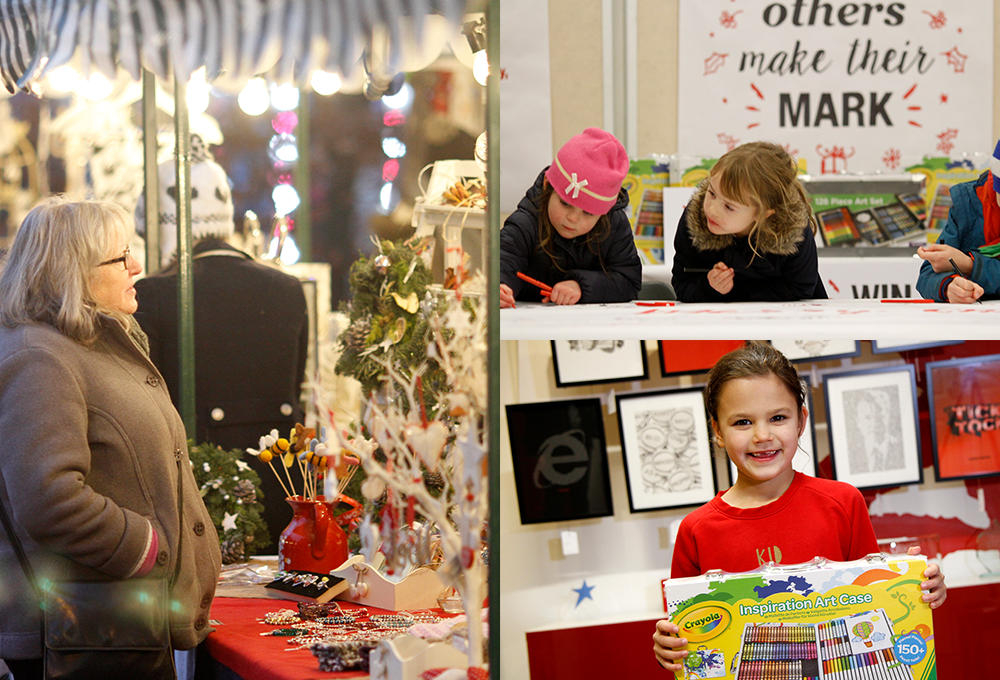 All that from treating an endeavour like a branding project. Branding won't save the world, but when those skills are freely given, with the right intentions and applications it can make a real difference to a whole community.
–
We've always looked for ways to give our time and resources. If you're interested in finding out more, I highly recommend this book about why giving your time is a good idea, and The Do Lectures (whose talks, workshops and books we love) for even more inspiration.