Exploring the streets of London with Woodhouse
It can be easy to be oblivious to how much work and thinking goes towards the creation of something, especially when created by an expert. We experienced a similar feeling with our client Woodhouse, who design and manufacture street furniture, lighting, and signage, when Kasia went with them for a tour of London, exploring the urban environments that they have helped to create. We can take our urban spaces for granted, but there is an enormous amount of thought and innovation that goes into making them something memorable.
The tour begins in Canary Wharf…
The tour started in Canary Wharf, a major business district, which Woodhouse has been supplying since 1989, where we were introduced to a variety of different street lights, bollards, and CCTV fixtures. Elements such as these are often not appreciated by London's visitors, yet are necessary features of our urban landscape, keeping our cities safe and secure.
The second stop on our walking tour saw us taking a cable car to see Woodhouse's Loci street furniture installation, designed to help people enjoy admiring places like The Crystal, the world's largest exhibition on the future of cities. There is no doubt that colour has a powerful effect upon peoples' experience and behaviour within an environment. As Dieter Rams, a German industrial designer used to say, "having small touches of colour makes it more colourful than having the whole thing in colour."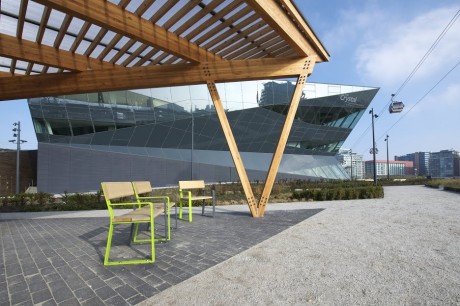 After a walk across Tower Bridge and down Tooley Street, we charged our batteries with a good lunch on the South Bank, fueling our walk further on to our third stop, King's College and the Jubilee Gardens.
We finished our tour by visiting one of the most impressive public projects, Exhibition Road. Exhibition Road is the cultural heartland of London and home to several major museums, and within the design arena, it's well known as the longest clutter-free street in Britain. The street's £28m development revamp, completed in November 2011, aimed to turn Exhibition Road into one of the finest streetscapes in London, where countless signs, traffic signals, and barriers were removed. Instead, the 20 million tourists that Exhibition Road attracts can enjoy Woodhouse's sleek street lighting masts, Marshall's bespoke "corduroy paving demarcation of pedestrian areas for the visually impaired", and a flat surface that improves access for those using wheelchairs, pushchairs, and motorised buggies.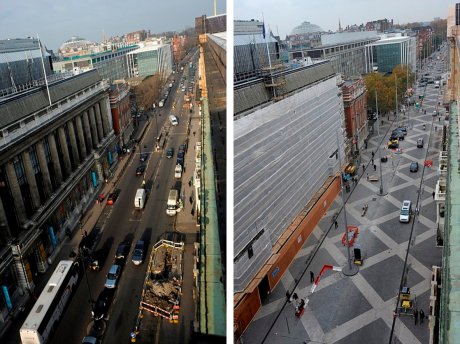 Urban landscapes are about more than getting from one place to another
Today's urban designs are aiming to foster a mindset where public spaces become a destination to meet and socialise. We often forget about its value and take it for granted, but the next time you are wondering throughout the city, look beyond the buildings, flashy shop windows, and expensive cars, and explore the true value of street design.
Have a look at this photo slide share from our tour:
By Kasia Piekut