Creative insights: rewarding awards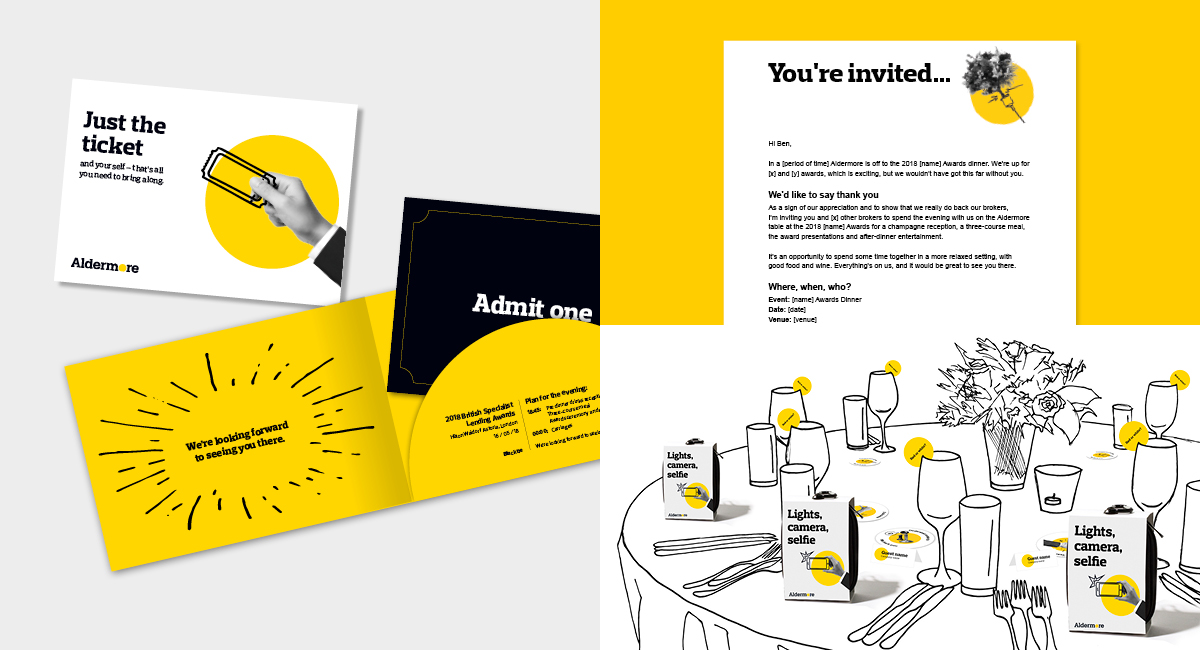 Design Director Nic interviews Creative Director Steve about his latest Aldemore project.
Q. Tell me a bit about the background to the project?
Aldermore was set up in 2009 by Philip Monks. At a time when banks were disappearing or hiding under the credit-crunch rubble, Philip chose to launch a new offering and Aldermore was born. As an entrepreneur himself, he was keen to deliver a service that connected with like-minded entrepreneurial individuals and SMEs. Following an extensive brand review in 2015, Aldermore re-defined their proposition to 'Banking for the Bold'. They were keen to move from a product-led business to one that connected with its customers on a more emotional level. The new strategy and identity are now very much established and mark-making* is working with the marketing teams to bring this to life through all their communications.
This particular project came from the Mortgages Team and was aimed at its broker audience. Brokers are the lifeblood of the lending business, especially in the specialist market. Aldermore was keen to make the most of industry awards and dinners as opportunities to spend time with brokers, and treat them to an 'unmistakably Aldermore' experience.
From the initial personal invite, to the tickets arriving in the post, to the night itself, our brief was to create an experience worth talking about – one that brokers would actively seek out once they'd heard about it.
Our communications were underpinned by the recent 'We Back You' broker support campaign, which looks to show Aldermore's commitment to brokers with 'amazing support, expertly delivered'.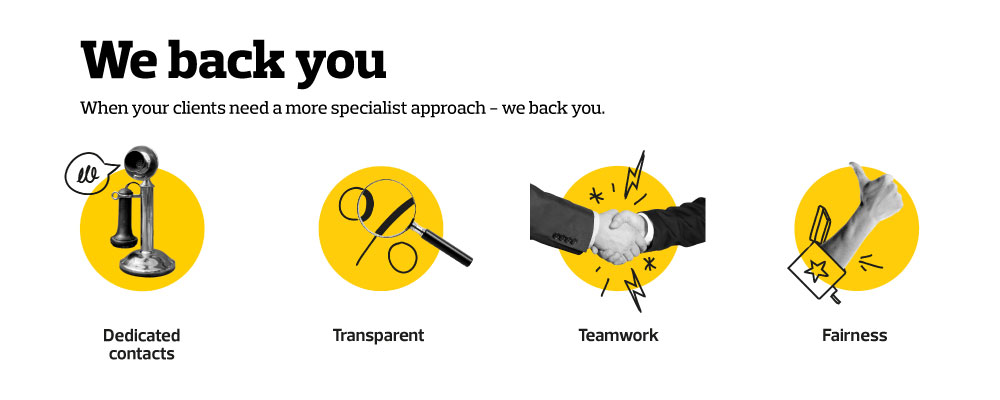 Q. How did you come to the final idea? 
With any project like this the key is to keep things simple and focused and to always put yourself in the end-customer's shoes. We knew that we wanted the brokers to feel supported and to think that Aldermore had put a lot of care and effort into making the experience special. We wanted the brokers to feel closer to Aldermore and to ultimately do more business with them.
Q. I'm reading a book called "The Power of Moments" by Chip & Dan Heath. They explore the idea that our lives are measured in moments and defining moments are the ones that endure in our memories. From knowing and working with you for many years I would observe that this way of thinking is fundamental to your approach on projects like this and in life generally – you look to engineer key moments to make the brand memorable to the audience. Would you agree and can you share any more on this? Where do you think it comes from? Do you have any other work examples, or examples outside of work, where you have done this?
That's really interesting and it definitely sounds like something I need to read, along with all the other books on my list. I completely agree with that view though. Life is about memories and those are created through those defining moments, good or bad. If a brand can be a part of that moment the value of that can be huge.
I'm not sure where that way of thinking comes from. I guess from my own experiences and the memories that have stayed with me. These have then unconsciously changed the way I think about problem-solving and my approach to the communication challenges that we have.
I was recently lucky enough to pick up a new Volvo and I was handed my set of keys in a smart black box, the likes of which I would normally have associated with a luxury watch or jewellery brand. It is those little touches that make all the difference. They don't have to be expensive or budget-busting, they just need to be considered and well thought out.
A brand that I really admire for creating moments is the Soho House Group. From an outside perspective, the founder, Nick Jones, would seem to be completely focused on creating memorable moments. If you have ever stayed at one of the many Soho Houses you will know that everything is considered and that they take absolutely every opportunity to deliver a 'Soho' experience.
Part of this project was to have a gift bag on the tables ready for the brokers when they arrived at the awards dinner. We didn't have a big budget so we knew we had to really tap into that moment to find something that would create the experience we were after.
When brainstorming gift ideas we asked ourselves the following questions:
Will this be something that a broker will keep and use, keeping Aldermore front of mind in their daily routine?
Will the gift be fun to use during the evening?
Will it get the group talking? Is it an ice-breaker?
Can we brand it? Or is it on-brand, e.g. yellow, round, etc
Is it small enough to be easily carried home, popped into a pocket or handbag?
The winning idea was a selfie kit: a smart little case containing a number of detachable smartphone camera lenses. We designed a card wrap that could sit around the case so we didn't need gift bags. We used the wrap to have some fun with the messaging and to reinforce the brand. This concept seemed to tick all the boxes and had the desired effect of creating a moment that would deliver the 'unmistakably Aldermore' experience we were aiming for.
The feedback from the Aldermore team has been really positive and at a recent awards dinner the Aldermore table actually won the best selfie competition. (I wonder how they did that?)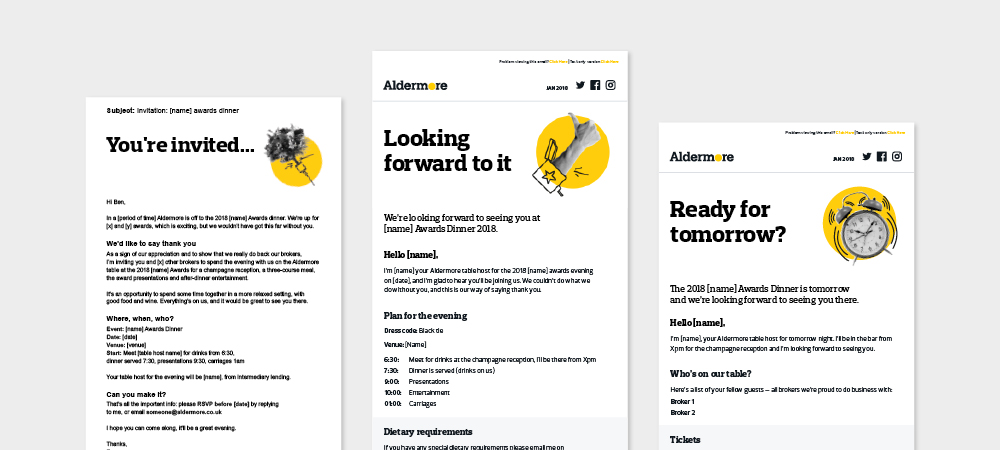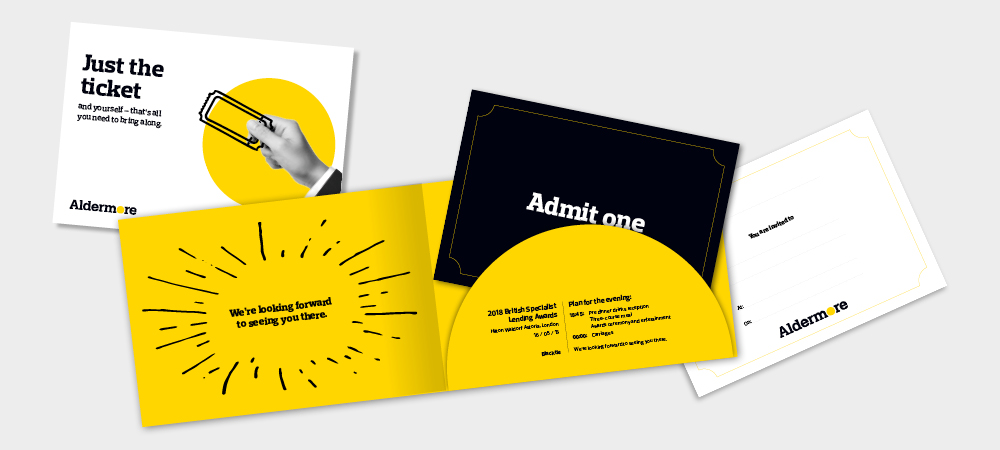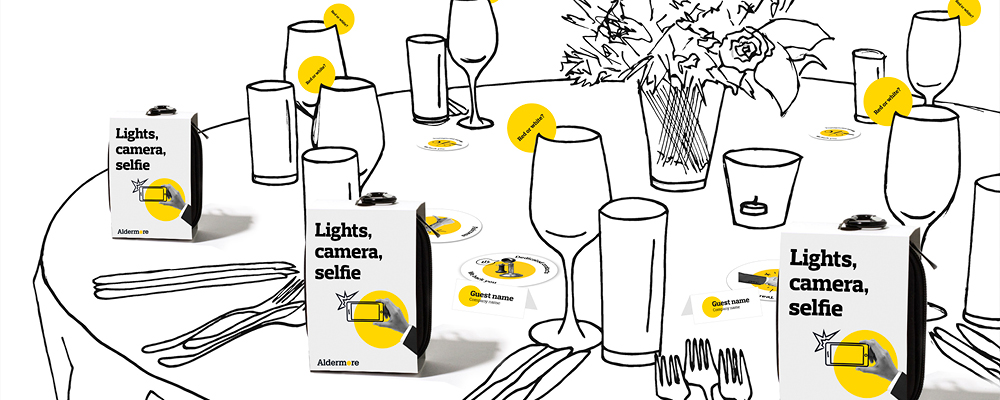 Q. Any stumbling blocks or particular hurdles we had to get around?
We wanted to use as many touch points as possible and we had some lovely ideas around branding the actual tables (see the sketch above). However, the event organisers charge extra for the table branding, so we couldn't bring it all to life this time. I have no doubt that we will find other ways to use these ideas somewhere down the line.
Q. Lessons learnt?
Aldermore had a very clear message to communicate and all we had to do was find a way to make that engaging, authentic and memorable. We did this by putting ourselves in the broker's shoes and finding something that would create that moment. Overlay this with consistent brand messaging and you have an experience that will hopefully make a happy customer into a brand ambassador.
Q. How do you feel about the final result?
It was one of the first big projects that I have creatively directed for Aldermore and I was really pleased to see how well our team worked together to make it a success. Hearing the great client feedback makes it all worthwhile.