Creative insights: Expect more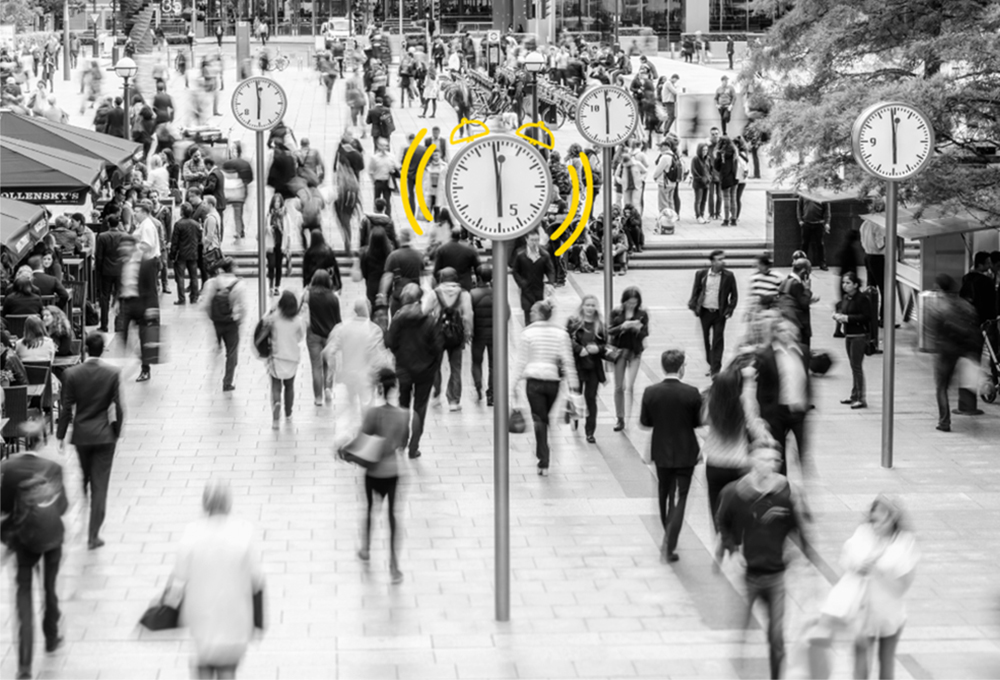 Marianne interviews some of the team behind our latest project for Aldermore – Designer Andy, Copywriter Chloe, Creative Director Steve, Client Director Zoe and Senior Account Manager Laura.
Q. Tell me a bit about the background to the project?
Since 2015, the Aldermore Corporate Treasury offering had been predominantly driven by the existing contacts and networks of Ray Mariconda and Lionel Ross. In order to drive new business from beyond this pool and reach a wider audience, Aldermore were keen to formalise the proposition and develop a visual identity which better reflected its ambitions, and relaunch as "Aldermore Corporate Treasury and Specialist Intermediaries".
Q. What was the aim of the project – the challenge?
Our brief was to bring clarity to what Aldermore Corporate Treasury and Specialist Intermediaries stands for. To evolve the Aldermore brand to better reflect the needs of a highly corporate and predominantly city-based treasury and wealth management audience, and capture their attention.
The ultimate aim was to facilitate meetings and maintain a relationship-led experience. This meant the balance of information needed to be right: providing enough that potential clients made contact, but not so much that the client would forgo the personal relationship.
Q. Tell me a bit more about the creative process and how we got to the final design?
In a highly commoditised market where there isn't much to differentiate between products, Aldermore needed to emphasise how their offering went above and beyond what they considered to be hygiene factors: a competitive rate of interest and products tailored to client needs.
We found during our discovery process that it was the personal service and relationship-centred approach which clients of Aldermore really value and consider to be a unique selling point. We, therefore, focused on how to bring this to life in a unique way.
This led us to develop a proposition with "Expect more" as its core sentiment. This clearly expressed that, whilst Aldermore Corporate Treasury and Specialist Intermediaries offer all the same things as its competitors, Aldermore push the expected – from personal service to bespoke solutions – that bit further for their clients. We developed this into a verbal articulation of their offering, balancing "Expect more" with a clear benefit-led "Expect less" to really emphasise this concept of marginal gains: for example, "Expect more peace of mind" with "Less to think about", and "Expect more expertise" with "Less guesswork".
We then moved on to develop the visual articulation. Part of the challenge here was to ensure that the visual expression of Corporate Treasury and Specialist Intermediaries remained characteristically Aldermore, but also push the brand so that it was appropriate for a more corporate, city-based audience.
The Aldermore brand is quite playful, so we worked to balance this with their more professional side. We had slightly more serious doodles and used photography to create a more corporate-feel, which we softened by using lifestyle imagery to add more personality. We also included imagery which reflected Aldermore Corporate Treasury and Specialist Intermediaries' diverse mix of audiences.
We chose a bespoke size for the brochure, using top-end quality paper to ensure the print had a sophisticated feel. Similarly, for the contact cards, we opted for them to be hand letterpress printed. We wanted to give the collateral an elevated look to tie in with the prestige of the proposition.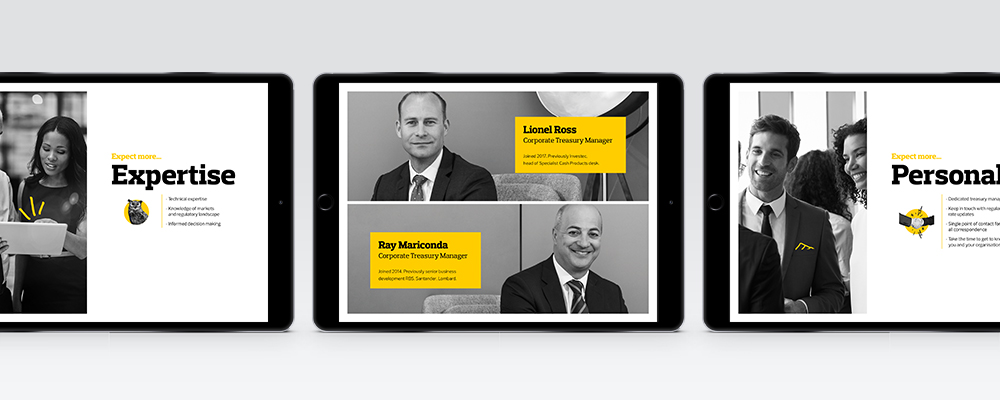 Q. Any stumbling blocks or particular hurdles we had to get around?
Timelines for this project were quite tight and so we had some quick turnarounds, but we worked hard to ensure these deadlines were met.
Initially, the client was slightly apprehensive about the project – letting someone else articulate something you're extremely passionate about, and which no one knows better, is quite a nerve-wracking thing. We made sure to reassure the client that we understood the nuances of what was needed. We gradually built trust throughout the project, and this led to a really positive working relationship and great communication throughout.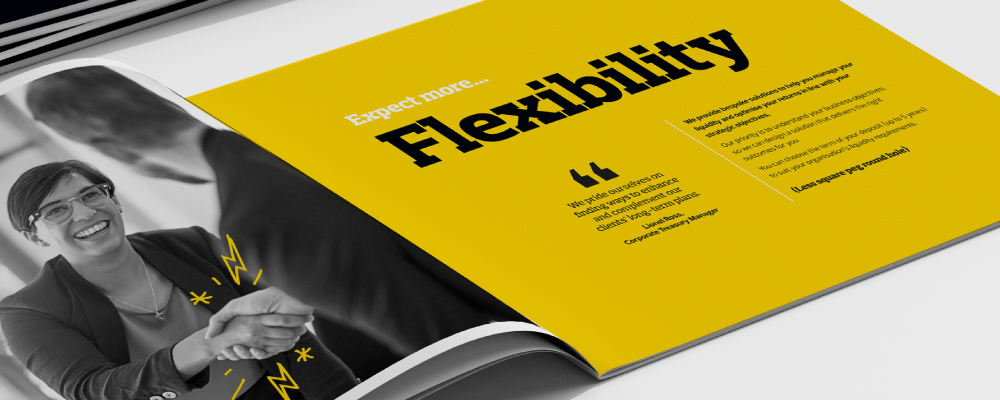 Q. How do you feel about the final result?
We're really proud of this project. We feel the 'Expect more' sentiment at the heart of the proposition hit the nail on the head: it's a simple message, but effective, and communicates exactly what Aldermore Corporate Treasury and Specialist Intermediaries stands for.
From a creative perspective, it was refreshing to have direct contact with the client – experts in a less familiar area for mark-making* – which we really enjoyed learning more about.
It was great to have the flexibility to explore different print approaches and go for that luxury top-end feel to tie in with the 'Expect more' sentiment.
We felt privileged to be tasked with developing the brand and trusted to take it in a new direction. We were delighted with the result (and so was the client!) the brand really came to life in a new way.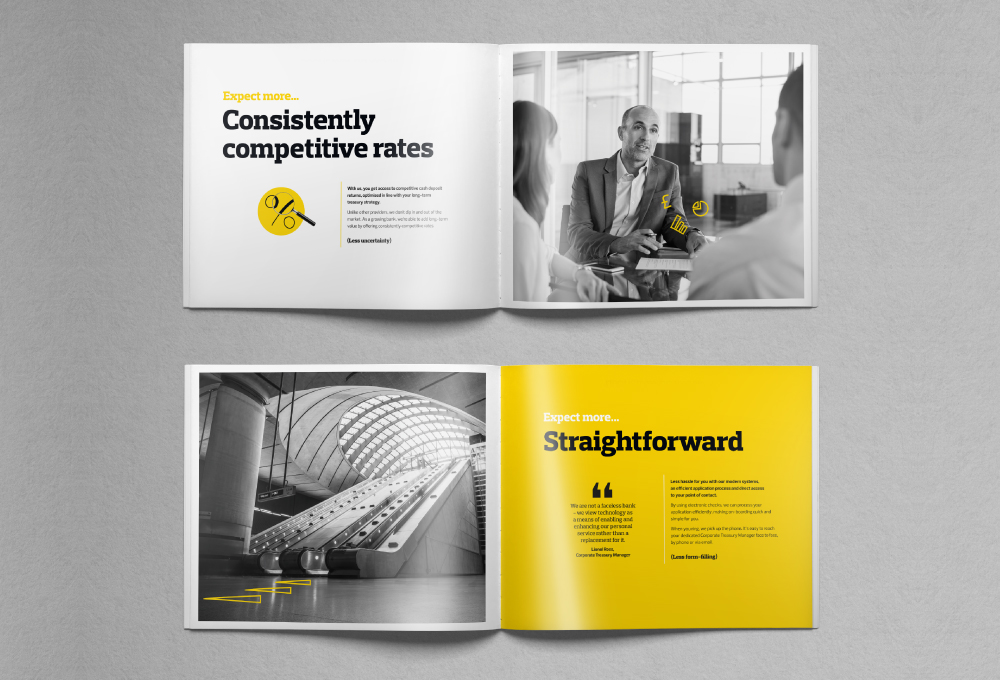 "Brilliant result. A wonderful tone, it typifies how we see ourselves in Corporate Treasury. Head and shoulders above what we have seen so far in capturing who we are – bravo."
– Ray Mariconda, Lionel Ross and Sarah King