Common marketing challenges in arts and culture & how we tackled them
We've helped arts and culture organisations great and small make their mark over the years. In that time, we've noticed that clients in this space often come up against the same sorts of challenges. This post elaborates on those challenges, and gives a flavour of how we've overcome them with a creative and strategic approach.
Challenge one: engaging new and existing audiences
Our clients' audiences vary widely, and their needs and wants are ever-changing. The idea is to create work that strikes a balance: engaging and retaining new audiences, while staying relevant to the loyal core who've been invested in the organisation for years.
#SelfieWithShakespeare
For the Shakespeare Birthplace Trust, we created an integrated campaign to engage a worldwide audience over the period of Shakespeare's 400th anniversary. We invited people to share a selfie with Shakespeare – an accessible and inclusive way to get as many people involved as possible.
The user-generated content campaign resulted in up to 200% lift in social engagement over the Trust's social media platforms, and the project was shortlisted as a finalist for the 2016 Social Buzz Awards.
Shakespeare's New Place launch campaign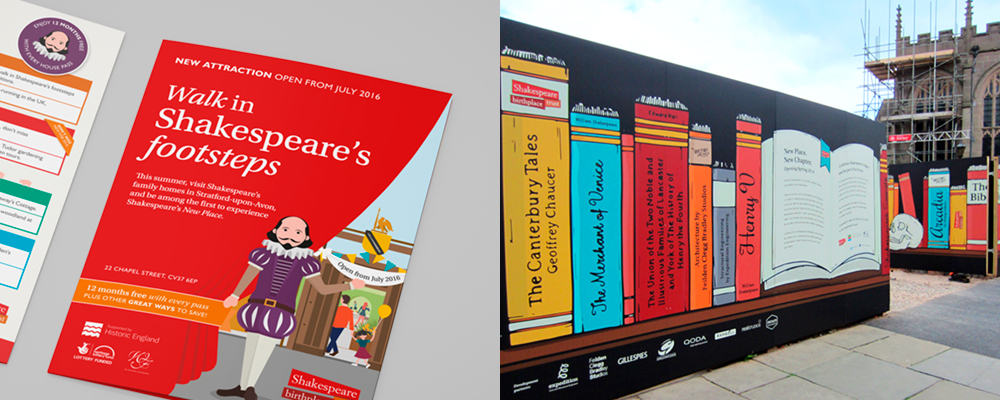 The challenge was to develop a campaign to educate and excite audiences about a new attraction, one unlike anything else the Trust had presented before.
It was a unique opportunity to not only communicate fundraising messages and excite the existing audience with new and exciting ways to engage with Shakespeare, but also to invite potential new audiences via bespoke communications.
We've been with Shakespeare's New Place every step of the way, from early fundraising efforts to intriguing and educational hoardings around the site, all the way up to the launch campaign, on-site maps and ongoing advertising. Launching this unique new attraction was a chance to highlight Shakespeare's home life and his legacy of inspiration, engaging audiences interested in personal stories and human history.
Challenge two: you're a small team with big ambitions
When we join forces with small arts and culture teams, we bring big ambitions into reality. We treat projects of all sizes and scopes with the same creativity and dedication, and we really do work like extra members of our clients' teams.
YIMBY, ('Yes In My Back Yard') is a festival with community at its heart, celebrating inclusivity and equality.
"Oh my god it's amazing you're all so brilliant and I love you, thank you." Ian Nolan
The event was designed to engage young performers, raise money for charity and bring all parts of the community together – big ambitions for a small team of three people. Being an integrated part of the team from the outset put us in the right position to provide strategic insights and continued support to fully realise their vision.
Chipping Norton Literary Festival brand identity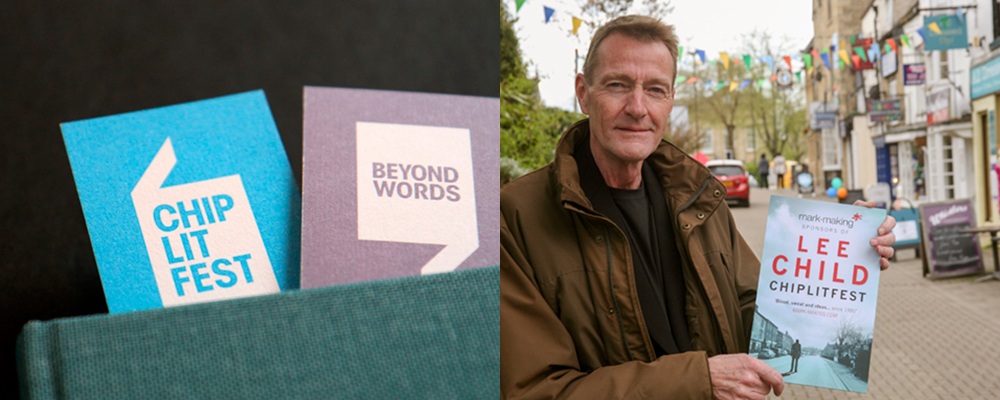 Chipping Norton Literary Festival (aka Chip Lit Fest) has to compete with much larger, well-established mainstream festivals, all looking to attract big-name authors. The small team behind the event recognised that a stronger identity was needed – one that punched above its weight in the way the event itself does.
"The rebrand has given us a professionalism we didn't have before. Authors' publicists and agents are inundated with requests for appearances at festivals and our handsome, grown-up design lets them know that although we might be smaller in comparison, ChipLitFest is worth sending their authors to and we are now one of the smaller festivals that genuinely competes with the mainstream ones." – ChipLitFest organiser
We worked closely with the team to create a new identity that brings the essence of the literary festival to life, elevating it to compete convincingly alongside world-class events.
Challenge three: maximising potential
It takes creativity to get big, impactful results – and even more so when every penny is crucial. We achieve a lot with a little when needs must, and we look for the opportunity to further our clients' bigger purpose in every single brief.
Midwinter Magic Christmas campaign
We used planned seasonal comms to attract a broader audience, bringing Shakespeare's works, life and times to more people over the festive period, because the Trust's highlight Christmas event was a new kind of production.
We created a fresh Christmas campaign identity, evolving the Trust's visual language. The dance event (in collaboration with Motionhouse) was a sell-out success, and the houses teams all saw strong footfall figures for the Christmas period.
Challenge accepted
If these challenges sound familiar and some creative, strategic support from the mark-makers is a welcome idea, we'd love to hear from you.