Can financial services providers become social brands?
Social media has become a very successful engagement tool across many industries and finance is not an exception. As the world of marketing and advertising is evolving, with it some conventional user habits are being modified as well.
In the past, a conversation around product dissatisfaction would be passed on from one customer to 10, 15 or 20 people.
But as the age of social media has changed everything, this same unhappy customer can use social media as a tool to broadcast his/her story to hundreds of thousands of people.
And if you are not within the social media space the opportunity to control, influence and impact the conversation could be lost forever.
"By being sociable you become part of a conversation you previously would not have had permission to join. At the same time, you also get to reveal a little bit about the personality of the brand."
Sharon Flaherty, head of PR and content Confused.com
Community building
Finance services are not particularly famous for their warm approach when it comes to customer service or community building.
But like any other business they want to be able to break the coldness surrounding their industry and humanize their institution to become more approachable.
To achieve this mission there is nothing better than to embrace the opportunity to communicate and work towards building their own social community.
Embracing social engagement
By focusing on customer service and adapting to customers' needs and habits, social media finance brands are able to show their community-minded philosophy which otherwise can be very hard to achieve.
The success of social media for finance brands is not only based around how well you can adapt but also knowing how to leverage its potential to get the best results.
As through it, banks can re-create their online neighbourhood and repurpose the role of offline branches.
Of course, like with any commercial campaign, there has to be some form of balance between the marketing and the sharing of engaging content.
It is not only about you, it is about us
There are some great examples out there of financial giants effectively using social media to connect, engage and build a friendly face of their company.
The current economy expands the communication arena, and if the brands miss the chance to communicate where stakeholders are, they won't be considered as relevant. Thanks to social media, brands can monitor conversations and listen to their clients' voice. But the biggest advantage that financial brands are beginning to see from social media is an improvement of customer service.

The social media customer service teams can become extensions of the in-store branches, listening to conversations and supporting those who need urgent assistance.
The painful lesson from NatWest's big failure to deliver active support to its customers via Twitter during the IT collapse in June 2012 has shown us how important it is to keep an extended and active presence. Disruption and lack of customer support can become an opportunity for competitors.
Lloyds TSB social media approach
Lloyds TSB was encouraged by the rise of social media to re-think their social media strategy by creating a very innovative campaign, which added new meaning to social engagement.
The company used social media to promote their involvement with the London 2012 Olympic and Paralympic Games by bringing the Game closer and allowing their customers to benefit from Lloyds London 2012 partnership.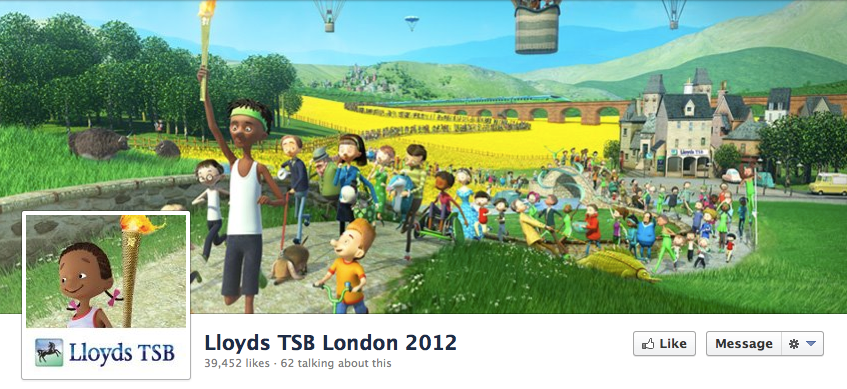 The company recognised the potential of Facebook and mechanisms that encourage participation by tapping into it with a Torch Relay activity. Their clients were asked to tag themselves into a Torchview photo (using Google Street View technology) and to upload photos of themselves as they followed the flame.
The campaign was supported by geo-targeted Facebook advertising that in just two months received an impressive 35,535 photo tags, and thousands of people uploaded their own personal Torch Relay photos to the Lloyds TSB 2012.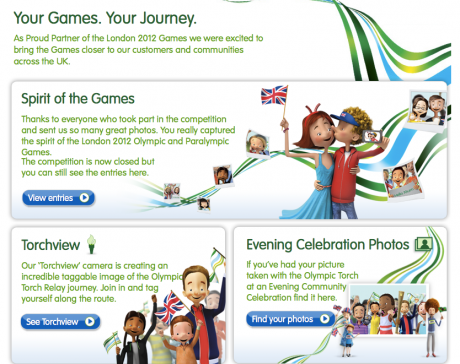 By creating this unique take on the event, Lloyds TSB has tapped into the community feeling and pride of the nation, generating fascinating engagement which kept their Facebook page fresh but also allowing their community to become part of a live journey. The buzz and exposure created through it helped the brands to enhance existing brand positioning and relationships with recent and new clients.
Social cannot be ignored by financial services
When it comes to financial services branding, having thousand of fans/followers doesn't mean much unless they are connected and are engaging with the right people. Communication has evolved and the companies, which manage to embrace this new world, will have a chance to become a social brand. The biggest sin that any company can commit is to not adapt and to not take the most from existing opportunities. You never know, maybe next year your company can lead the '2014 Social Brands 100'?
By Kasia Piekut