Branching out for a good cause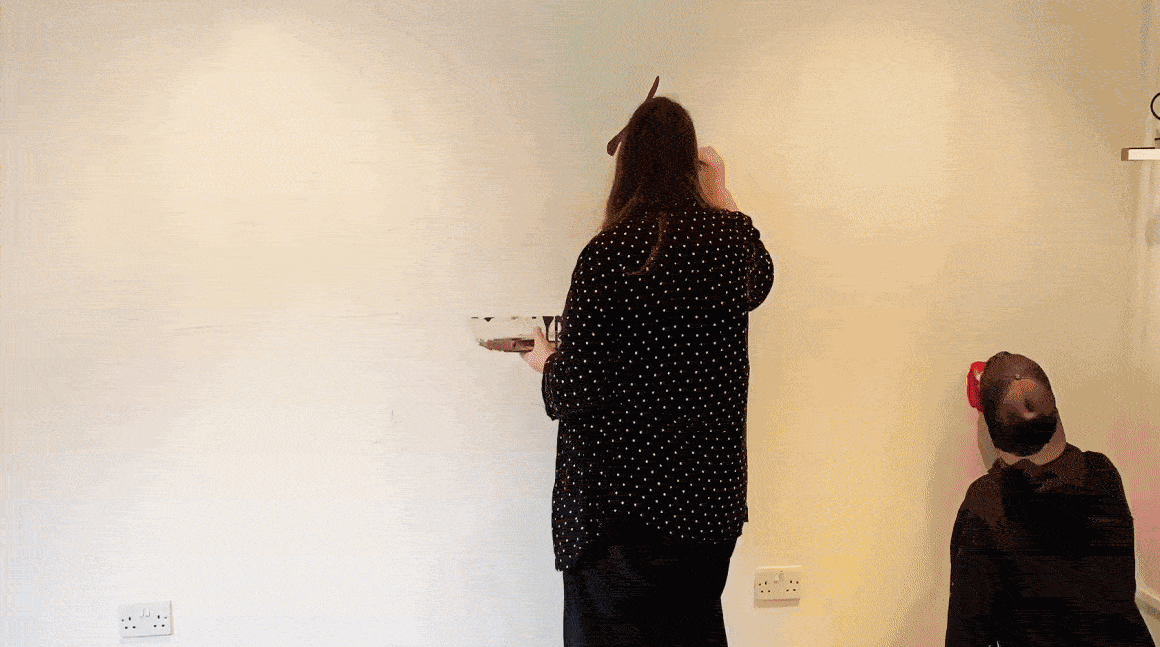 Campden Home Nursing (CHN) is an incredible local charity supporting those with a life-limiting illness and their families. While many of their services are provided in-home, they also have a wonderful community base at Jecca's House, which opened in 2021.
When they decided to convert one of their offices into a dedicated play therapy room for bereaved children, they reached out to mark-making* to help bring cheer and warmth to the space with a tree mural. We were only too happy to pick up our paint brushes and pitch in.
Campden Home Nursing is an independent local charity based in Chipping Campden, Gloucestershire, founded over 30 years ago. We provide a Serious Illness Support Service, based at Jecca's House, a Hospice Care at Home Service for those with a life limiting illness (and holistic care for their families and carers), and Bereavement Services. All our services are free of charge.
After Campden-local Steve scoped out the 'canvas', Nick got to work illustrating the mural, inspired by the distinctive apple tree in CHN's logo.
With the design approved, and paints picked out, Steve projected the tree onto the wall of the room and spent and evening drawing outlines so that mural makers* Meg and Nick could hit the ground running the following day.
Meg's musings:
As a designer I'm fortunate to spend much of my working life engaged in creative tasks, but it's rare to be able to move away from my mac and "make my mark" in a more hands-on way. So when Steve put out the call for a decorating-duo to help out, I jumped at the chance to step out of the studio for such a worthwhile cause.
When Nick and I arrived at Jecca house I looked with optimism at the outlines Steve had prepared and naively thought we might whip the mural up within a few hours. I was wrong. But although it proved a lengthy undertaking, it was satisfying to see the tree come to life, as I worked my way steadily across the leaves and Nick painted the apples, branches and trunk.
It was a slightly odd day – the news of the Queen's death had been announced the evening before, and although not an entirely unexpected event, it still seemed so very shocking. An enduring fixture in our lives, and in our cultural make up, suddenly gone. It was somewhat apt, to find ourselves talking about it, and listening to all the stories and reminiscences of her life on the radio, as we helped decorate a room that will be used to support people in their own, more personal bereavements.
I don't mean to make it sound too sombre an experience. The jolly team at CHN kept us topped up with tea and cake, and Steve popped over at lunch to treat us to a tasty sandwich via a sunny stroll into beautiful Chipping Campden. And best of all, our joint task gave me a chance to get to know Nick better – the newest member of our design team, with (it turns out), many a hidden talent – at home as he is on a horse, rugby pitch, allotment, and, most conveniently for the day, with a paintbrush in hand.
By early evening the tree was in full-flourish – ready for Steve to add some finishing touches the following day.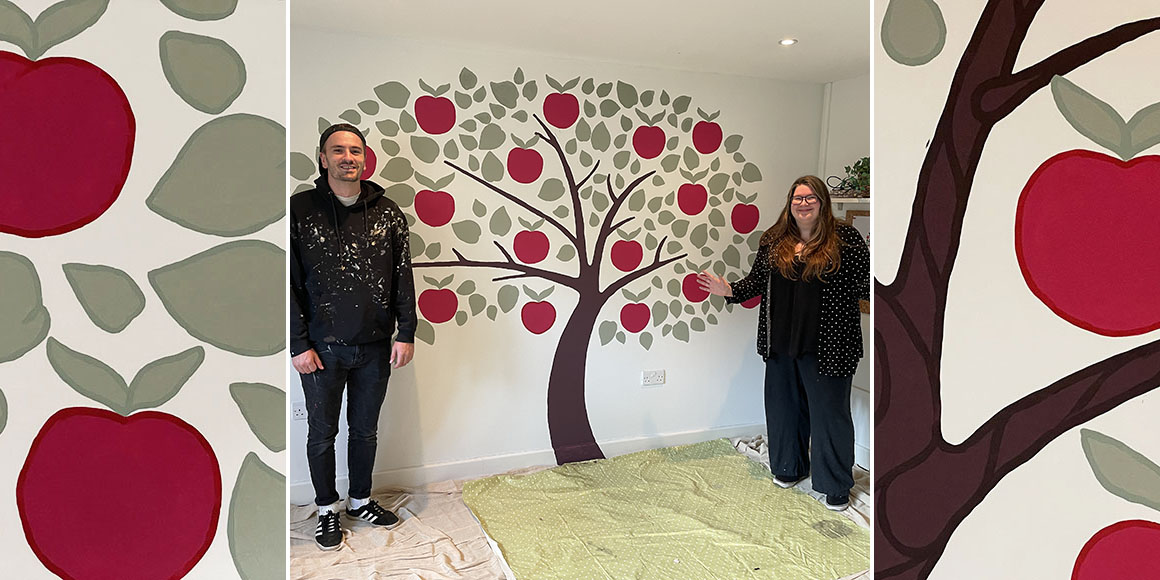 Nick's notes:
Being relatively new to mm* I hadn't yet had the chance to use a day to help a charity or good cause. So when I was told about the mural planned at Campden House Nursing I was straight onboard! I'm always keen to get my hands dirty as Meg has mentioned from my list of hobbies (none of which I have mastered) so a mural was right up my street.
With a large portion of my work at mark-making* being digital, it was great to get a brush and test if my hand was as steady as I made it out to be… with minor smudges it proved true.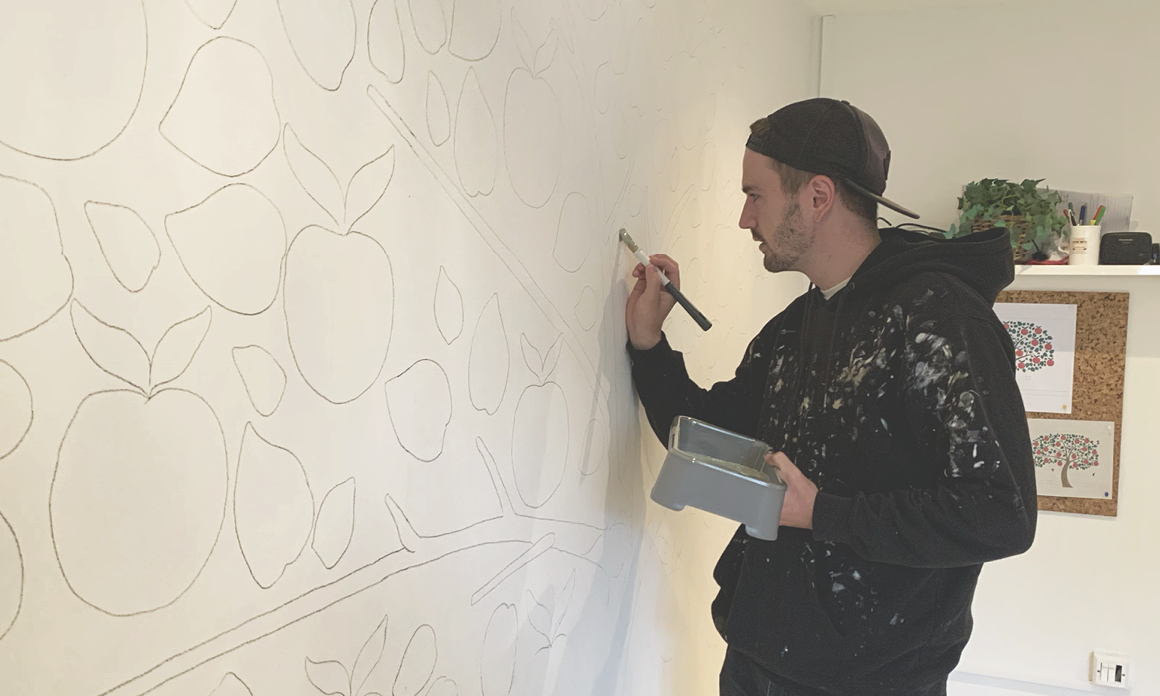 Steve's summary:
It was fantastic to be able to help the wonderful team at CHN. The service they provide our community is priceless and we were more than happy to help in the small way that we could. And to be honest, the chance of getting the old paint brushes out for a full wall mural is always a good call.
We wish everyone at CHN the best and we hope that our tree mural can bring some additional joy and positivity to the play therapy room.