Bevan Money. Aspiring bank startup with ambition to create a stronger, fairer society.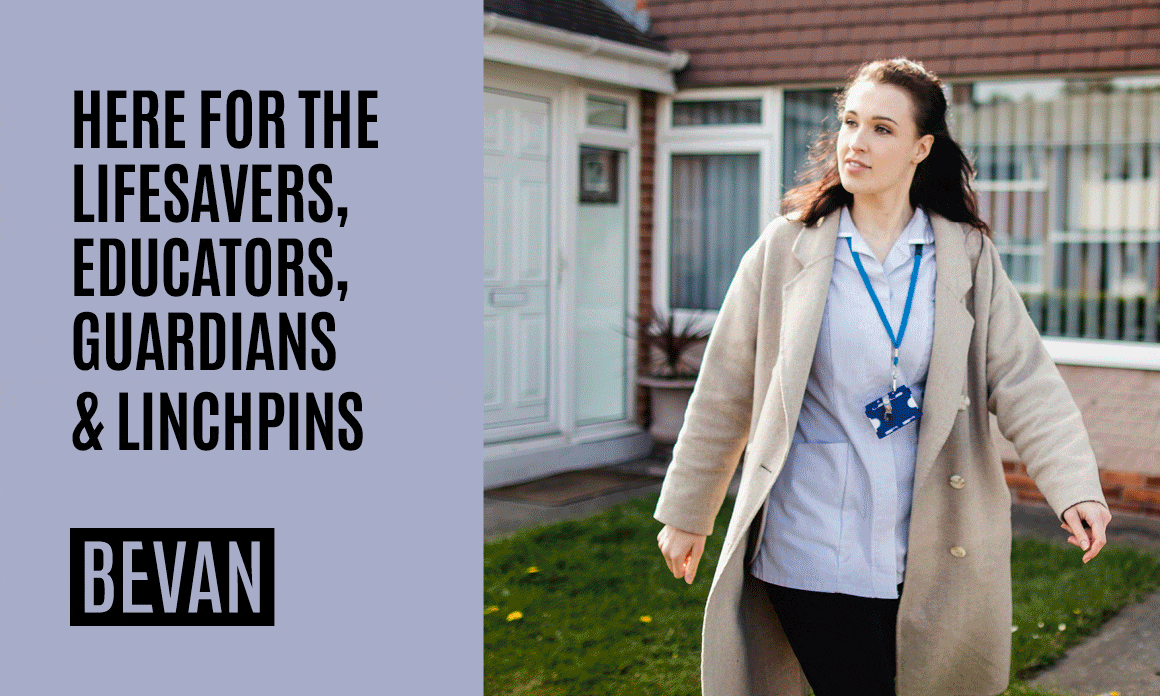 For the lifesavers, the educators, the guardians and the linchpins: setting the tone for the first UK lender designed specifically to back our public sector workers.
The challenge
The UK is in the midst of a housing crisis. Property prices are soaring out of pace with wages and home ownership is reliant on sizeable deposits. For public sector workers the issue is compounded by pay freezes, variable incomes and expensive postcodes. In reality the majority of public sector workers aren't able to afford the averaged priced home in 98% of the UK,* as they're unable to borrow enough through traditional high street banks. This hardly seems fair, given their unmatched contribution to society – both during the COVID-19 pandemic and beyond.
"Hearing the neighbours clapping and banging pans on their doorsteps got me pondering – there must be a better way to practically help public sector workers…"

Mel Lane, Founder of Bevan Money.
With the ambition of providing lending solutions for these lower-paid public sector workers, Bevan Money was born – inspired by Nye Bevan, NHS founder and housing innovator. Products will include first-time buyer mortgages, later-life lending and ethical savings accounts that generate positive social impact alongside a competitive financial return.
Our challenge was to create a compelling brand identity for the bank-to-be – initially to assist Bevan in its banking authorisation process and attract the interest of investors and brokers, but ultimately to become the lender that champions our key workers. Giving them the respect and appreciation they so richly deserve, so they can plan for an exciting future. Bevan will be the bank that redresses the balance and helps to create a fairer society for all.
The solution
Beginning with a consultative phase, we developed the foundations of the identity to create our principles, values and personality. We then developed visual and verbal assets to reflect a bold, vibrant, no-nonsense, can-do personality.
The logo is a stamp of confidence – tailored typography punched out of a black rectangle, creating a distinctive wordmark that can be used flexibly over the brand's colour palette. The arms of the 'E' are sculpted into ascending stairs – a subtle nod to Bevan's founding intent to get more first-time buyers on the property ladder, and set a fairer path for all.
Inspired by Bevan's end customer, we created a distinctive aesthetic of colours, textures and patterns drawn from the uniforms and environments of the public sector. Familiar chevrons, checks, stripes, and quadrille grids set in unexpected tones and juxtapositions give the brand a playful and personal toolkit.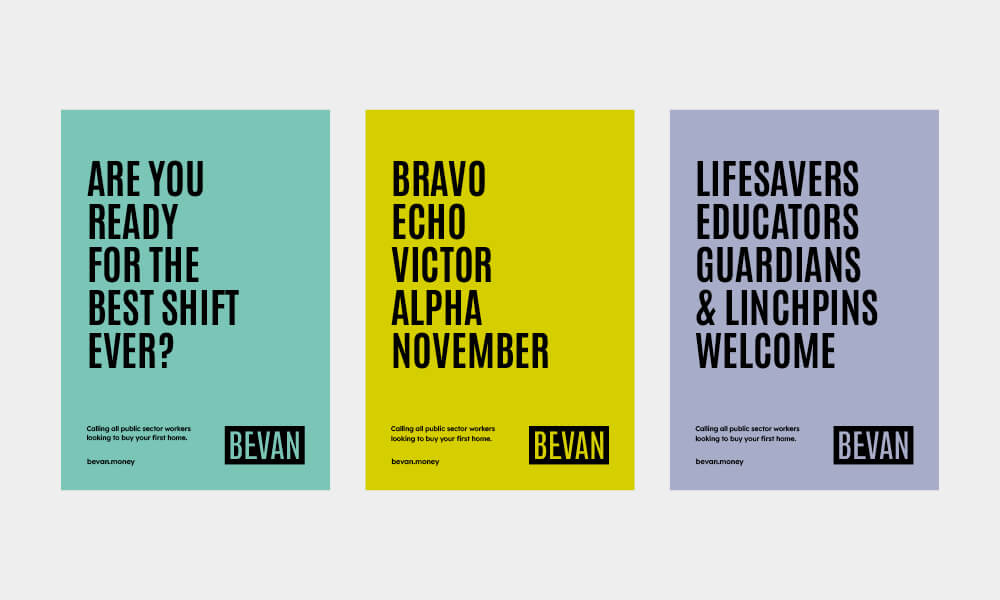 Photography also plays a huge role – giving us an opportunity to hero the healthcare workers, teachers, police, military, firefighters, civil servants and other stalwarts who form the bedrock of our society. In and out of uniform, hard at work, and relaxing at home – our rich image library celebrates our public sector and diverse customer base.
Bevan's tone of voice is reassuring, down-to-earth, and at times, humorous – tapping into our target market with sector-specific references and lingo.
One of the first public-facing demonstrations of the brand is through a new landing page, bevan.money, providing an introduction to the lender for interested parties and potential investors. This will support a multi-media campaign strategy, as Bevan move into the advanced stages of securing a licence through the Bank of England's new bank authorisation process. Full brand launch is scheduled for 2023.
"Mark Making were recommended to me by one of our Board Advisors (Colin), known for picking winners! MM have made our journey through brand definition and design to be a fun, inspiring and thought-provoking one and our early decision to give them the freedom to explore where their creative direction led them was sound and to be recommended. I'm confident that our business proposition, combined with our eye catching and meaningful brand created by MM will create a winning formula for Bevan's future success."

Mel Lane – Bevan CEO
*https://yougov.co.uk/topics/consumer/articles-reports/2020/06/01/do-key-workers-feel-appreciated-work-during-covid-