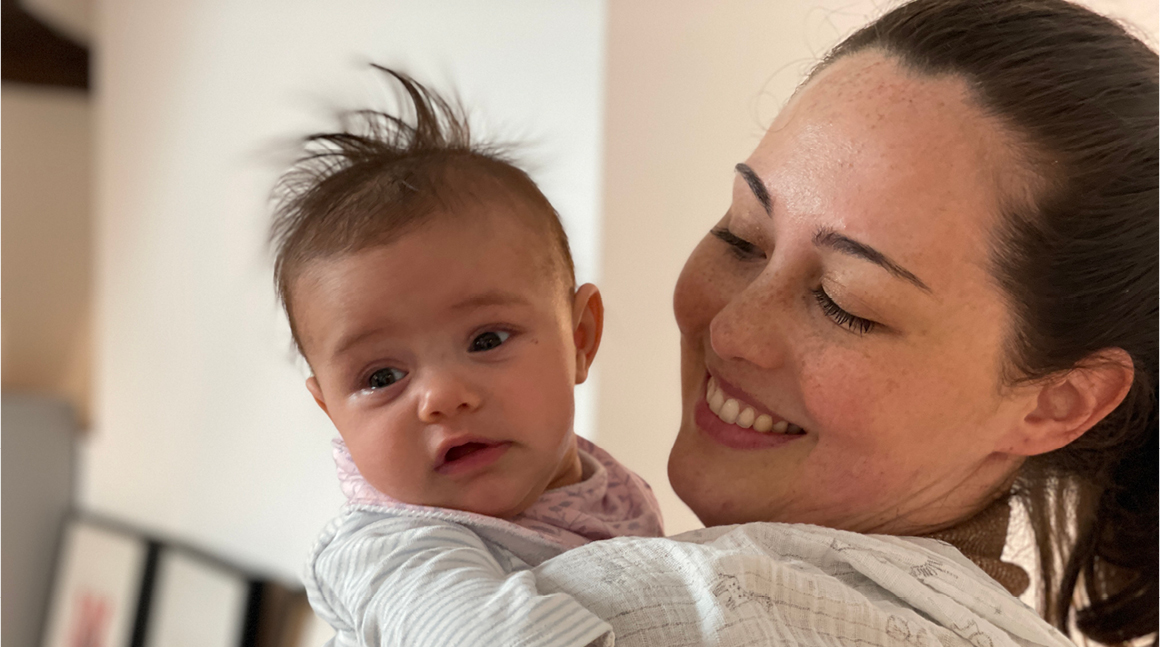 How do you step back into the world of work after your world has changed? From the morning commute to managing the schedule, we asked Designer Emily to tell us all about her return to mark-making after maternity leave.
1. What are you enjoying most about being back at work?
First and foremost it's been so lovely to come back to the friendly faces I've missed over the last year. Only a couple of days back at mark-making, and I already feel part of the team again. Or even better, like I never left. It's been the wonderfully warm welcome back that I was imagining. Having time to reconnect with my inner designer and doing what makes me tick feels amazing and like some serious 'me' time now I'm also a mum.
2. Is anything different to what you expected?
Aside from the friendly new mark-makers and some new client names (hello!), it feels very much business as usual at mark-making towers, which is reassuring, having been away for a while. I've got a new perspective of the studio sitting at a new desk (new year, new me, new desk!), but very much still with my team, which is great. Meg, you'll now have to put up with my silliness, particularly my terrible puns, from the other side!
3. How have you found your first week?
For one thing, getting out of the house has definitely been easier. De-icing the car first thing in the dark has been a shock to the system. Admittedly, less of a shock than my poor neighbour received when I forgot my wipers were on as I poured some water onto my windscreen, swiftly splashing her all over as she was coming in from her dog walk! At least she found it funny…
The commute has been another form of 'me time', even if just to reconnect with music other than lullabies – I've become a master of 'Twinkle Twinkle Little Star', 'ABCs' and 'Baa Baa Black Sheep', but don't worry, I won't put you through a rendition.
It's been a great first week. Starting my first day in the office with a delicious and thoughtful welcome breakfast was a classic mm* touch. It's nice to catch glimpses of work in progress pinned up around the studio – makes me feel inspired already! I'm grateful to the team for being kind with my workload too, easing me back into the swing of things.
4. How's Robyn enjoying nursery?
Robyn is settling in really well at nursery so far, which of course makes coming back to work easier, knowing she is happy and thriving. It's amazing to see how resilient she already is and (in our case) proves that it's often harder for mums and dads at drop-off than for our little ones! Every day is different, of course, but so far she comes home very much herself – a little yet powerful bundle of energy, full of laughter and smiles all round. So far, she's enjoyed playing and exploring messy play with her new buddies. She's bonded beautifully with the staff, who are incredible and such a big support, they're truly awesome.
5. What can your colleagues do to support you as you come back from maternity leave?
Generally, I'd say I'm very much at the start of navigating my new life as Emily and 'Mum', so please (continue to) be patient with me. Having to learn a myriad of things 'on the job' since becoming a mum, has definitely made me more resilient, but there are still moments where I might need some time to figure things out. That can be anything from new ways of working and catching up with project contexts to figuring out how to manage work and home life, especially when Robyn gets unwell.
I'm mindful that a shorter week emphasises the need for organisation and I definitely have a heightened sense or awareness of planning my time. Scheduling catch ups and handovers, especially on days before I'm out of the office will help me stay on top of my workload and hopefully will benefit the rest of the team going forward. It's important to me that I can deliver in both my roles, which are a big part of me as an individual – Emily the designer and mum.
I think clear and consistent written communication will go a long way to helping a first time mum settle back into work, especially as it's highly likely at times I'll be existing on very little to no sleep. Having somewhere to reference or double-check I haven't forgotten anything vital within a project, be it an email or document, will be a huge help on those extra sleepy days. And tea always helps… I promise I'll do my share of rounds too! Lastly, please don't be shy to give me constructive feedback that I can try to address before anything becomes an issue.
I'm very lucky to say that I've always been supported by my colleagues at mark-making, professionally and personally. It's a huge part of what makes it a great place to work and was a big factor in my decision to come back. I'm so happy to be back and looking forward to what this new year brings!