B2B financial services: the hard art of standing apart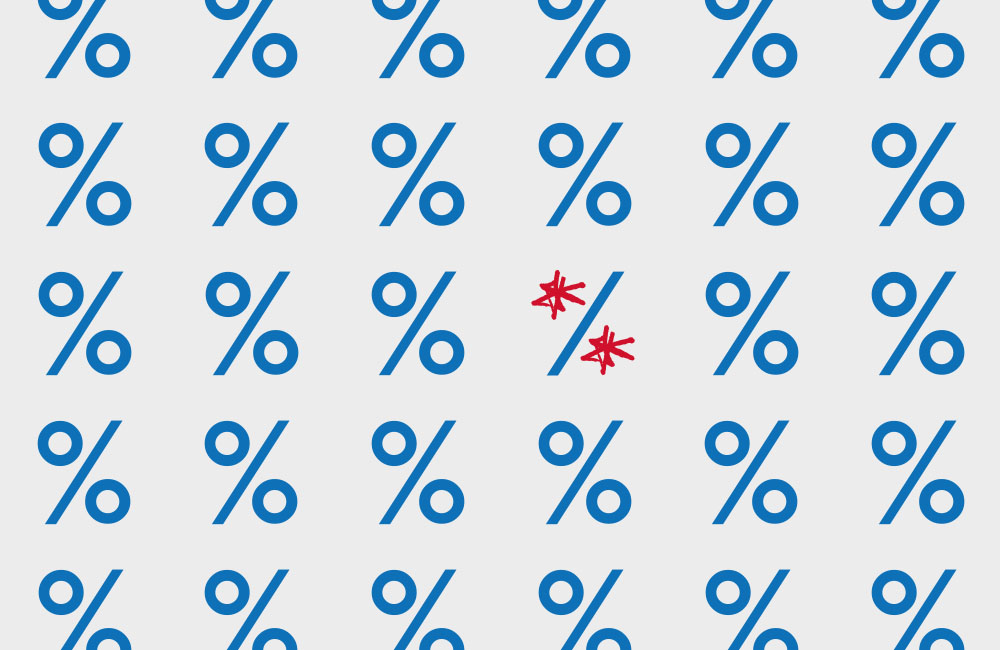 No two ways about it, the B2B financial services sector is a fiercely competitive and challenging one. It's awash with established players with decades (or centuries) behind them, a constant influx of new entrants looking for a slice of a lucrative pie, and oceans of products with little of note (at least on the surface) to separate them. And on top of that of course, there's the ever-present possibility of regulation change.
There's more anxiety about standing out and getting noticed in this space than any other we work in. But go about it the right way, with discipline and creativity, and it's a nut that can be cracked.
Be prepared to feel uncomfortable (it'll pass)
It's unsurprising to see B2B financial services tending towards safe, familiar, predictable messaging and look-and-feel norms. Afterall, it's human nature to want to fit in. That in itself is often the first challenge when success depends on differentiating. In a space as homogenous as B2B financial services, treading a different path takes a conscious decision at the outset and serious commitment then on. Talk and no walk goes nowhere. So once you've made the decision to stand out, don't be afraid to. Yes there is a balance to be had – go too far in pursuit of being different and you risk alienation – but generally you should view any discomfort as a positive sign, one that you are making progress. Better still, make that your barometer. Feeling too comfortable? You're still in the pack. Keep pushing.
Commit to finding your difference
The fact is, pinning down a genuinely differentiated proposition is hard. And it's easy to avoid. You can get surprisingly far by papering over that particular crack, but it's not an approach with legs.
In this crowded market, unique selling points in the true sense of the phrase are rare. Your difference is unlikely to be dramatic (if it is, that's great, your job just got easier). But nine times out of ten, there will be something there. Just keep looking, because in B2B financial services, a little difference can be the big difference. Put it all under the microscope; operations, product, service, distribution, culture, people, what you do do, what you don't do. Often it's the sum of many parts. What may seem like marginal distinguishing features can often be magnified, with the potential to be channelled into one or two powerful themes.
We worked hard at this with Saffron For Intermediaries, the broker-facing mortgage division of Saffron Building Society, and it paid off. The answer to the 'difference' question lay not in the individual specialist products they offered, none of which were unique in themselves, but the breadth of the product range, something no other lender could match. So simple, and yet positioned and marketed in that way, Saffron For Intermediaries saw a 280% increase in mortgage applications post campaign and all available funds being lent in half the time expected.
Can't find your difference? Create one
Okay, sometimes you sweat every possibility and any difference of note just isn't there. (Actually it probably is, but this isn't an industry in which you can afford to dawdle – that's one for a separate discussion). With every avenue exhausted, there is another option – create one. We've found this is often simply about innovating your existing proposition – taking what already exists and reframing it in a way that will resonate more powerfully with your business audience.
Our work with the UK lending arm of Pepper Money (previously Pepper Homeloans), illustrates this point. In their case, as a means to create standout, we effectively redefined the market terminology itself. Recognising the inappropriateness and inherent negative associations of terms commonly used to describe borrowers in the specialist mortgage space – 'nonconforming', 'unconventional', 'adverse' and 'difficult', and the like – we focused instead on people and their individual situations, introducing the concept of 'interesting' cases. The approach, cited by Pepper's peers as brave, quickly resulted in heightened levels of connection with brokers, wider brand awareness, and a reinvigorated sales team.
So if having a difference makes a difference, let's take it a step further and consider the value and potential in differentiating beyond the broadly functional and rational aspects of any offering.
Stand for something
What we're talking about here relates to 'purpose'. Possibly the most overused word in branding right now, but like content marketing, it's not a new idea, it's a well established one nicely rebranded (would you expect anything less?). In marketing parlance, purpose is the new 'mission', with essentially the same thought behind it; that we, as humans, whether we like to admit it or not, don't make rationally-based decisions, but emotional ones. That's why having and communicating a clear purpose is so powerful when the goal is engagement.
Once identified, the value is immediate. It's a foundation and a reference point. It's the first 20% of all future marketing and communication briefs written already. It's a benchmark against which to hold up all your activity – not just marketing – to make sure it's a course of action that makes sense for you as a brand. If they don't match up, either the message isn't right, the activity's off-mark, or the business has evolved so dramatically that the purpose is different, and the brand needs a refresh.
And don't be discouraged thinking it needs to be lofty. Not every business's purpose can be about changing the world. It just needs to be authentic and relate to making a difference to someone at some level.
We've been working in a strategic and creative capacity with Amicus Finance Plc since rebranding the specialist lender in 2015. Amicus help businesses looking for development, invoice and asset finance, by making deals happen where others can't. They do this by actively working with all stakeholders; their clients, solicitors, surveyors, anyone with a part in the process. Beyond their products, Amicus stand for the power of collaboration. Their audiences get that and it makes a difference to them. It makes a difference to Amicus as well. The business surpassed its £1bn lending target a year ahead of plan.
A final note, lest we forget: we're still talking to people
The sector may be defined as B2B, but if there's a recurring theme that consistently limits the potential of businesses in this sector, it's forgetting it's still human beings we're endeavouring to engage with. Financial services providers that lose sight of this are really missing a trick.
Extending the concept of purpose and standing for something, businesses that layer rational benefits with emotional ones at every opportunity, displaying traits like empathy, are those that thrive. Even more so in sectors like this, with such little to separate the product proposition.
Take for example The Mortgage Works (TMW), the intermediary-facing specialist mortgage division of Nationwide Building Society. Since creating the brand in 2004, we have been central to developing strategy and campaign activity. With little to distinguish their products from competitors, TMW differentiate through actively demonstrating and communicating their support for brokers. At a time when the buy to let industry is undergoing so much regulatory change, this strategy has been instrumental in TMW maintaining its lead position (consistently first or second) in the market with outstanding scores for advertising cut-through, lender consideration, and unprompted willingness to recommend, as reported by research consultancy BDRC Continental.
To wrap up
Differentiating your brand in B2B financial services is challenging for the reasons outlined at the beginning of this piece. Break it all down though and it's essentially about applying the fundamentals of branding in the way you would in any other space. That might require some outside objectivity, support and facilitation – at least to accelerate the process, if not to ensure the most valuable output.
However you choose to approach it, do so in the knowledge this is a sector lagging some 20 years behind B2C when it comes to recognising the value of brand and what to do with it. And therein lies the greatest opportunity of all.