B2B Brand Building: an interview with Zoe Robson, Architas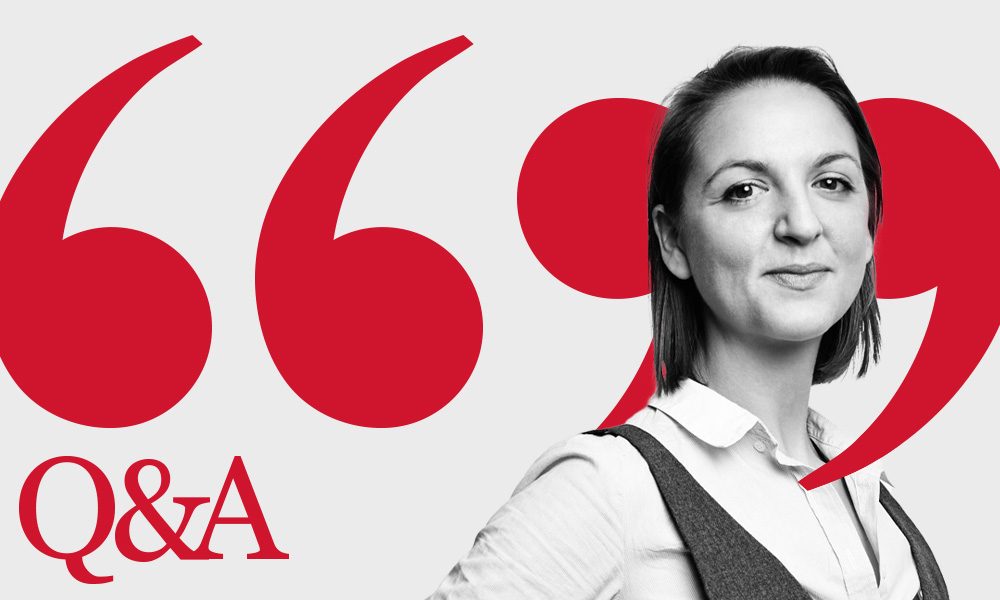 In the sixth in our series of interviews on brand building, Zoë speaks to Zoe Robson, Global Head of Innovation at Architas, about the key part that brand and creativity play in successful proposition development… and beyond.
What does brand building mean to you?
Our choice to associate with a brand is made because that brand represents our own values on some level: it supports the life we aspire to lead. Therefore, to me, brand building is the vision and aspirations we create, that our products and services deliver on.
How well do you think the concept of brand building is understood by B2B organisations?
Some do all of it well, others do some of it badly. It varies.
Overall I'm pretty confident we all get the basic principles: position your product in a way that engages and make sure the experience across the value chain is enjoyable, or at the very least, not painful!
However, I think sometimes the benchmark is very low, not because of a lack of ambition, but because there is not enough awareness or trust internally that the creative specialists responsible for brand building can raise the bar considerably, when (or if) they play a meaningful role in strategy development.
A lot of B2B organisations will have the talent already, but it's just not leveraged to its full potential because those individuals, and the different perspectives they bring, are not contributing early enough in the process.
There's something else that isn't really understood when it comes to brand building in the financial services sector, and that's the difference between brand consistency and brand homogenization. It's somewhat common for businesses to use the same graphic design styles to tell a story about a different product with a different target market, all in the name of brand consistency. The disadvantage of using the same look and feel for every communication, regardless of how impactful the visual story is to start with, is that the message and overall brand becomes unremarkable quickly. Instead, we should be exploring the range of design styles (photorealism / vector / abstract / minimalist etc) and incorporate key brand assets (logo, fonts, primary colours etc). It keeps stories fresh and entertaining and creates opportunity for relatively low effort.
Think about brand homogenization as the equivalent of wearing the same outfit to every life event you attend. Those killer heels I wore to the board meeting will be downright dangerous if I went for a run in them later that evening. I'll change my outfit regularly to help me succeed in different environments (brand-building), but it won't fundamentally change who I am as a person (consistent brand values).
What advantages can brand building activity bring to a B2B business?
I think there are two KPIs that the brand should be responsible for, or at least contribute to. The first is increasing sales – it's an obvious one and ask any marketing exec, success is extremely complex to measure. This is because there are many other factors that impact sales, not just brand awareness. But regardless, outstanding brand-building is going to give you an advantage over the competition, fact.
The second is corporate responsibility. A good brand starts from within. If you're ugly inside, you'll be ugly outside, no matter how smart the dress or sharp the shoes! In a world where CR is becoming more and more relevant, brand building provides the opportunity, and capability, to unite employees in living the values and purpose of a business. Brand building can make employees the most stoic advocates, and that's when the magic happens – just ask the world's most successful businesses.
Is brand building an important consideration in your role as Head of Proposition Innovation and Positioning?
It is THE consideration! As I said at the beginning, our aim is to create the vision that people can relate to, so they feel that by engaging with the proposition, and therefore our brand, it's going to help them lead the life they aspire to.
And I'm not talking exclusively about end investors here (although of course we have them centre stage when designing products). I'm talking about our clients, the AXA entities across Europe and Asia, who have their own strategies to deliver, their own products to develop, sales targets to meet and typically a time deficit. If our pitch decks don't cut through all that in the 30 mins we're normally afforded to pitch the proposition, months of hard work is potentially lost.
And this is what I was saying about bringing in the creative team early. Often brand-building happens at time of launch, for campaigns, and then everything after post-sale to keep the product alive. It's a siloed strategy. However, when brand building plays a key role in product innovation, it'll speed your time to market, or tell you very quickly that you need to scrap the idea and start again. Brand building has the ability to make the value chain extremely efficient.
How important is creativity in proposition development?
I don't think there's ever been a time when it's not important, but possibly now it's becoming more acceptable, especially with the rise of AI and machine learning: creativity is being recognised as a more significant advantage of being human.
That's to say, to be creative, is to be human. Everyone on this planet is able to think laterally to solve a particular challenge, and we do it every day, in our jobs or at home. Even if we don't associate with the word "creative", it doesn't mean you're not thinking laterally to figure something out.
In the past, the problem – or perk, depending on how you look at it – of creative thinking is it tends to upset the status quo. Creativity is about making change, challenging what's been done before, looking further into the future than anyone else is willing, or able, to look. Seeing things from a totally different perspective. It can be very uncomfortable for many, but if you have the courage as a business to embrace the discomfort, then it's a powerful and competitive tool that's going to make a big difference to not only proposition development, but all areas of the business.
Is there a place for emotion in proposition development?
Emotion goes hand in hand with creativity.
Remarkable things can happen when empathy for others plays a key role in design (be that product, proposition, or another focus). There's an increasing need to design solutions for increasingly diverse cultures, users and environments. These challenges can be so systemic and complex, sometimes the task of aligning all of a project's stakeholders can seem impossible, but it's not.
When companies allow a deep emotional understanding of people's needs to inspire them – and transform their work, their teams, and even their organisation at large – they unlock the creative capacity for innovation.
The key to success: ask questions, actively listen and use those insights, that data, as a stimulus to connect the dots, inform development decisions and give you peace of mind that the "crazy" idea is actually pretty spot on.
Have you seen examples of other teams, outside of Marketing and Propositions, embracing the power of brand?
At Architas our HR department is excellent at building brand awareness, uniting people and our values and purpose through Corporate Responsibility initiatives . This is where our brand building really starts. There's a way to go before we can honestly say we are all the "stoic advocates" I mentioned earlier, but our HR department is certainly making big, big waves right now!
And what's great about starting brand building from the inside is that it opens the opportunity for everyone across Architas to have a say in who we are and what we represent, whether they realise it or not. The brand is created organically through these exciting pods of cross-functional teams, all working together to solve strategic problems and create solutions that enrich our working environment, or enhance our products and services. It's pretty forward thinking.
What is the best piece of advice you've been given, or have read, about building a successful brand?
I started my career as a product designer and from the beginning I've been taught to ask lots of questions, listen to the answers and allow what I learn to drive my decisions. Design thinking is such a natural process for me now and I'm a massive advocate of the high level principles (Identify / Insights / Ideate / Implement). So much of the time we start with one idea and go straight to implementation, without knowing what problem we're really solving. It can be an extremely expensive mistake!
Can you think of any B2B organisations that really excel at brand building?
Well, obviously it's Architas (said the stoic advocate)…
---
About Zoe Robson
Zoe has 15 years experience in product innovation, innovation leadership, brand positioning and creative direction across various sectors including FMCG, Fintech and, most recently, Asset and Wealth Management.
Prior to joining Architas in 2011, Zoe founded her own award-winning start-up (which failed eventually, but she learned a great deal from the failure!) and provided product design consulting services to the likes of Unilever, PDD and Product Designer Ltd.
linkedin.com/in/zoe-robson-6b936720